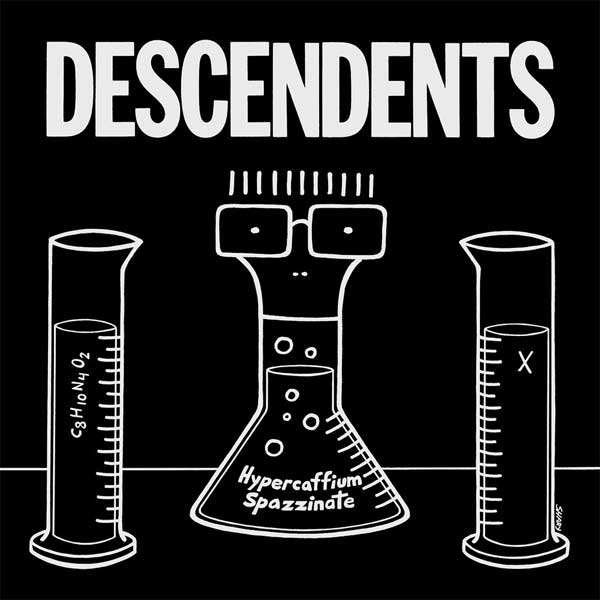 Descendents: Hypercaffium Spazzinate – CD Review
26th July 2016
This is one of the most eagerly awaited punk albums in a very long time. The Descendents hadn't released an album since 2004's Cool to Be You and that was the first since 1996's Everything Sucks, so to call them prolific would be ridiculous.
But its quality rather than quantity with the Descendents. They'd never recorded a duff album before this and they hopefully weren't about to start now.
Vocalist and inspiration for the cartoon character adorning their album sleeves, Milo Aukerman, decided to quit his job as a science-type person and focus full-time on the band a mere 36 years after joining in a move that had longtime fans rejoicing over potential tours and more new music. Hypercaffium Spazzinate is possibly the first Descendents project he has ever been involved with that hasn't just been completed on weekends and during holidays.
Two songs, Victim of Me and Without Love had been "leaked" long before the release of the record. The first of these hits you straight away as a typical modern-day Descendents anthem, but the latter sounds more like a B side. It left me wondering whether they had finally passed their sell by date.
They hadn't, of course.
Hypercaffium Spazzinate, a nod to the band's love of coffee in bonus cup form, opens with a bang. Feel This is an absolute belter and we sense the Descendents are hungry and desperate to get back to doing what they love.
Most of this album is what a lot of people would classify as pop punk and I think that might be a little unfair, although without the Descendents there would be no Blink 182 or New Found Glory. So it's either their fault or part of their legacy, depending on which way you look at it.
No Fat Burger is the album's customary quick number. It's no Coffee Mug or I Like Food, but it's certainly typical Descendents buffoonery and shows that the mantra of I Don't Want to Grow Up still applies at least to a degree, even though the song is about healthy eating.
Album closer Beyond the Music is a sincere thank you and is reminiscent of 1996's Thank You. So we give ourselves a round of applause as the curtain comes down.
The musicianship on this record is second to none, as you'd expect from any Descendents release and it's incredibly listenable. It's unfair to compare their modern output to their early efforts as they are like two totally different bands, but this one could be seen as better than Cool to Be You, but not as good as Everything Sucks (although nothing any punk band does will ever be that good).
Yes, the quest for All certainly continues with gusto here. And the molecular formula on the cover? It's caffeine, of course.
Score: 8.5 out of 10
Full track listing:
Feel This

Victim of Me

On Paper

Shameless Halo

No Fat Burger

Testosterone

Without Love

We Got Defeat

Smile

Limiter

Fighting Myself

Spineless and Scarlet Red

Human Being

Full Circle

Comeback Kid

Beyond the Music
Hypercaffium Spazzinate is released 29th July on Epitaph Records.