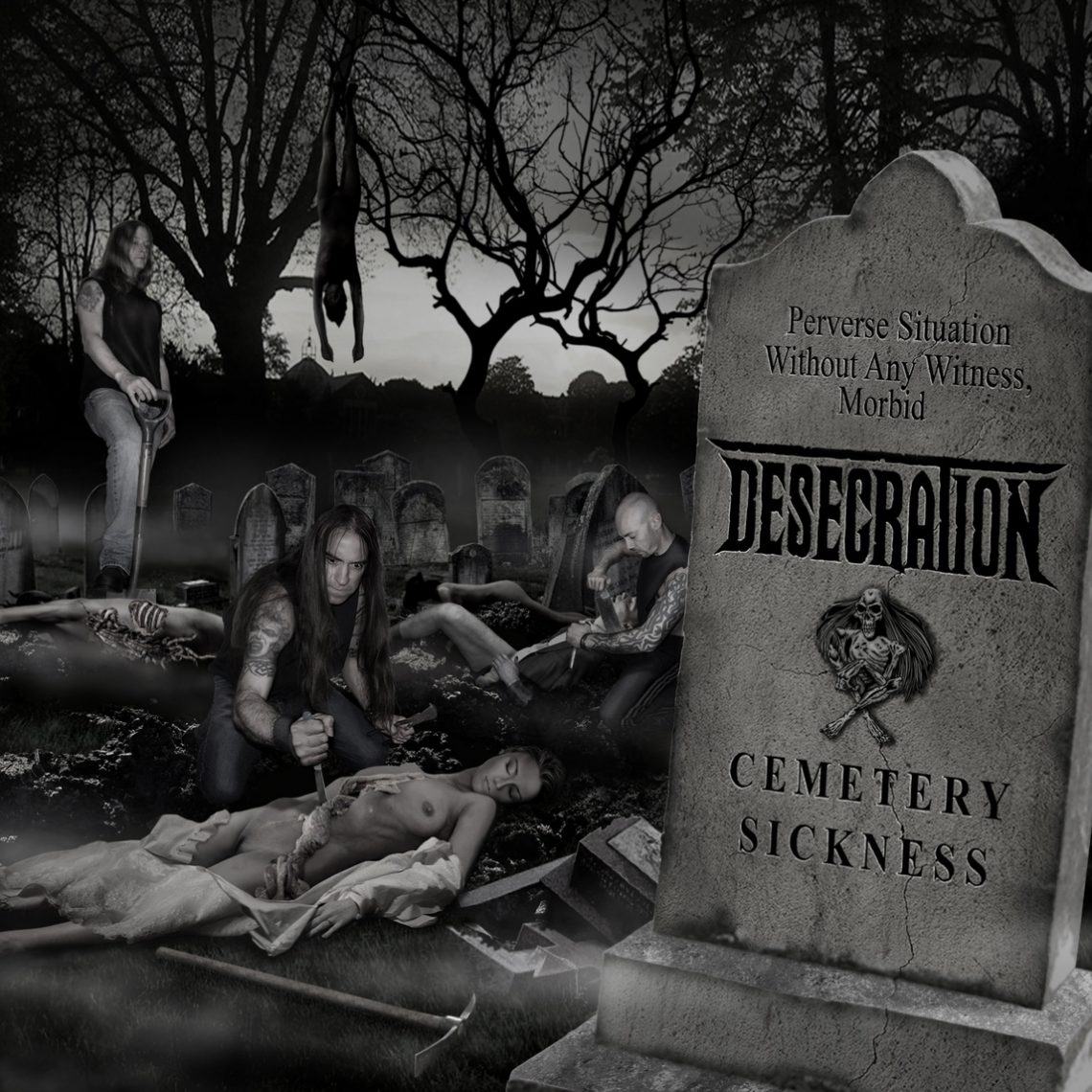 Desecration – Cemetary Sickness
3rd June 2014
0
By
Mark Booth
DESECRATION release their 7th album 'Cemetery Sickness' and what do you expect from these "Welsh Death Metal Bastards"? It's been a long time since I've heard anything by DESECRATION as the only albums I got was the 1995 debut "Gore & Perversion" and that's because they were causing a stir with the album being banned and them being told to tone down the lyrics or forget about the music business! Thankfully they never listened and carried on with the brutal gory tongue in cheek lyrics! So I got the follow up "Murder In Mind"…however after that I haven't really listened to DESECRATION until now!
If you need it pointing out any further then you're a lost cause! DESECRATION play old school brutal and primitive death metal. No over the top guitar squeals or flashy hooks…this is skull crushing and bone breaking riff after riff, punishing growls and face stomping drums with a bass that could make you empty your bowels with its thunderous rumblings! DESECRATION don't mess around here this is 11 tracks in 32 minutes of skull fucking, coffin dirt force fed death gore metal. The song "Coffin Smasher" could easily sit on the latest CARCASS album, while some songs ("I, Cadaver") are reminiscent of Chris Barnes era CANNIBAL CORPSE. It's amazing how brutal this 3 piece can sound and all credit to them for sticking to the primitive brutality that death metal was founded on and not trying to follow trends in the genre. What the album really benefits from is a great production as it captures the intensity and ferocity of their live sound (if you can you have to see these guys live), it doesn't let anything dominate but still keep the drums colossal, the guitar riffs are cutthroat sharp and the musical barrage is broken by the vocals barking ferociously.
[bandcamp width=100% height=120 album=4191008599 size=large bgcol=ffffff linkcol=0687f5 tracklist=false artwork=small]
If you love old school brutal death metal then you really have to check out "Cemetery Sickness", if you are new to the genre then go seek out this little gem. It will have you creating a one man pit with each song and at 32 minutes it gets in smashes your skull open and then leaves you as a bloody wreck on the floor.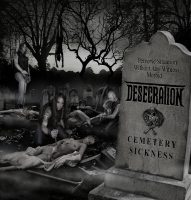 ALBUM INFO
Track List:
1… Cemetery Sickness
2… Coffin Smasher
3… I, Cadaver
4… Recipes of Horror
5… Rotten Brain Extraction
6… Cunt Full of Maggots
7… Cabletie Castrator
8… Mortuary Debauchery
9… Tactile Necrophile
10… Cut Up & Fed To The Dog
11… Grave Secrets
LABEL:
Metal Age Productions
RELEASE DATE:
26th June 2014
STAND OUT TRACKS:
"Coffin Smasher", "Recipes of Horror", "Cabletie Castrator" & "Grave Secrets"
About the author
Devotees and followers of the Cult of Cletus, I am your true God and my word is law! I come forth to spew daemon loving music at your ears and to corrupt your little mind. My words maybe harsh but I want only the best for my minions! So when I discover a new deadly spawn of music take heed and purchase...