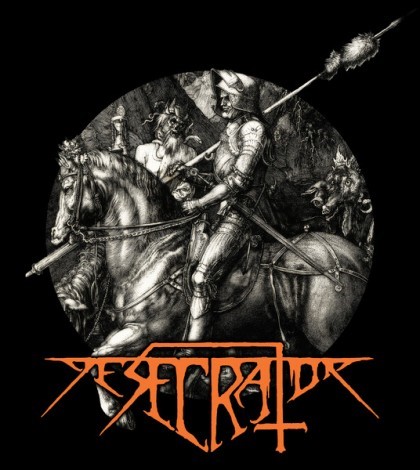 DESECRATOR Release "Red Steel Nation" Single and Video
9th February 2015
Australian Thrashers DESECRATOR Release "Red Steel Nation" Single and Video
Australian Thrash Metal Juggernaut DESECRATOR has released a video for new single "Red Steel Nation," which can be viewed at this location. The video was written, produced, and directed by Robert Taylor of Phanterror Video, with cinematography by Taylor and Jeff Hann.
The single follows the band's critically acclaimed EP Down to Hell. Stream and/or buy Down to Hell, as well as debut album Live til Death and more at http://desecrator.net/music/. Down to Hell is also available in digital format from iTunes, Amazon, Google Play, and Spotify.
Bred on an ideal that music should have power and fed on a hunger to bring back True Thrash Metal with intensity and ferocity,DESECRATOR are one band that you simply must experience. With a sound that has been compared to early TESTAMENT, DEATH ANGEL and SACRED REICH, DESECRATOR's twin guitar attack, punishing rhythm section and blood-soaked vocals have won over old guard thrashers and brought along a new generation of fans. Enthusiastic industry response powered DESECRATOR's meteoric ascent, while the band slayed audiences on stage in Australia alongside FORBIDDEN, WARBRINGER, MORTAL SIN, HOBB'S ANGEL OF DEATH, MACABRE, HAVOK and TOXIC HOLOCAUST. The band's first international tour through Southeast Asia served to further cement the band's reputation as a forced to be reckoned with in the live arena.
Formed in 2008 by guitarist/vocalist Riley Strong, Melbounre's DESECRATOR quickly gained popularity in their home country of Australia, releasing a self-titled demo and touring with bands such as FORBIDDEN, WARBRINGER, MORTAL SIN, HOBB'S ANGEL OF DEATH, MACABRE and TOXIC HOLOCAUST. In 2011 they released debut album Live til Death. Recorded at the iconic 'Arthouse' in Melbourne, and mixed/mastered in Germany by acclaimed Thrash producer Harris Johns, Live til Death. was released as a limited edition CD (666 hand-numbered copies). Live til Death. gained widespread acclaim for its uniqueness as a live album debut release and its raw, uncompromising Thrash Metal attack.
DESECRATOR toured substantially in 2012 after releasing Live til Death, which included their D.I.Y.S.E.A tour of Southeast Asia. Guitarist Luke Anticevic was replaced by Scottie Anning after Luke joined HOBBS' ANGEL OF DEATH, and DESECRATOR continued to tour in support of the album.
DESECRATOR entered the studio in early 2013 to record their follow-up EP Down to Hell.. After the recording was completed, bassist Mano Lygnos and drummer Matt Woolhouse departed the band and were replaced by Paulie Tipping and Jared Roberts, respectively. Harris Johns was again tapped to master Down to Hell and DESECRATOR released it independently as a two-side, limited edition splatter-vinyl LP. Down to Hell. was favourably received by fans and critics alike, with reviewers praising Riley Strong's progressive songwriting and DESECRATOR's indefatigable live shows. The new DESECRATOR lineup hit the ground running and toured Australia extensively in 2013 and 2014 in support of Down to Hell, playing alongside bands such as MALIGNANT MONSTER, DREADNAUGHT, KING PARROT, HAVOK, GRAVE, WEHRMACHT, D.R.I, ABIGAIL, TANKARD, SEPULTURA, IN FLAMES and TRIVIUM