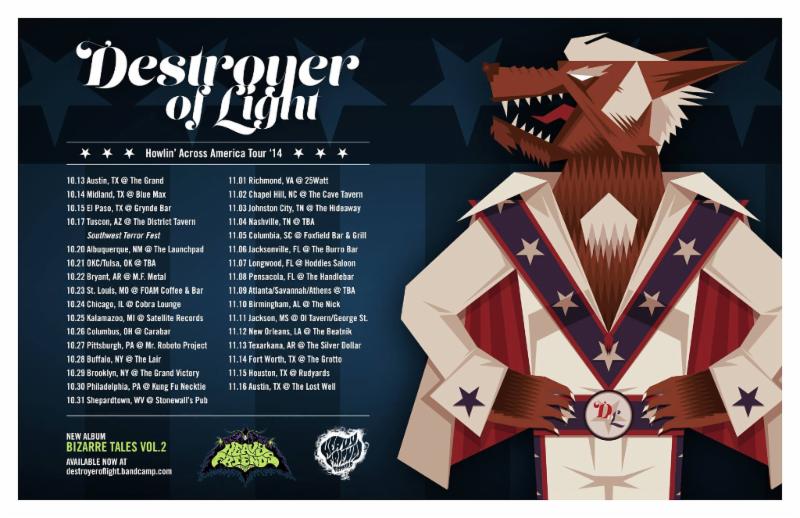 Destroyer of Light Kicks Off Howlin' Across America Tour '14
13th October 2014
Austin,Texas October 13, 2012 – Destroyer of Light begins its Howlin' Across America '14 tour tonight The Grand-Social Club and Billiards Room in Austin, Texas.  The hometown show for the doom ensemble marks the first of 32 dates.  Seattle heavy blues/stoner rock outfit, Antique Scream will also be on tap.
Formed in 2012 from constantly boiling musical cauldron that is Austin, TX, Destroyer of Light has taken a straight forward approach to tempering the disparate and harmonious parts of their influences into a total sum of slow motion tidal heaviness that bows to no altar but that of the riff. With the smoky flavors of hazed out doom and the stomping cadence of rock's heyday, the band both tickles and deafens the ears with the theatrical flashes of Mercyful Fate, the ominous tones of Electric Wizard, and the ferociously feral feedback of a Sleep dirge. Having released a self-titled EP and a live recording, Destroyer of Light hit the road and spread their interpretation of the heavy gospel all across the U.S. before hitting the studio in late 2013 to record their newest EP, entitled 'Bizarre Tales Vol.2'. Released in January 2014, this sophomore effort was called "The perfect sludge/stoner/doommetal album for Halloween" by The Sludgelord, this most current release has taken Destroyer of Light to new towns and cities along the road they call good times and the love of music. As the fall of 2014 approaches, the band will be on tour throughout October and November in the midst of writing new material for their third recording.
Like zombies moaning for brains, the critics can't get enough of Bizarre Tales Vol. 2.  Heavy Planet.net describes the band's sound as "Blending Candlemass wail with well placed death growls, Destroyer of Light bridge the gap between traditional metal and the more extreme sub genres." Referring to the song "Forbidden Zombi Ritual,"  Doomantia.com ghoulishly exclaims, "I was seriously expecting to look off my balcony and see the dead rising from the ground ready to chew on flesh!"  "This is the perfect Sludge/Stoner/Doom Metal album for Halloween," positively states The Sludgelord.
Erik Bredthauer created a Tales From the Crypt style animated video for the single "Forbidden Zombi Ritual" taken from Destroyer of Light's Bizarre Tales Vol. 2 EP.
Howlin Across America Tour '14
10/13-Austin, TX @ The Grand
10/14-Midland, TX @ Blue Max
10/15-El Paso, TX @Grynde Bar
10/17-Tucson, AZ @ The District Tavern Southwest Terror Fest
10/20-Alburquerque, NM @ The Launchpad
10/21-OKC/Tulsa, OK @TBA
10/22-Bryant, AR @ M.F. Metal
10/23-St. Louis, MO @ FOAM Coffe & Bar
10/24-Chicago, IL @ Cobra Lounge
10/25-Kalamazo, MI @ Satellite Records
10/26-Columbus, OH @ Carabar
10/27-Pittsburgh, PA @ Mr. Roboto Project
10/28-Buffalo, NY @ The Lair
10/29-Brooklyn, NY @ The Grand Victory
10/30-Philadelphia, PA @ Kung Fu Necktie
10/31-Shepardtown, WV @ Stonewall's Pub
11/01-Richmond, VA @ 25Watt
11/02- Chapel Hill, NC @ The Cave Tavern
11/03-Johnston City, TN @ The Hideaway
11/04-Nashville, TN @TBA
11/05-Columbia, SC @ Foxfield Bar & Grill
11-06/Jacksonville, FL @ The Burro Bar
11/07-Longwood, FL @Hoodies Saloon
11/08-Pensacola, FL @ The Handlebar
11-09-Atlanta/Savannah/Athens @ TBA
11/10-Birmingham, AL @ The Nick
11/11-Jackson, MS @ OI Tavern/George St.
11.12-New Orleans, LA @ The Beatnik
11/13-Texarkana, AR @ The Silver Dollar
11/14-Fort Worth, TX @ The Grotto
11/15-Houston, TX @ Rudyards
11/16-Austin ,TX @ The Lost Well
http://destroyeroflight.bandcamp.com/
https://www.facebook.com/destroyeroflight
https://twitter.com/DoLAustinDoom
http://www.reverbnation.com/destroyeroflight