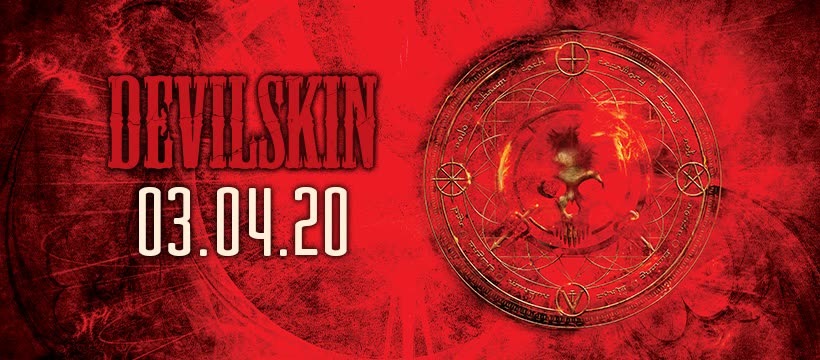 Devilskin release new track Corrode
16th January 2020
Devilskin blast into 2020 with our brand new single + video for CORRODE from the upcoming album RED, due 3rd April 2020!
Stream/Save/Buy CORRODE: https://snd.click/corrode
The unstoppable DEVILSKIN unveil CORRODE, a monstrous new video, single and details of their long awaited fourth album.
The New Zealand four piece – who have toured with the likes of Slash, Halestorm, Motley Crue and Disturbed – have announced their new album, titled RED, which will be released worldwide Friday April 3 on all formats across all platforms.
The single Corrode encapsulates the red theme perfectly, it's angsty lyrics tell of being completely overwhelmed and submerged in grime and stress. Fighting your way through it all and rising to ask for help. Directed by Alex Hargreaves (Alien Weaponry, Beastwars) filmed and edited by DOP Piotr Ziomus (Kwasnik Pictures) the video is powerful, confronting and evolves to show the bigger picture that we don't always see in our own lives. Martin continues, "Perspective is so important, more-often-than-not, the difference between our happy places and our darkest spaces is just the angle we are looking from. This song is about the journey and the challenges you need to face when you feel lost. It's saying it's fine to ask for help."
Corrode is a dark and grimy insight into the mind of someone feeling the weight of daily struggles. When the mundane becomes completely overwhelming and eats away at your emotional and mental health. It's about the fragility of life when you feel crushed by everyday pressures. It's about reaching out and asking for help, confronting your demons and finally realising that the cause and the cure is yourself.
Journeying into new territory sonically and visually with a monstrous video clip directed by Alex Hargreaves, Corrode succinctly captures the helpless horror that is a tormented and desperate cry for help.
Director – Alex Hargreaves
Producer – Caitlin Shinnick
Filmed & Edited by Kwasnik Pictures
Camera Assistant – Julia Wang
Assistant Editor – Danchen Qian
Produced by Greg Haver
Recorded at Roundhead Studios, New Zealand
Mixed by Simon Gooding
Mastered by Ryan Smith – Sterling Sound, New York
FOLLOW DEVILSKIN:
https://devilskin.co.nz/
https://www.instagram.com/devilskinnz/
https://twitter.com/devilskinNZ
LYRICS:
The black mould grows, takes over the walls
My skin drowned deep in stench
Dead skin lays low, and old rust corrodes
In dirty water I'm drenched
For tonight I'll get some sleep
All I need is a little help
These stains they don't wash out
It's piling up in me more and more
All I need is a little help
These pieces don't fit now
Dirty water, corrode in me
These stinging eyes and I'm lost in late nights
Pull your head close to the breast
I sacrifice the bed which I lie
To make sure you get some rest
For tonight I'm counting sheep
All I need is a little help
These stains they don't wash out
It's piling up in me more and more
All I need is a little help
These pieces don't fit now
Dirty water, corrode in me
These stinging eyes and I'm lost in late nights
I sacrifice the bed which I lie
I sacrifice the bed which I lie
All I need is a little help
These stains they don't wash out
It's piling up in me more and more
All I need is a little help
These pieces don't fit now
Dirty water, corrode in me
These stinging eyes and I'm lost in late nights