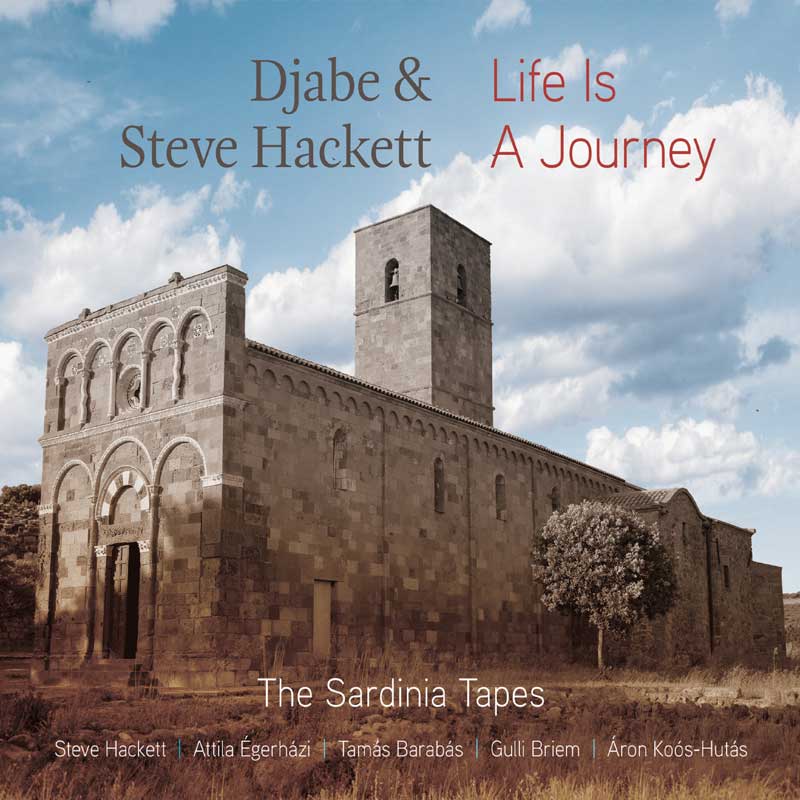 DJABE & STEVE HACKETT LIFE IS A JOURNEY ~ THE SARDINIA TAPES
4th October 2017
After the succesful release of the CD/DVD set of Steve Hackett & Djabe – Summer Storms & Rocking Rivers back in February of this year comes a brand new Djabe & Steve Hacket CD/DVD set, Life Is A Journey, The Sardina Tapes
Based around an improvised set with the Hungarian jazz act Djabe, Steve Hackett weaves his guitar around these amazing musicians, adding outstanding tones, colors and his signature guitar intonations.
Despite performing live together, this is the first time these amazing musicians have been gathered in a studio environment to fully explore their capabilities outside of playing Genesis and Hackett songs along with Djabe compositions live.
The DVD portion of this set provides a 5.1 surround mix coupled with footage from the recording sessions and some live material from the Budapest Jazz club earlier this year (2017) of Djabe, Steve hackett and Gullli Briem.
The 5.1 mix has been done exceptionally well and the behind the scenes footage is amazing to watch. The live footage is beautifully shot as well. But it's the behind the scenes footage that is the most joy to watch.
Musically, the CD is magnificent. Such a journey of many emotions. Steve is really emotive and coupled with the majesty of Djabe is quite simply mind-blowing. If you didn't know any better, you wouldn't think that this album was improvised.
There's no particular stand out track as they all flow seamlessly into each other.
If you're looking for an album to drift away and be completely absorbed by, then look no further.
Score 7/10
TRACK LIST
CD
LIFE IS A JOURNEY – THE SARDINIA TAPES
1. LIFE IS A JOURNEY
2. GOLDEN SAND
3. CASTELSARDO AT NIGHT
4. WHAT'S THE NEWS ANTONIO?
5. AROUND MY MIND
6. BEAMS OVER THE NULVI MOUNTAINS
7. BUILDING A NURAGHE
8. BUZZY ISLAND
9. I WILL ALWAYS REMEMBER
10. WAKE UP
11. AFTER LIMONCELLO
DVD
LIFE IS A JOURNEY – THE SARDINIA TAPES
THE 5.1 SURROUND SOUND MIX
1. LIFE IS A JOURNEY
2. GOLDEN SAND
3. CASTELSARDO AT NIGHT
4. WHAT'S THE NEWS ANTONIO?
5. AROUND MY MIND
6. BEAMS OVER THE NULVI MOUNTAINS
7. BUILDING A NURAGHE
8. BUZZY ISLAND
9. I WILL ALWAYS REMEMBER
10. WAKE UP
11. AFTER LIMONCELLO
DVD BONUS FEATURES
SARDO MOMENTS
FOOTAGE OF THE RECORDING SESSIONS SHOT
BY GULLI BRIEM AND TAMAS BARABAS
DJABE WITH STEVE HACKETT & GULLI BRIEM – LIVE AT BUDAPEST JAZZ CLUB 3rd JUNE 2017:
12. WALKING AWAY FROM RAINBOWS
13. FLY ON A WINDSHIELD
14. PLEASE DON'T TOUCH
15. BUDAPEST JAM
16. CLOUDS DANCE
Label
Esoteric Recordings
ReleaseDate
6th October 2017
Check out Djabe HERE  & Steve Hackett HERE. To purchase the album click HERE