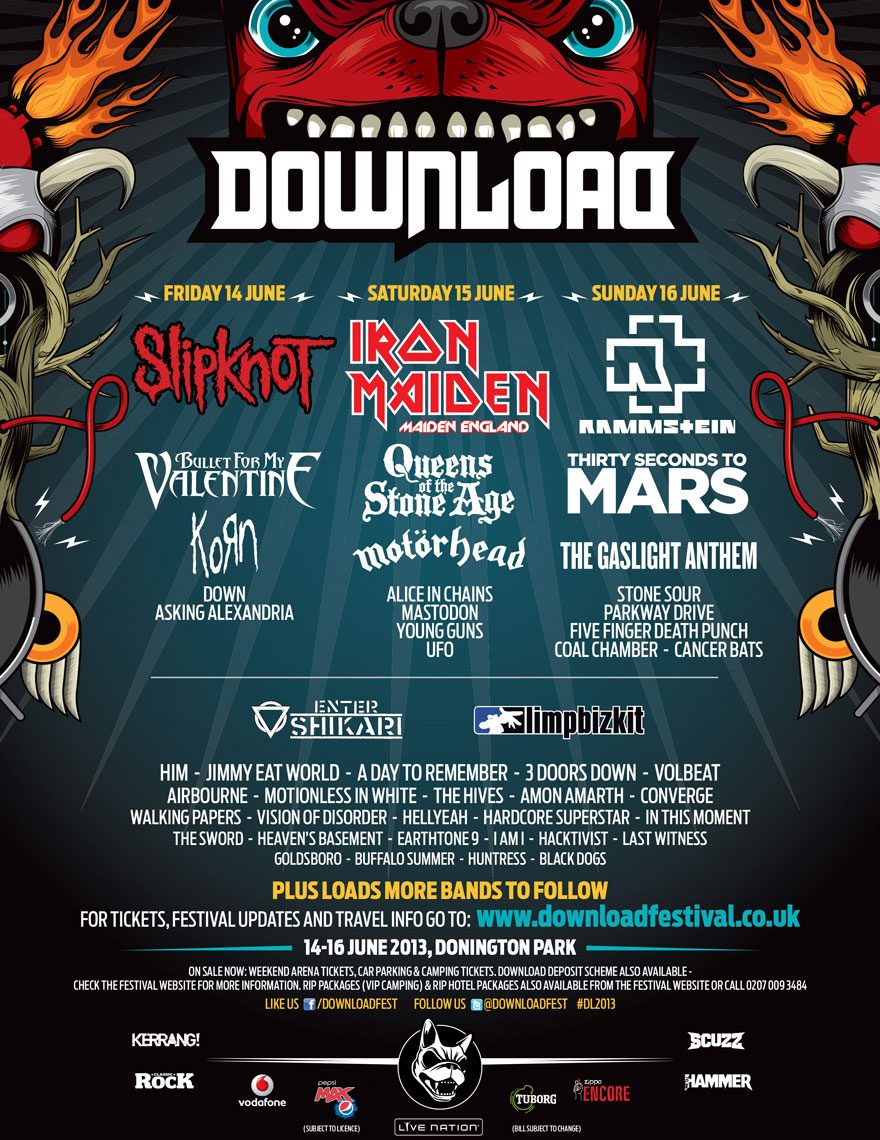 Download Festival 2013 – Day 1
18th June 2013
Download Festival – Donington, Fri- Sun, 14th – 16th June
Reviewed By: Matt

My whole agenda to attend this years Download festival was plain and simple, to witness the "Maiden England" set from the mighty Maiden. I was circa 13/14yrs old the time they first staged this tour and was just getting into Maiden, I missed that tour but caught "No Prayer For The Road" tour and "Fear Of The Dark" which Bruce Dickinson had already announced his coming departure and I for one felt you could feel that from the performance
So rather than just buy the three day event I went out on a limb to buy the five day camping tickets and were they worth it?….. of sorts I have to say, to get there early was great but it's still a massive trek to the site especially with a large tent – for those that are thinking of doing this next year, take minimum essentials, as small a tent as possible and bear in mind, you'll probably buy loads of T-shirts so pack light, and above all – get a decent camping barrow or a camping trolley – the rocky/sludge filled walk to the site can be a killer!
The site itself was well laid out with the Village central, food stalls and merchandise abound with also a funfair thrown in for good measure. A welcome addition is the comedy tents, to chill at nights go enjoy, have a few beers and wait for the festival to start as the tension starts……..
Fri 14th – Day One
We got to the venue at 12:30, just in time to grab a beer and to settle down seated centre stage for Rise To Remain, and although hearing a few bits by them I can't contest that I'm not au fait with all of their work. That said though the Guys started the festival with a kickstart and opened up with "Heartless", before moving onto "Power Through Fear" gathering momentum as each song progressed, they ended with "Bridges Will Burn" and I have to say I would have liked to have seen more, definitely one to see on tour. They were followed by The Architects the guys took to the stage and ripped it apart with opener "Alpha Omega" and they were perfectly positioned to carry on with the passion and rage that had already been brought to the stage from Rise, the Brighton boys certainly know how to deliver and with precise musicianship the atmosphere was electric. "Black Blood" followed and if you haven't heard anything by these band I'd suggest you listen to this, dripping with fury and exploding with talent it's so good to see UK metal so strong.
Next up were Asking Alexandria from York continuing with British metal and although I had my apprehensions following on from Architects could they carry the same weight but I'm glad to say my hunger was fed and my thirst satisfied "Breathless" is a stand out track that cries for devotion from the crowd and had a sea of fists pumping and a tidal wave of mosh pits throughout
From homegrown talent we then went over to the other side of the pond for Papa Roach, and since they grew from rap metal crossover into crotch/dirty rock they've watched some of the fan base divide and it's always been a personal question of how they would merge the two live. They do this with ease, so much so that live they could all sound from the same album just a different mix fused together, Jacoby Shaddix' vocals aren't strong today and maybe that's in comparison to the rage and strength I've witnessed from the first three vocalists of today, that said, this is a different kind of performance, it's a party for a few beers, to go out, get laid and get down and dirty which is what Jacoby does when the inner child comes out and he dives into the glorious example of our British weather – a massive mud pool. By the time he's back on stage he's covered in shit and loving every minute, the band mix songs from past and present and it's a credit how they've evolved and managed to pull it off (Motley Crue tried Grunge-esque if you remember), by the time the close with "Last Resort" the crowd are in a frenzy of bouncing heads…..
This slideshow requires JavaScript.
From there it was over to the second stage for this reviewers guilty pleasure, Europe are on fine form as ever opening with the first track from the latest album "Riches To Rags" and they then deliver a mixed bag around some of the heavier songs across their catalogue and commercial before closing with albatross "The Final Countdown", and aside from the thousands of people surrounding me at this point I'm stood next to a 6 foot 5" tattooed biker Viking who is chanting along – seems they aren't just my guilty pleasure
It's then back to the main stage to watch Korn, and this band were just born for festival's, Jonathan Davis even dusting off the bagpipes for today's set. Opening up with "Blind" they then move onto "Twist" before "Falling Away From Me" and then to "Narcissistic Cannibal" – an awesome track from the last album, which really comes into it's own live. Bassist "Head" is back with them and today is a great day to witness that reunion, they end with "Got The Life" and "Freak On A Leash" leaving a breathless audience.
Back over to the second stage to watch 3 Doors Down and I have to say they are a little tame for my taste but deliver a great set, surpriser being when they perform a cover of Megadeth's "Symphony Of Destruction". Live they have more of an edge than when on record and they come across well although they only play a handful of songs, opening with "Kryptonite" and ending on "When I'm Gone"
This slideshow requires JavaScript.
The Headliners of the main stage Slipknot come on stage at 21:00hrs and I have to say one thing – Slipknot, with ease, are the best at what they do, hands down. The Crowd is hungry from the start and " Disasterpiece" fires up the audience so much the front barrier was broken. By the third song "Wait and Bleed" the crowd are relentless and reveling in the glory of the performance, Corey Taylor fires up the audience like a true professional and this is the first appearance at Download without bassist Paul Gray and it's an emotional set filled with passion throughout. "Dead Memories" is like an explosion, and "Sulfur" reigns high from above onto the waiting crowd. Slipknot if you are in the minority of people that haven't witnessed this spectacle are a true immersion of the senses, you're life will benefit… go see them at the earliest chance
This slideshow requires JavaScript.
Closing the night back on the second stage are Black Stone Cherry, these southern Rock Boys are here to close the stage in style, opening with "Maybe Someday" before moving onto "Change" and "Blind Man". We also witness new song just to be presented at Download "Me And Mary Jane", Vocalist Chris Robertson's delivers a strong performance with his voice echoing around the stage. These guys are excellent live and if you like your Rock with blues, balls and attitude this is the band you need in your life. " Things My Father Said" is dedicated to a close friends father who passed away and also for Chris' Son, months old and when the crowd sing back you can see the tears he fights back. They pick up the pace again for "Blame It On The Boom Boom" and end with " Lonely Train" leaving an audience that are walking back to tents humming melodies from the performance and reflecting how amazing day one was…..
This slideshow requires JavaScript.