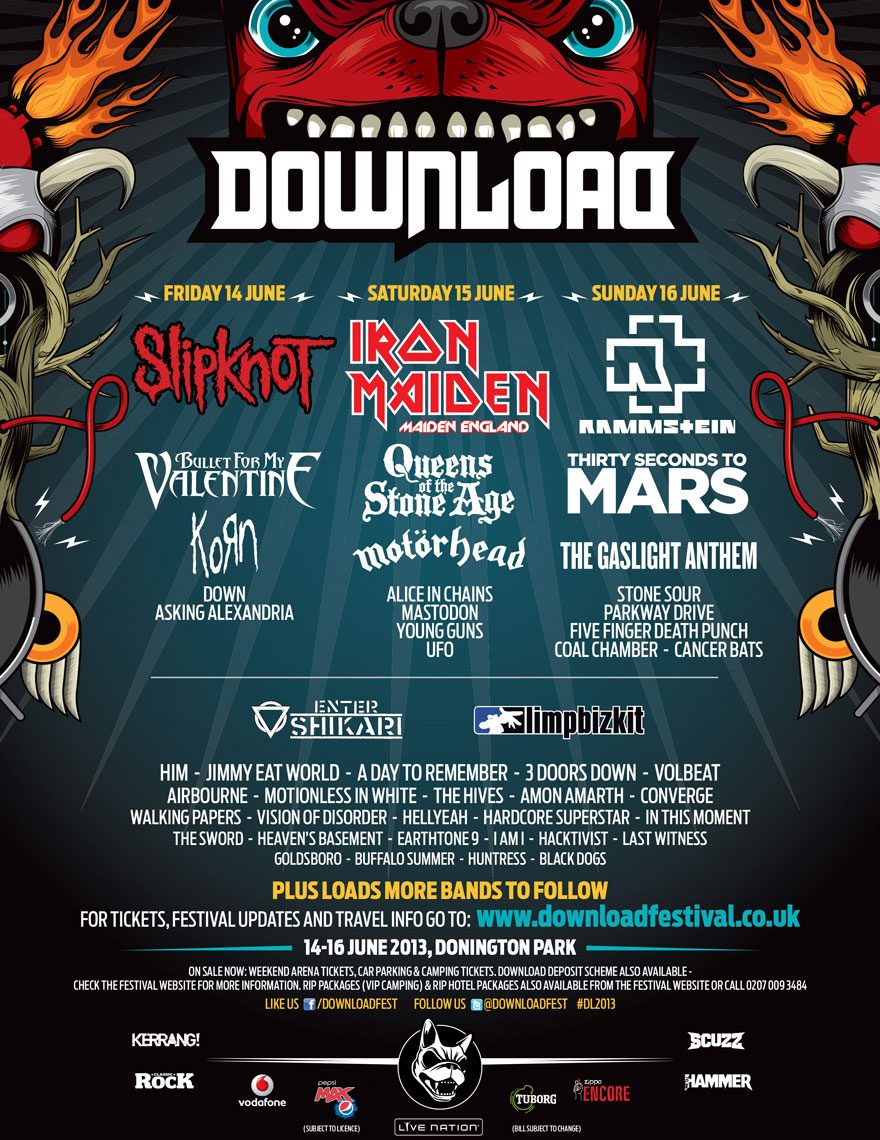 Download Festival 2013 – Day 3
23rd June 2013
We arrived at the main arena just after Midday and in time for the return of Coal Chamber, from the off the set felt dragged and staggered without really getting started. I'd go as far as to say they remind me of a cheap version of Korn but without really delivering.
Thankfully Five Finger Death Punch are here to recover the flawed start and to bring things back in line, with grinding riffs and extreme raw power to pound your head they open with "Under And Over It". Vocalist Ian Moody encourages the crowd to move and get into it all and for the full set there's no let up, they close with "The Bleeding".
Parkway Drive are up next and "Sparks" fires up their set,  and they continue the fire that Death Punch started, a solid set and the festival is all good again from Coal Chamber's poor start.
Corey Taylor follows with the awesome Stone Sour and the set starts with "Gone Sovereign" and it's apparent the bar's just been raised another level,  " Absolute Zero" follows and Corey tells us about his special bond with Download, being his other project aside from Slipknot the music is a different beast although similar to some Slipknot sounds it shines in it's own merit.
Over on the second stage the blues melodic based Rival Sons are playing and they completely rock, Jay Buchanan's vocals are impressive they kick off with "Wild Animal" a blues infused stoner rock song that brings a whole different mood to the show. They perform another four songs before drawing the set to a close with the zeppelin-esque "Pressure and Time".
We stay around to see Ghost take to the stage and after hearing lots about them I'm intrigued to see what they bring to the table, the music's impressive enough and with the choiresque vocals they are ok, but although I understand the deadpan speech is part of the show after two songs it feels mundane and from Rival Son's the show takes a dip.
Fortunately for us the party is about to get started as Airbourne walk on stage, yes they are compared to AC/DC  so what, it's the songs and the energy that count today and from first song "Ready To Rock" from new album "Black Dog Barking" and they are here to fire up the festival. For the first few songs the volume level on the vocals is complete crap, something Airbourne don't deserve and I find myself wishing it was during Ghost's set instead. However by "Raise your Flag" everything is resolved and the whole audience are reveling in the performance – Airbourne are amazing live and definitely a highlight of the weekend.
After that it's back to the Main Stage to see 30 Seconds To Mars, after just releasing another album of stadium chorus filling songs I know what to expect. The band take to the stage and open with " Closer To The Edge" before "Night Of The Hunter", "This Is War" is received greatly by the audience and it's good to see a mix of male and female alike, or maybe they guy's have been dragged here by their partners! 30 Seconds do receive a lot of abuse but the quality of the songs can't be denied, Jared Leto interacts well with the audience and for set closer "Up In The Air" a few members of the audience are brought on stage, one girl completely in tears over the experience and another who is caught on screen mouthing "I love you" to Mr. Leto which the crowd find hilarious. A good set by an underated band.
As the festival draws to a close it's back over to the second stage to see Limp Bizkit and they start with a Ministry cover of "Thieves" before moving on to "Rollin", crowd favourites "Nookie", "Hot Dog" are played amongst others and Fred Durst throws himself into the performance now sporting a full beard, – which was a surprise, but never looking as odd as guitarist Wes Borland tonight. Surpriser for tonight is an awesome version of "Killing In The Name of", although the last album "Golden Cobra" wasn't great there's no denying their presence tonight, and complete way to end the festival.
And so the journey starts for a two hour Journey home, some people travel from all over the world for this festival, so I'm lucky in that respect, but you know what? If I lived somewhere else in the World I'd travel here too….