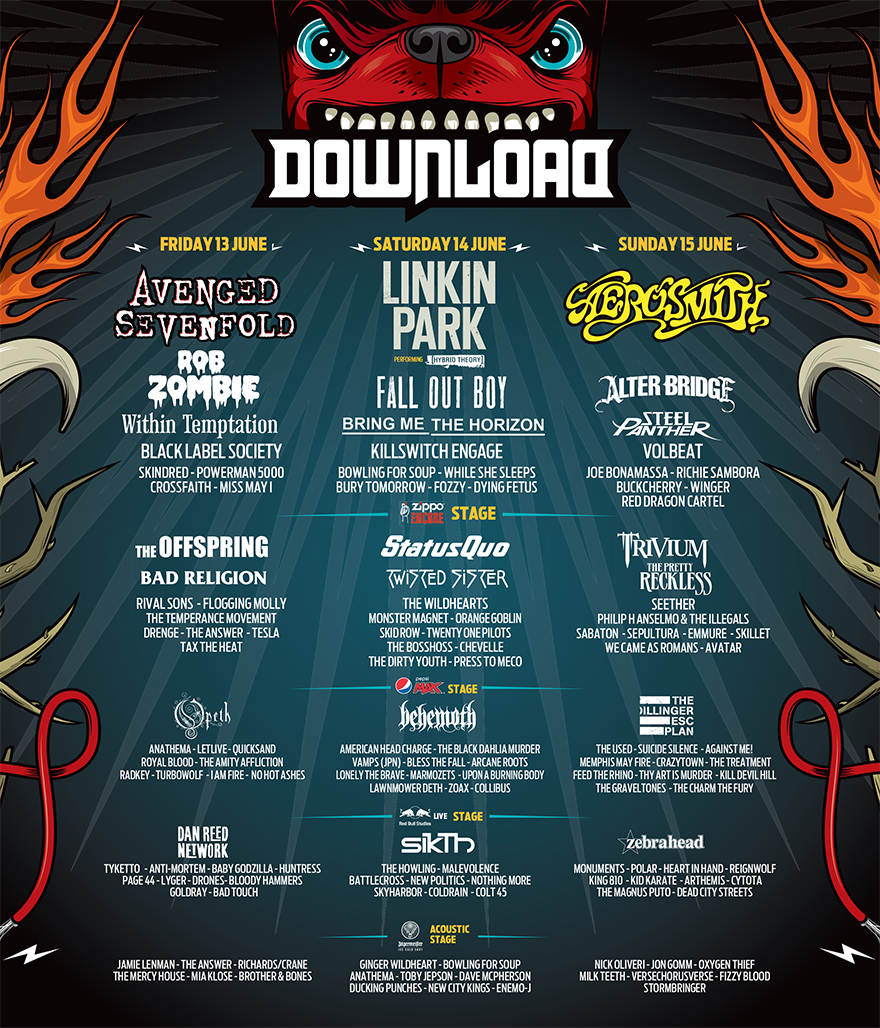 Download Festival 2014 Day One
18th June 2014
So where to start? the year wouldn't be right without AATR visiting Download to give you the lowdown on the summers hottest rock festival and this years line up was diverse to say the least! opening up with Brother and Bones on the Jagermeister stage it was good to catch up with something new, unique and pretty darn special, the boys opened Download the only way it could or should be done, with class – Check out "I See Red", or "Back To Shore". Next up was Mia Klose on the same stage and it was an awkward start to the set, previewing new material it came across that she hasn't yet found the vein she wishes to follow with music that was more pop than rock, it was only towards the end that the rock influence started to show through.
From there it dipped from bad to worse, Mercy House followed and although the music was hard hitting it was let down by the vocals, on record they are a Fear Factory sounding outfit that kicks ass, live they sadly couldn't deliver that with straining wails. Thankfully though Skindred were raising the rage on the main stage to compensate for any less performing outfits, and blow them away they did, promoting new album Kill The Power they tore up the audience with their performance – nice recovery guys!
Back to the acoustic Jagermeister stage and New City Kings delivered a fine impressive set and like Brother and bones are definately a band to keep your eyes on with material worthy of your attention and time. By the time we made our way back over to the main stage there was more power being delivered from the mighty Zakk Wylde with Black Label Society, hair and mass atop the stage he reminded everyone why his band deserved to step away from the shadow of his former boss and revel in their own musical right. Rival Sons took to the second stage and promoting their new album Great Western Valkyrie, opener "Electric Man" set the stage alight musically as these southern blues retro rockers delivered an amazing set, def one to watch, and live a spectacle of raw power to witness. ( Even if bassist Dave Beste looks like Keith Lemon's brother ) 🙂
Rob Zombie was back on the Main stage, with backdrops of old horror films, the Zombieman opened his set with "Teenage Nosferatu Pussy", before moving onto "Superbeast "and "Living Dead Girl", it was a little bizarre to see the master of dread and horror rock performing in sunlight as he cursed the weather, declaring it "didn't seem right that it wasn't pissing down". He performed a couple of White Zombie movies before ending his set with Dragula, perfect.
Avenged Sevenfold headlined the main stage on the Friday night and it was an awesome way to close the first day, although there was outcry about them headlining at first it was evident only after a few songs of why they deserved to be there, showcasing material from the latest album "Hail To The King" they showed exactly how impressive they can be, an excellent day, with only a couple of dips earlier in the afternoon….