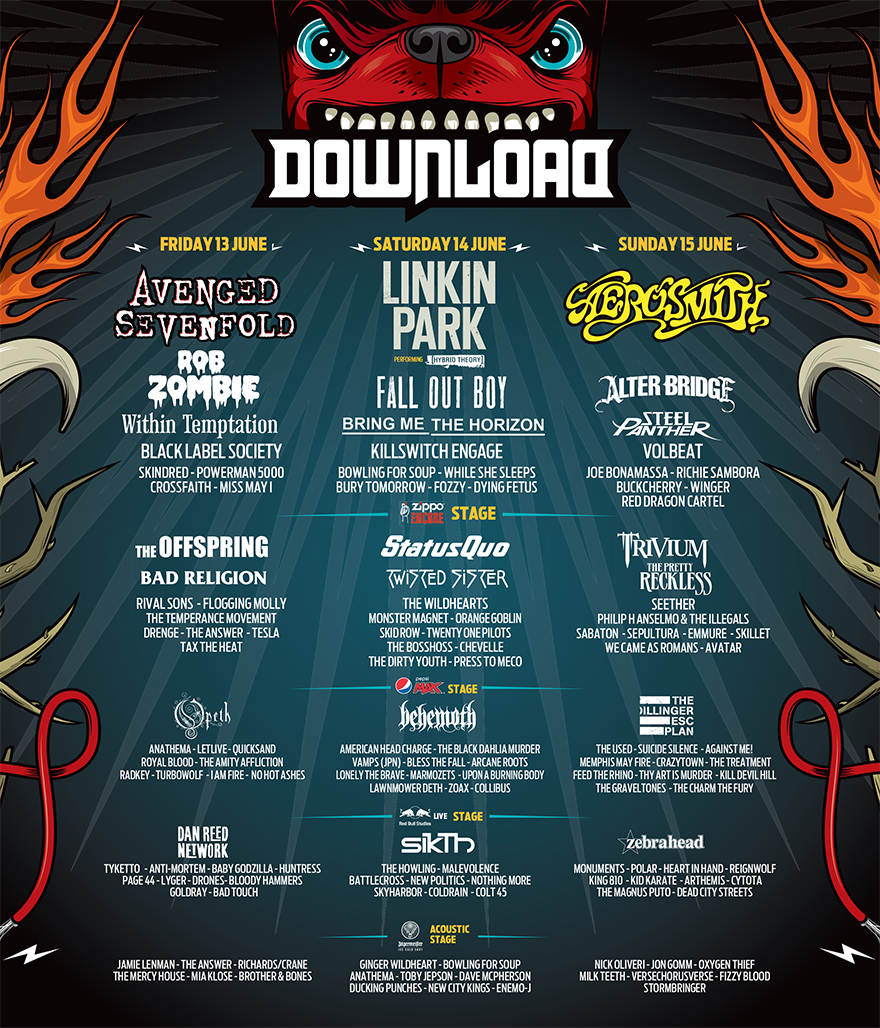 Download Festival 2014 Day Two
19th June 2014
We made our way straight to the main stage to catch Fozzy open the day, there was already quite a crowd to watch them perform and considering the band started out as a bit of fun ( they were originally and Ozzy tribute band called Fozzy Osbourne ) they have climbed to impressive heights, it was a great start to the day. Next up was Bury Tomorrow who I'd only hear inklings of, Vocalist Daniel Winter Bates encouraging mosh pits and crowd surfing in abundance this early in the day, which all power to the band they achieved. Hardcore music has to be the right balance, if not then it fails one side or the other, Bury Tomorrow deliver it well and in abundance.
We then made our way over to the second stage to catch 21 Pilots deliver something that in their own words was a set that's completely different to Rock, and it was with rap performance to equal Eminem, and hypnotic erratic beats it was something that held the attention of all, and definately one of the performances of the weekend. Skid Row followed and it has to be said that when they perform older tracks that Sebastian Bach sang on current vocalist Johnny Sollinger should deliver in more his own style as it simply can't compare, however tracks that he later sang on were performed excellent and the later punch of Skid Row deserves your attention, equal to at least their early bouts in the late eighties early nineties.
We then caught another fresh band Skyharbor who I'd never seen before and they were in a word awesome, more melodic than Bury Tomorrow, but stronger in delivery live, check out "Evolution". This is the benefit of attending festivals, sometimes you discover your next new band.
Back then to the acoustic Jagermeister stage to see Toby Jepson present the audience with a set mainly of his own material with a couple of Little Angels numbers in there, he previewed songs from "Raising My Own Hell first and then onto what the crowd were waiting for, if anything it's a loss the Little Angels couldn't have carried on but Jepson does a fine job solo.
Back to the Main Stage  for the last two acts and up first were Fall Out Boy, giving the crowd an overserving of pop punk rock, they delivered across their range of albums and highlights were "This Ain't A Scene" and the cover of Micheal Jackson's "Beat It".
And so, to the Headliners Linkin Park,  one of the big attractions to Download this year was that the band in fact would play "Hybrid Theory" in completion, the most loved album and the hardest edge, they said themselves after forty minutes if it had been 2001 it would have been their entire set over, but they delved into their back albums before previewing songs from "The Hunting Party". I'd seen Linkin Park before, but tonight was special, to hear the first album in it's entirety was amazing alone and a perfect closure as we made our way back to our tents.