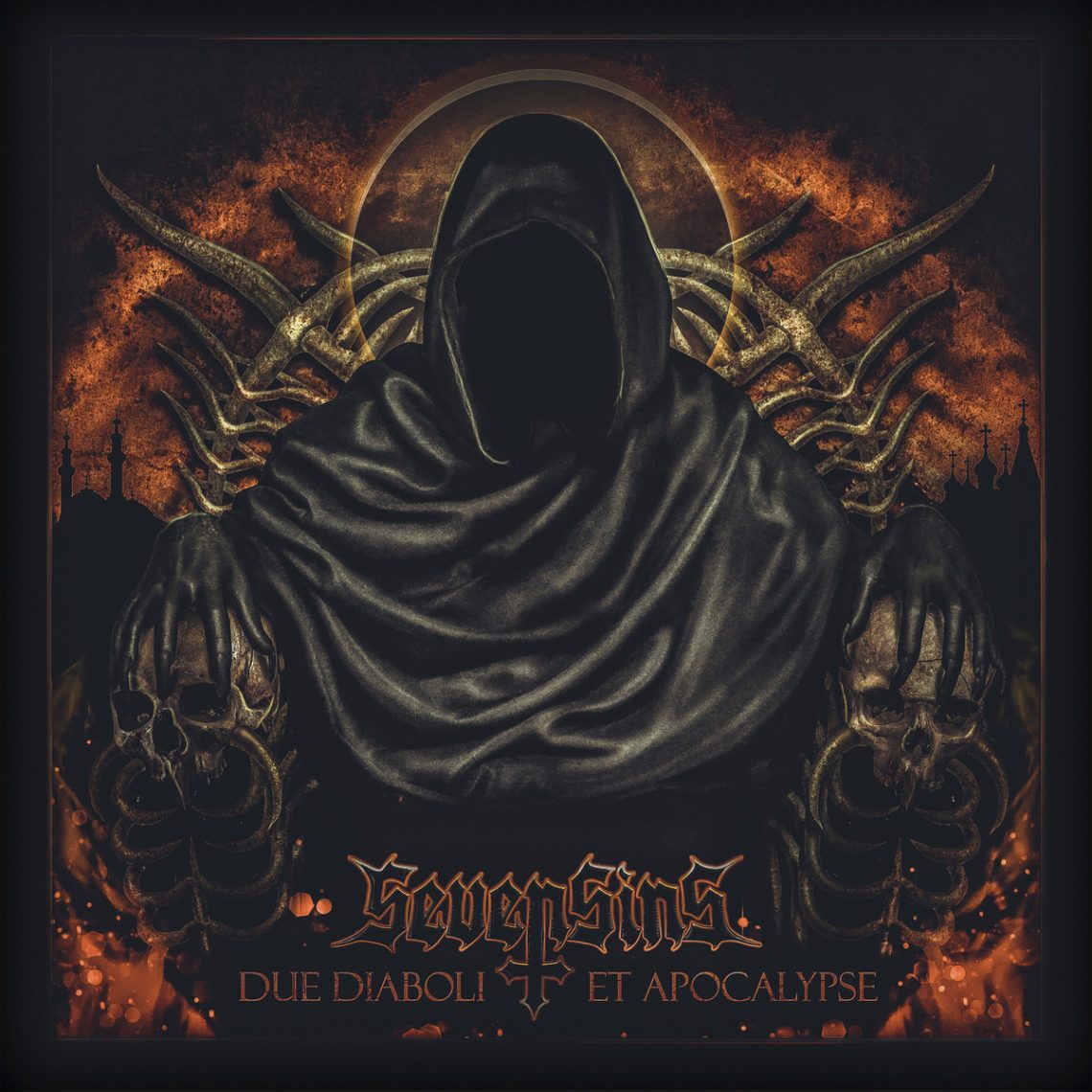 Seven Sins – Due Diaboli Et Apocalypse CD Review
23rd October 2016
0
By
Fraser
Hailing from Kazakhstan, of all places, Seven Sins released their sophomore album, Due Diaboli Et Apocalypse, under Satanath Records last month. As Kazakhstan is not a country known for its metal output, I was intrigued when Due Diaboli Et Apocalypse crossed my desk. To say I was pleasantly surprised would be an understatement. The album is entirely in Russian, I believe – this irked me slightly, as I personally love reading lyrics and digging into the concept and themes of songs. However, that is a matter of personal preference and does not speak to the insanely high quality of the music itself. Due Diaboli Et Apocalypse is just under 50 minutes of utterly epic sonic devastation. To say I was pleasantly surprised would be an understatement.
Where Seven Sins truly excel is in their use of orchestration. The symphonic elements to their music create atmosphere, but do not overpower the brutality. Taken as a whole, Due Diaboli Et Apocalypse is a fast, utterly savage lesson in black metal. The orchestration and operatic, female vocals stand as an excellent contrast to the blast beats, down-tuned riffing and venomous vocals found throughout the majority of Due Diaboli Et Apocalypse.
If you are looking for a traditional black metal album that is cold, raw and has the production value of a 1920s film, then I would advise you to give this a miss. If you are looking for a traditional death metal album, built on utter brutality, I would again advise you to give this a miss. Due Diaboli Et Apocalypse is a little too blackened to be death metal, and a little too full-bodied to be black metal. The production quality is surprisingly strong.
Vocally, Seven Sins hit the nail on the head. Slap-bang in the middle of black and death metal, the vocals throughout Due Diaboli Et Apocalypse are mid-ranged and enjoyable. They do not grate on the ears, nor do they become monotonous. Right across the record, the listener is treated to a sound somewhat akin to what I imagine the bastard love-child of Fleshgod Apocalypse and Dimmu Borgir would sound like. A noteworthy point is also the guitars. While, yes, Due Diaboli Et Apocalypse is wholly punishing, the riff work – and particularly the solos – are hugely enjoyable.
What is really quite sad, is that due to Seven Sins' isolation from the world, I highly doubt Due Diaboli Et Apocalypse will get the attention and universal praise it deserves. Their sound is incredibly original and exceptionally well executed. If you had told me at the start of the year that one of 2016's best metal albums would come out of an isolated town in the northeast of Kazakhstan, I would have politely, yet firmly, told you to shut up and get me another beer. However, that is exactly what Due Diaboli Et Apocalypse is: one of 2016's most enjoyable and well-executed albums. I, for one, will be keeping a very close eye on this quintet – and you should too.
Score: 9 out of 10 
Due Diaboli Et Apocalypse Information
Track List:
1. Tempus Mortuorum
2. Kabbalah
3. Alchemist
4. Peregrinus
5. Mors Atra
6. Due Diaboli
7. Seraphim
8. Avicenna
9. Praesuptio Reatum
10. Infinitas Non
11. Teofelspakt
Record Label:
Satanath Records
Release Date:
20th September 2016
For fans of…
Dimmu Borgir, Septicflesh, Fleshgod Apocalypse
Check out Seven Sins on Facebook, and order Due Diaboli Et Apocalypse here!
How useful was this post?
Click on a thumb to rate it!
Average rating 0 / 5. Vote count: 0
No votes so far! Be the first to rate this post.
Related
About the author
This bearded wildman from North of the wall survives the harsh ever-present winter of Scotland on a healthy diet of thrash, death metal and beer.