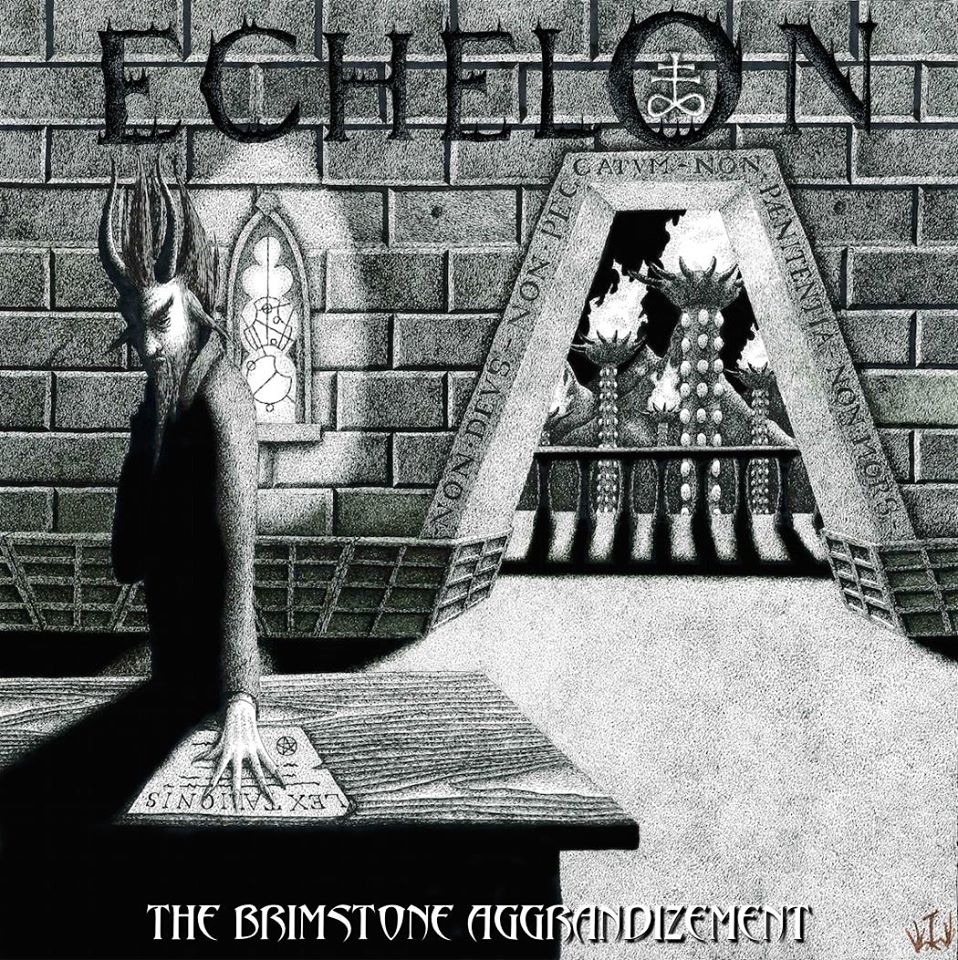 Echelon – The Brimstone Aggrandizement CD Review
3rd October 2016
0
By
Fraser
For those unfamiliar with Echelon… shame on you! The group formed last year, with main creative forces Rogga Johansson of Paganizer (and every band, ever…) and Dave Ingram of Bolt Thrower, Benediction and Hail of Bullets. They released their debut album, Indulgence over Abstinence Behind the Obsidian Veil, almost a year ago to the day, and are following it up with The Brimstone Aggrandizement in December. An international supergroup of sorts, with Ingram and Johansson working together on this album, one would expect brilliance. And one would not be disappointed…
This is hard-hitting, aggressive, old-school death metal. There are no modern flourishes here, no deeply melodic or progressive passages, no hint of clean vocals, no breakdowns. This is old-school death metal true to its roots. Visceral. Brutalising. Savage. The Brimstone Aggrandizement is not an easy listen – this is as abrasive as it comes. However, that is where it's charm lies.  The super-fast riffing, the flashes of solo work, the demonic vocals – everything about The Brimstone Aggrandizement screams "classic." The collection of samples – at a guess I'd say from Dr Who, given Ingram's love of the franchise – is a nice, though largely unnecessary, touch.
The Brimstone Aggrandizement opens strong with Plague of the Altruistic. Supremely heavy with generous helpings of groove, Plague of the Altruistic is a perfect teaser for what to expect for the rest of the album. The solos thoughout the record as a whole is largely excellent – the solos on The Forbidden Industry and Vital Existence are particularly awesome. The final track on the album is split into two parts, Monsters In The Gene Pool and Sonic Vortex. Monsters In The Gene Pool is simply brilliant old-school worship, however, the Sonic Vortex part of the song felt largely redudent. The album highlight for sure, however, is the incredible Of Warlocks And Wolves. Of Warlocks and Wolves is massively aggressive with a real blackened edge to it, and stand as the most enjoyable track of The Brimstone Aggrandizement by far!
What The Brimstone Aggrandizement lacks in uniqueness it more than makes up for in sheer aggression and blindingly good musicianship. Ingram and Johansson have crafted eight tracks of pure devastation. The riffs are evil, the solos shreddy, and everything is just so goddamn heavy. This is old-school death metal done right!
Score: 8.5 out of 10
The Brimstone Aggrandizement Information
Track List:
1. Plague of the Altruistic
2. The Forbidden Industry
3. Lex Talionis
4. Of Warlocks and Wolves
5. The Brimstone Aggrandizement
6. Vital Existence
7. The Feared Religion
8. Monsters in the Gene Pool/Sonic Vortex
Record Label:
Transcending Obscurity Records
Release Date:
22nd of December 2016
For fans of…
Paganizer, Bolt Thrower, Hail of Bullets
Check out Echelon on Facebook, and preorder The Brimstone Aggrandizement here!
How useful was this post?
Click on a thumb to rate it!
Average rating 0 / 5. Vote count: 0
No votes so far! Be the first to rate this post.
Related
About the author
This bearded wildman from North of the wall survives the harsh ever-present winter of Scotland on a healthy diet of thrash, death metal and beer.