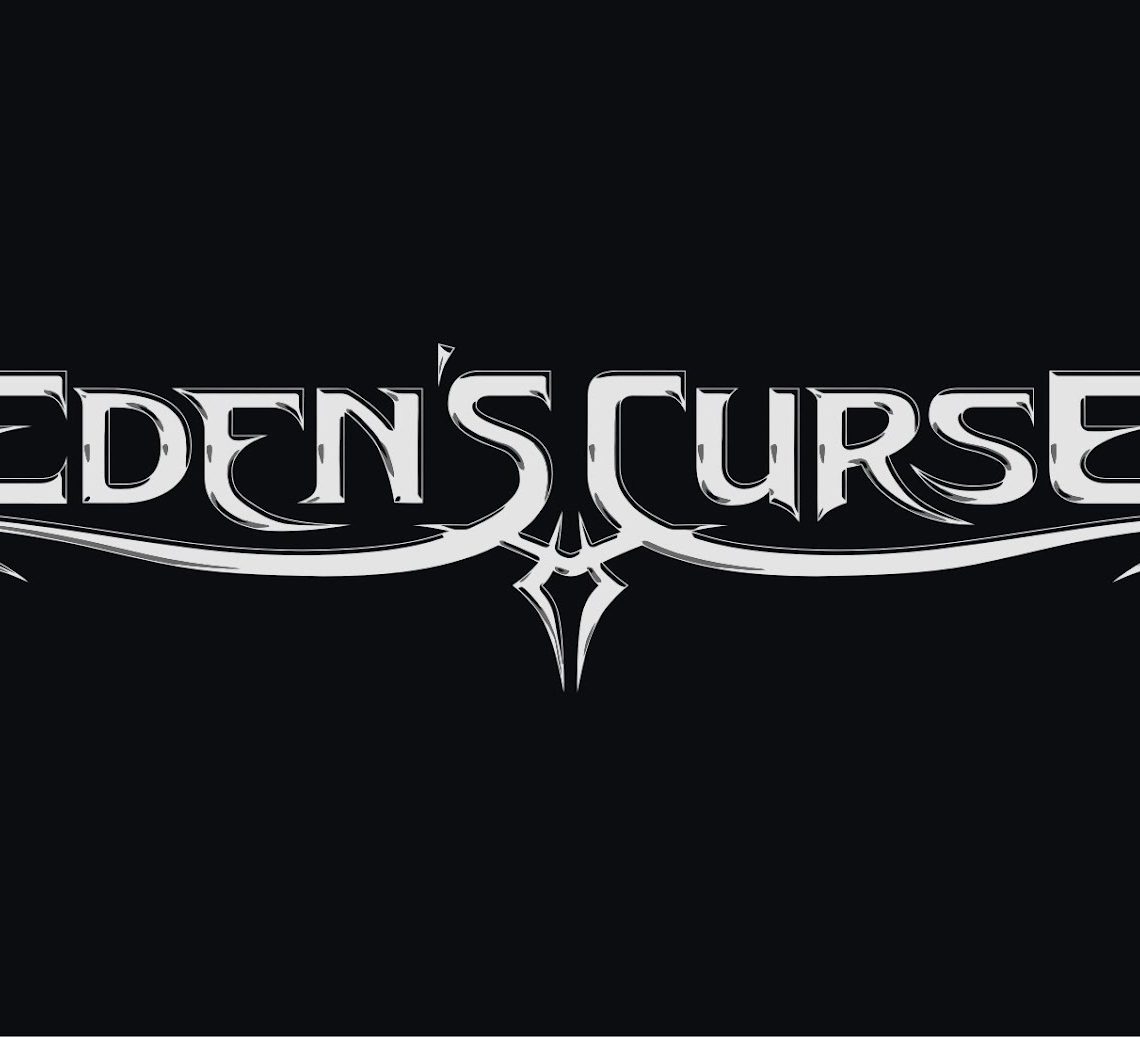 EDEN'S CURSE team up with Mob Rules and degreed for UK tour in April 2019, dates announced.
13th November 2018
Eden's Curse are delighted to announce their headline Testament UK Tour in April 2019, in support of their new Best Of album which is out now on AFM Records, released 2nd November 2018.
Joining them on the road will be two VERY special guests in German Melodic Metal legends MOB RULES and up and coming Swedish Melodic Rock sensations degreed.
"Mob Rules have been one of my favourite bands for many years and when we were putting the tour together with our booking agency, their brilliant new album 'Beast Reborn' dropped and we also signed to the same LUCKY BOB Music Agency. The omens were there and it just made perfect sense, as musically we are not too dissimilar and they haven't been to the UK in many years." says bassist Paul Logue.
Paul went onto add "I had been hearing the name Degreed for a few years now, but never seen or heard them. Eventually I caught them opening for H.E.A.T last year and they were absolutely brilliant. We then followed them on the bill at MelodicRock Fest – Scandinavia in Sweden, earlier this summer, and I loved what I saw and kept them in mind as possible future touring partners. I'm really glad they accepted our offer. I think it makes it a brilliant package for the fans. Expect an evening of gigantic guitars, titanic choruses and fist pumping anthems!".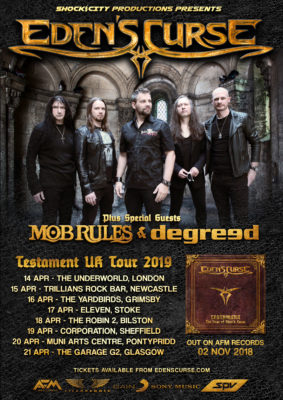 The complete tour dates & ticket links are as follows:
Sun 14th APRIL – The Underworld Camden, London, ENG
Tickets: https://www.theunderworldcamden.co.uk/…/564f4d10-af83-0136-…
Mon 15th APRIL – Trillians Newcastle, Newcastle, ENG
Tickets: http://t-s.co/ede01
Tue 16th APRIL – Yardbirds Rock, Grimsby, ENG
Tickets: https://www.seetickets.com/…/edens-c…/yardbirds-club/1274826
Wed 17th APRIL – Eleven, Stoke, ENG
Tickets: https://www.ents24.com/stoke-on-tr…/…/edens-curse/1073911103
Thu 18th APRIL – The Robin 2, Bilston, ENG
Tickets: http://www.therobin.co.uk/whats_on/giginfo.asp?gigid=5515
Fri 19th APRIL – Corporation Sheffield, ENG
Tickets: http://www.corporation.org.uk/…/Edens+Curse+at+Corporation+…
Sat 20th APRIL – Muni Arts Centre, Pontypridd, WAL
Tickets: http://www.derricksmusic.co.uk/Tickets.html?event=5676
Sun 21st APRIL – The Garage G2, Glasgow, SCO
Tickets are on sale now from http://www.edenscurse.com/tour
Tickets: http://t-s.co/ede00
Order 'Testament – The Best Of Eden's Curse' here:
https://shop.afm-records.de/detail/index/sArticle/1458
EDEN'S CURSE announce the details of their new release 'Testament – The Best Of Eden's Curse'.
'Testament – The Best Of Eden's Curse' was released by the band's long time label AFM Records on 2nd November 2018 and is a two disc CD set that features 14 songs, covering all five studio albums, on CD1 and a bonus disc 'The Best Of The Bonus Tracks' on CD2, which includes a brand new song 'Forever'.
The full tracklisting for 'Testament – The Best Of Eden's Curse' is as follows:
CD 1 – The Best Of Eden's Curse
01. Symphony Of Sin
02. Masquerade Ball
03. Black Widow (Featuring Andi Deris)
04. The Great Pretender
05. Fly Away
06. No Holy Man (Featuring James Labrie)
07. Sell Your Soul
08. Jerusalem Sleeps
09. Unconditional (Featuring Liv Kristine)
10. Judgement Day
11. Jericho
12. Unbreakable
13. Evil & Divine
14. Angels & Demons (Featuring Pamela Moore)
Mixed & Mastered by Dennis Ward.
CD2: The Best Of The Bonus Tracks
01. Forever (New Song)
02. Man Against The World (2016)
03. Time To Breathe (2013)
04. Fallen From Grace (Acoustic)
05. Unchain The Night
06. Children Of The Tide (Piano)
07. Never The Sinner
08. Guardian Angel (Acoustic)
09. Prisoner Of The Past
10. Sail On (Acoustic)
11. After The Love Is Gone (Acoustic)
12. Fly Away (Acoustic)
13. The Voice Inside (Acoustic)
14. Eden's Curse (Acoustic)