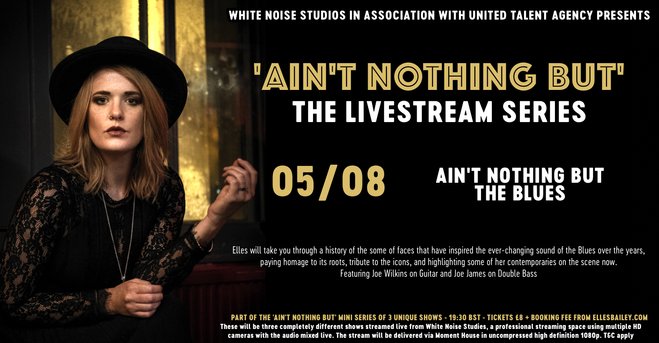 Elles Bailey Broadcasts Last Live Stream Tonight 5th August 2020
5th August 2020
It is the last of our Livestream series and tonight we pay tribute to some of the many iconic faces of the very changing sound of the blues for   'Aint Nothing But' the blues, hosted White Noise Studios. Speaking of White Noise – let's give them a huge virtual round of applause for hosting these shows – what a studio! It's really been a pleasure to head to Weston every week and know we are in such safe hands and that you are receiving such a good quality stream!
Joining me on the virtual stage tonight is  Joe Wilkins on Guitar (of course) and Joe James (from True Strays fame) on Double Bass. 
It's been a wonderful moment to pause on the 'business, as usual, Elles Bailey' and to think about some of the other songs and artists that have inspired me, that are etched into the fabric of my soul. Preparing for the 'lyric' and 'blues' shows has been a beautiful challenge that I have so enjoyed getting my teeth into.
I also just wanna say thank each and every one of you for 'coming out' to the shows, and for still supporting 'live music' in this safe way. Because of your support, I have been able to make sure everyone is paid, the studio and their amazing team, my wonderful agent and all the talented musicians involved.  At times like this, when the industry is on its knees, investing into our scene is crucial. I am so incredibly humbled by your contribution. I also really hope you have enjoyed them as much as I have!
Tonight is gonna be rad I promise – See you later folks!
<< GET YOUR TICKETS HERE >>'Ain't Nothing But' Tour Tee is still in stock and you should have all received your orders by now!
There are still a few sizes left too  🙂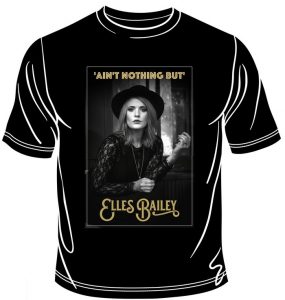 Tour Tee
I owe my life to the incredible team of doctors and nurses at Southmead hospital who did everything they could to keep me alive when I got very sick and needed the last ventilator available. I am so delighted to have been asked to be a part of this stream hosted by Louisa Maria on Friday to give back in a way that I know how to.
You can view it for free on Louisa Maria's facebook page and I shall be playing at 7.30pm BST 
<< Donate to the Fundraiser >><< Watch The Fundraiser >>
Got you some fabulous music on this weeks radio show.
Tune in from 8pm every Thursday!
You can now also hear all my radio shows ON DEMAND !
Whooop Whooop! 
Ps. It seems like I lifetime ago that Woman Like Me dropped….. even though it was only April! Here is a little throwback for you.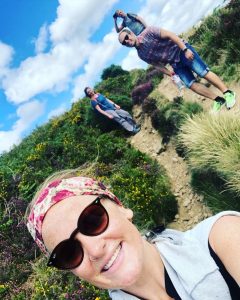 I hope you guys are keeping well and safe. Here's a couple of pictures of the two days off I had in the Peak District. It was divine to just stop and see the world from another perspective. 
See you soon you beauties 🙂 
Keep smiling 
All my love
Elles
xOxOx