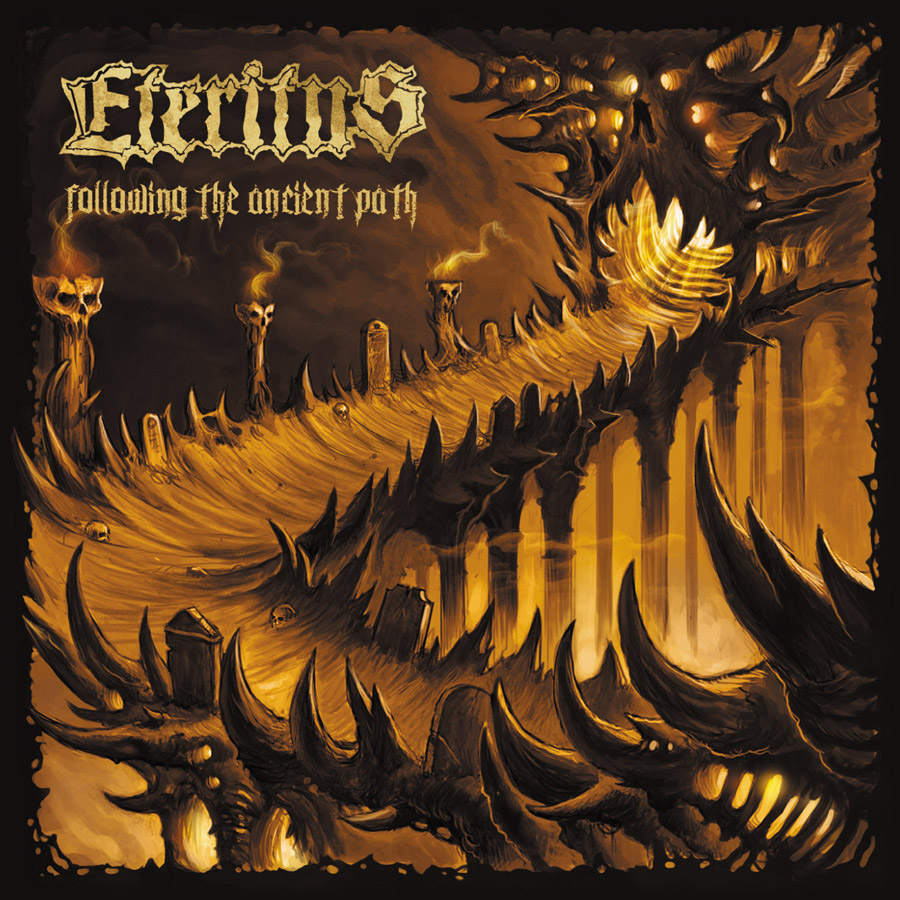 Eteritus – Following The Ancient Path CD Review
12th September 2016
0
By
Fraser
Much like Germany and its thrash, Poland seems to have a remarkable talent for producing excellent death metal. Vader. Behemoth. Hate. Decapitated. Trauma. Lost Soul. Dragon. Ghost (no, not THAT Ghost). The list is nigh endless. New to the fold, we have Eteritus. Hailing from Toruń in northern Poland, Eteritus unleashed their debut, Following the Ancient Path, through Godz Ov War Productions earlier this year.
With their boots firmly placed in old-school death metal, Eteritus have masterfully harness the classic Tampa sound, while mixing it with a grim, Polish influence. Following The Ancient Path has plenty of buzzsaw riff work, the drumming is suitably punishing, and the vocals feel reminiscent to early Vader. Across the riff-work and composition, there is also a hint of a Scandanavian influence. The mixture of influences from these regional scenes has allowed Eteritus to craft an album of hugely enjoyable, if slightly generic, death metal.
Following The Ancient Path eases you in gently, with a very Swedish sounding, melodic intro before driving into Biocentric. Packed to breaking point with hooky, rough riffs, Biocentric sees Eteritus display their infectious grooves. With Following The Ancient Path's half-way point, Eye of the Storm, we find ourselves plunged into an up-tempo, hook-heavy slab of pure Polish death. Eye of the Storm carries some of the most unrelelnting riff-work and the catchiest chorus of the album. By the end of the release, I found myself a little fatigued by the lack of originality, but the final double-whammy of End of the Line and Mortal Prophecy proved to be two of the strongest tracks on the album. Savage and sinister, they close this already strong album in an excellent way.
Following The Ancient Path is one of 2016's most promising debuts. What Eteritus lack in originality, the more than make-up for in their deliverance of brutalising, skull-crushing old-school worship. From Following The Ancient Path it is clear Eteritus are joining the brotherhood of killer Polish death metal, and I, for one, will be keeping an interested eye on these Poles for certain!
Score: 8 out of 10
Following The Ancient Path Information
Track List:
1. Intro
2. Biocentric
3. Hellish Imagery
4. The Unliving Thing
5. Eye of the Storm
6. Incinerator
7. Somber Mind
8. End of the Line
9. Mortal Prophecy
Record Label:
Godz Ov War Productions
Release Date:
26th of June 2016
For fans of…
Cannibal Corpse, Dragon, Morbid Angel
Check out Eteritus on Facebook, and order Following the Ancient Path here!
How useful was this post?
Click on a thumb to rate it!
Average rating 0 / 5. Vote count: 0
No votes so far! Be the first to rate this post.
Related
About the author
This bearded wildman from North of the wall survives the harsh ever-present winter of Scotland on a healthy diet of thrash, death metal and beer.