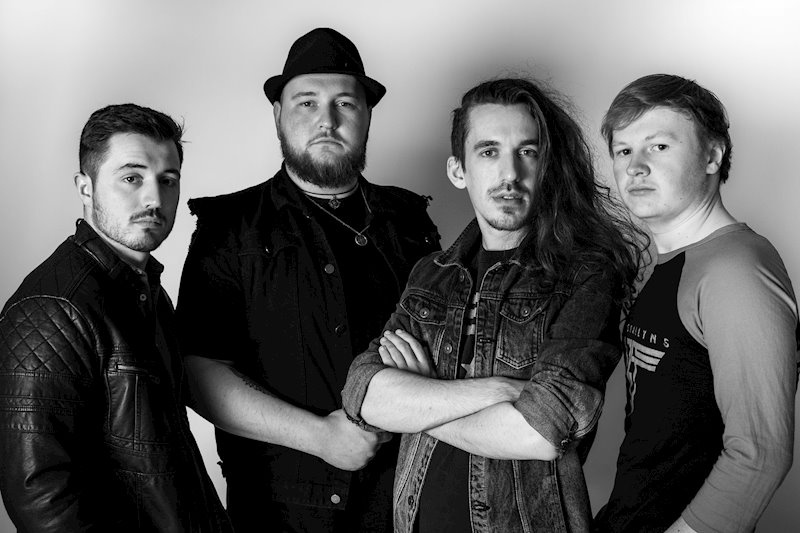 Everyday Heroes – A Tale of Sin and Sorrow Standing Stones
20th March 2020
0
By
John Deaux
Welsh southern hard rock group Everyday Heroes have revealed details of their forthcoming debut album 'A Tale of Sin and Sorrow'. To co-incide with the announcment, the band have premiered a music video for new track 'Standing Stones'.
 Pre-order 'A Tale of Sin & Sorrow': https://everydayheroesmerch.bigcartel.com/product/a-tale-of-sin-sorrow-cd-pre-order-releases-05-06-20
Wales Online hails Everyday Heroes "one of the 11 most exciting bands and artists in Newport" and with this new release the group deliver on the promise shown to date in such a short space of time.
Released 5th June, 'A Tale of Sin & Sorrow' sees the four piece stepping up to the plate and delivering a first class, full length studio release following 2016's self titled introduction, and 2017's 'The Other Side of Nowhere' eps.
Not ones to rest on their laurels, the band have taken care to present the best version of Everyday Heroes and present 11 tracks of well crafted, blues infused rock with character. "The inspiration for 'A Tale of Sin and Sorrow' came from research into the Camino Pilgrimage in Northwestern Spain, which Dan eventually undertook", the band explains. "Many of the albums' themes and characters imagery draw a direct comparison to the wonderful mythology of this ancient expedition.
We knew early in we didn't want to settle for reproducing the same sounds heard on our previous releases, so we placed a special focus on enriching the songs of this album with musical accouterments, to give them more life and colour than they may have had with only our expected instruments."
The new album follows an impressive array of shows and festivals for Everyday Heroes including sharing stages with Thunder, The Darkness, The Answer, Stone Broken, plus live festivals Steelhouse, Hard Rock Hell, HRH Roadtrip, Wildfire Festival, Winter Storm, Call of the Wild, Rock N' Roll Circus, and more.
'A Tale of Sin and Sorrow' was recorded and produced at the Boneyard Recording Studio (Dream State, Buffalo Summer) in Neath by Andrew Francis and Phil Humphreys, and is released 5th June 2020.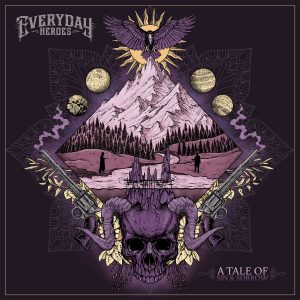 ALBUM TRACKLIST
1) Texas Red
2) Find my Way
3) Standing Stones
4) The Witch's King
5) Soul to Save
6) Victorious (Take my Chains)
7) All Outta Faith
8) The Crow
9) Breathe Again
10) West of Forever
11) Without a Throne
EVERYDAY HEROES LIVE
02 May – GLOSSOP, Outlaw Rock N' Roll Weekend
03 May – BLACKPOOL, Rockforce Festival
28 June – WILDFIRE FESTIVAL
11 July – MANCHESTER, SOS Festival
22 Aug – BATHGATE, NR Rocks
30 Aug – NORTHWICH, Rockwich
LINE-UP
Luke Phillips – Lead Vocals, Lead Guitar
Daniel Richards – Rhythm Guitar, Backing Vocals
Jay Haines – Drums, Percussion, Backing Vocals
Lewis Watkins – Bass Guitar
CONNECT WITH EVERYDAY HEROES
. Official Website: https://www.everydayheroesband.co.uk 
. Facebook:
https://www.facebook.com/EDHbandUK
 
. Instagram: https://www.instagram.com/everydayheroesofficial 
. YouTube: https://www.youtube.com/channel/UCK9q3dMfJwHoP7jFu7l5sdQ 
. Twitter: https://twitter.com/EDHbandUK
How useful was this post?
Click on a thumb to rate it!
Average rating 0 / 5. Vote count: 0
No votes so far! Be the first to rate this post.
Related
About the author
Some say Yank My Doodle, It's A Dandy! is a biographical movie based on John. Some have even said that his favorite artist is Chesney Hawke! All we really know is he sleeps inside out and his hair tastes like candy floss.