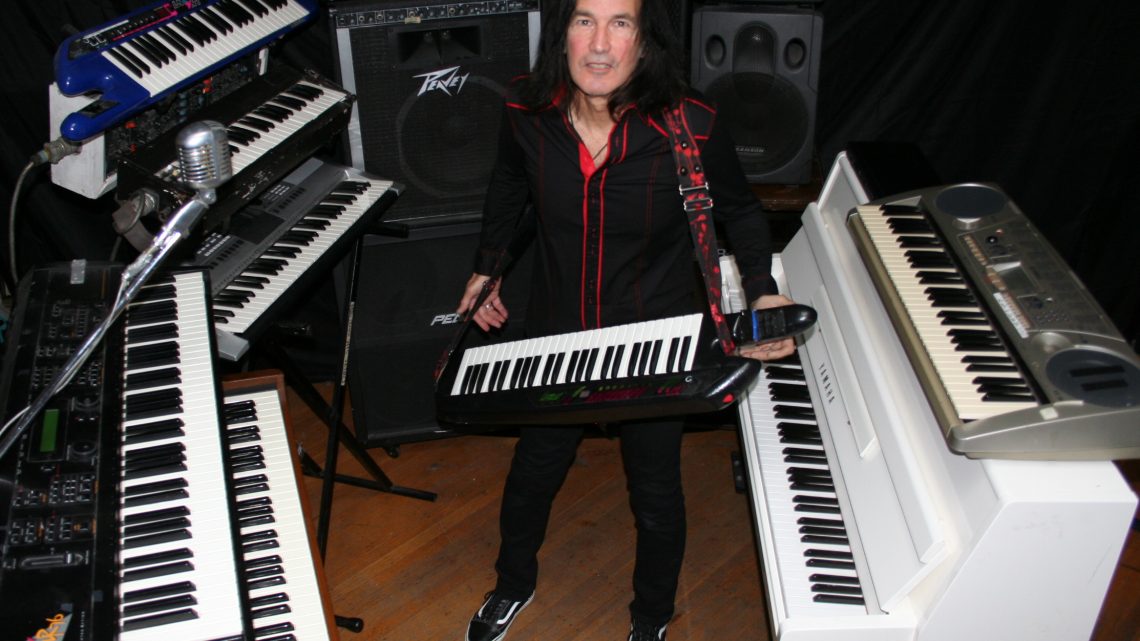 *EXCLUSIVE* All About The Rock interviews KEYS Mark Mangold
26th July 2022
KEYS is a collaboration between keyboardist Mark Mangold (Touch, Drive, She Said, Michael Bolton, Cher, Paul Rogers and others) and singer Jake E (Cyhra, Amaranthe, and others).
Featuring live performances with three keyboardists and a huge battery of keyboards, this ambitious band brings keyboard and instrumental prowess to new heights while playing songs that run the gamut from scathing progressive melodic forays to catchy and melodic rock anthems featuring keyboards…and Jake's award-winning voice.
All About The Rock caught up with Mark Mangold for a chat about his latest projects…
 What inspired you to put your new project, KEYS, together?
I had been thinking of what keyboards could do to scathe…in the way that a lot of guitar bands that have blistering soloing, etc. There are so many new keyboard sounds that get very close to that guitar vibe, and I enjoy exploring those lines and barrages. Almost Goth or Death Metal at times…BUT not so much because on keyboards, it has a completely different, and in my opinion, more original, sound.
Visually, I was haunted by a vision of a group of keyboard players, three maniacs and stacks of keyboards on stage attacking these songs.
And it needed a high and versatile scathing voice…enter Jake E.
How did you come to recruit Jake E for the project?
Jake and I met when his band Cyhra needed a place to stay and record in 2019 in New York, which turned out to be in my studio. We collaborated on a song for the Cyhra album and decided to record the KEYS album. I presented some songs to him, and we started recording when I was in Stockholm, and he was in Gothenburg. A lot of Facetiming and long-distance sessions. I love Jakes's voice and his huge range emotion and resonance. The Keys songs needed to sail…and also be emotional and intense…which Jake brought to the band. I'm honored he got involved.
The KEYS album is genre-crossing – can you tell us a bit more about the sound and some of the tracks?
There are so many sounds available to keyboard players now. It's almost an infinite palette. It really inspires creativity and discovering new sounds and tapestries…creating moments…and not letting you sit on your butt and spit out generic ideas.
The idea for me is always to try to transfer emotion. Some songs are quite angry or have aggressive moments…some even almost ugly… i.e. Feast Of Lies. Or RIP and WHEN SHADOWS FALL and others…almost Goth and dark…but also trying to create some beautiful moments… TEAR IT DOWN is a guitar riff…but not on guitar…so a bit of…" what is THAT", haha. The song Goodtimes…and maybe Raise Your Head (Sky) may be more immediately accessible …ie Goodtimes may almost be AOR if it were played on guitars like 1,000 other bands we've heard before…but on keyboards, it has a different flavor and almost Prog (I hate labels, but that is what it's being called sometimes).
We wanted to keep it eclectic and, again, no limits. We didn't have a label at the time, so we basically just did what we wanted and hoped for the best and that people could relate to it. Just playing the songs on keyboards, in my opinion, makes it fresh and different…ie. Unusual in a way…and the mentality of this band is to have a signature sound…which is/was also the goal of so many of the bands that we now revere and consider classic…most from the '60s, 70's and 80's before these generic titles were created and so many "new" bands simply chased those years and genres, with all due respect. I think if the songs are listened to carefully…there are a lot of treats and discoveries in there to be made, haha.
Which artists inspired you most as a teen, and who inspires you now?
I was fortunate to grow up in a place on Long Island, New York near an iconic club called the Action House, where a lot of "Hammond" bands played. Rascals, Vanilla Fudge, Vagrants, Billy Joel…a band I was in called Gathering Storm. So was immersed in the Hammond…which also included Deep Purple, Zep, The Beatles, Bo Diddley, and all the usual suspects. And of course, Jimmy Smith, the master of the Hammond Organ, was a great inspiration, as he was for anyone playing organ. I think just listening to a lot of music…it somehow seeps its way in and inspires…the best of the best rises to the surface. Now, in addition to dreams, ha ha…I find my inspirations are the people I'm working with (as our goal is to be fresh, and as so much of the stuff out there is so derivative); I think it's better to try to find new ground…and of course, I am always living in melody and musicality.
Sometimes there's an inside joke tip of a hat to a band or sound…but that's often camouflaged, haha. It's very inspiring to have a GOAL to write to…a voice i.e. singer you are working with, and then you start to hear their voice on something…or write "to" that voice. It comes in all forms.
You have written songs for legendary artists like Cher. Is there anyone you haven't written for that you would love to collab with?
Top of the list would be Paul McCartney. I have no idea how that would turn out…he certainly does not need me, ha ha…but that would be an extreme honor. I'd probably just spend all the time asking him stuff haha. I was there the very first time they played at Carnegie Hall in the top row listening to screaming girls whenever they went "oooh". Couldn't hear a damn thing. What's somewhat interesting..at least to me…is that sometimes I have dreams where I am collaborating with someone…or seeing a band on stage playing a song I really like and then realizing in the dream, holy shit, I'm creating that song…and then trying to scramble to a tape recorder and get the idea down. I did, in my mind, collaborate in a dream with RJD on a song on the album…these things just happen, and for someone like me who lives music 24/7, pretty much… it's just part of life, haha.
He had some great RJD ideas…but of course it's me projecting what he would do OR, I swear… he's really granting me a visit and helping me with a song. When Eddy sadly passed I had a dream he sent a riff to me…which I considered a great honor…(he probably visited ALOT of people…)…and I think that's pretty much the riff from Sparrow on the record. You may think I'm insane ha ha…but I think "creative" people have the same experiences…whether imagined or real…but they sure feel very real. One of the most memorable was a dream that I met George at a party, and we started writing a song (he had an acoustic guitar) and then walked in Paul, who George, matter of factly, introduced me to…and I'm totally in shock. Probably the closest I'll ever get, haha…but quite real feeling in the dream. Of course, in that situation…you prob just listen and keep your mouth shut ha ah. Not gonna say, "Paul…instead of that, maybe try this," haha. NO WAY. But maybe someday he'll want to a straight-up AOR song…would be interesting…Paul Mc Cartney does Bon Jovi haha. I have in the past generated some of what I would consider "Beatley" songs…but he surely would not need me for that, haha. Anyway…I think I'm rambling now.
Your next project is the new House of Lords album which is due for release soon – can you tell us anything about the making of the album?
Yes. I was introduced to James by our mutual friend Fiona Flanagan. Sorry to say I was not super familiar with the actual music of HOL, though, of course I had heard the name. I sent James a song that he liked…and we finished it up. Then I sent him a few more…and by the grace of the LORD…he liked them. As happens I started hearing his voice in my head and started writing to that voice…which turned out some cool stuff. He also sent me other tracks he was writing with some other writers…and I ended up writing lyrics to a few of them.
Great collaborators like Tommy Denander, Chris Borg, Jimi Bell and others. Ended up playing keys on them…on everything actually…and co producing it. It sort of snowballed. He is such a nice person and a pleasure to work with…great distinct voice…so real and emotional…the REAL deal…(and voice is everything to me)…and such an obsessive hard worker like me ha ha…so I really related to it all. And, of course, he's married to Robin Beck, who is a rock goddess.
I had a great time writing the stuff…and though somewhat more "accessible" than KEYS…still has it's roots in all those bands we love…ie. Purple and symphonic keyboards. He was constantly encouraging me to do more keyboards, more symphonic…which is music to my ears…TOO MUCH was NEVER ENOUGH haha. I couldn't believe my ears. NO ONE ever says that to me haha. I REALLY, REALLY like that record and the way it turned out. These tapestries… i.e. with ten keyboards and 5 part guitar Brian May like harmonies over 30 tracks of vocals…is super hard to achieve and mix so you hear EVERYTHING…but I'm super happy with how it all turned out… it's all there haha. I hope people share that opinion.
Purchase the new KEYS album: HERE
KEYS on Spotify: