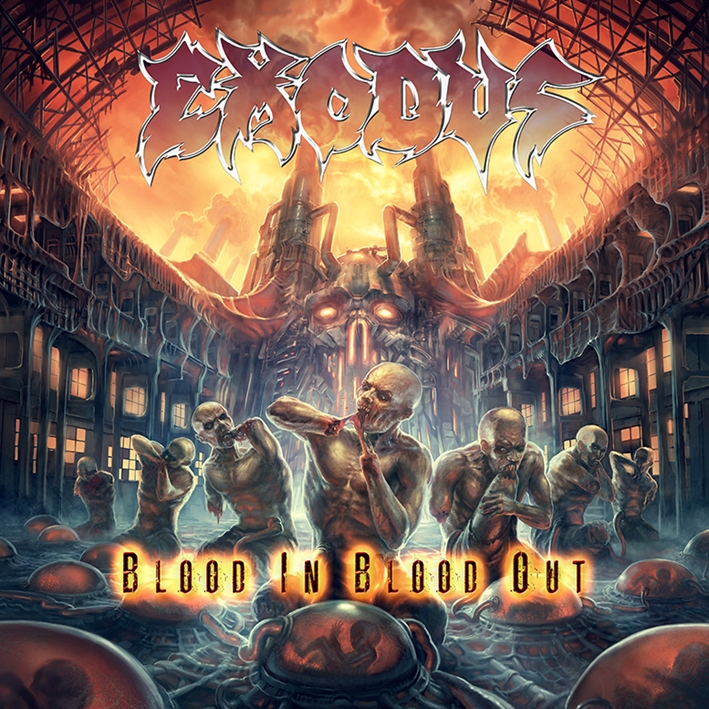 Exodus – Blood In, Blood Out
16th October 2014
Thrash metal legends Exodus have returned with their highly anticipated release on Nuclear Blast entitled "Blood In, Blood Out".
Having parted ways with vocalist Rob Dukes who contributed to a string of albums that helped make Exodus a relevant name in metal again and riding the creative wave of their last two full lengths ("The Atrocity Exhibition…Exhibit A" and "Exhibit B…the Human Condition") that saw the band embrace more technically proficient song structures and layered, multi-dimensional tracks, fans have been wondering what direction "Blood In, Blood Out" would take.
…the albums sound blends the attitude and energy of the band's past with their musical growth and development over the years.
Joe Reed
From the beginning of "Black 13" and its industrial hip-hop influenced intro (wonderfully done by producer Dan "The Automator"), this record is a creative exposition of all of Exodus' wonderful elements. Thrashing riffs, pounding drums, a return of the shrieking vocals of Steve "Zetro" Souza, and a focused attack are demonstrative of a band that is really in their creative zone and show no signs of stopping any time soon.
Guitarist Gary Holt said that he took time away from touring with Slayer to work on the album and described the song writing process as "very old school", with band members contributing riffs and recording them piece by piece. What fans are given is a sort of riff-o-rama with songs that are lengthy but entertaining throughout. Zetro's presence on the album welcomes a more relaxed, almost punk attitude to the songs and a retro vibe without coming off as disingenuous.
Some heavy hitters contribute to the party as well including Chuck Billy (who appears on the track "BTK") and Kirk Hammett (contributing lead guitar work on "Salt the Wound") and the purpose of "Blood In, Blood Out" is no holds barred thrash aggression from start to finish.
Despite clocking in at 62:12, the album doesn't have the feel of an epically long piece in the way the band's last two efforts did. Tracks like "Collateral Damage" have powerful verse riffs and infectious choruses that keep the songs exciting and free of filler. "Body Harvest", for example, goes through several movements in just over six minutes without bleeding the listener dry with overtly technical musical jargon. There's thrash, some gang vocal chants, a groovy break, a blistering solo, and just the amount of talent and looseness to make for a full on metal rager.
One surprising element of the album is that it was produced by the band themselves with help from outside engineers, mostly on drum tracking. The production is clear, crisp, and bold without sounding overly polished. The guitars still have a thick crunch and the drums (particularly the bass drum) sounds very bold and ever present in the mix. Recorded in the Bay Area, the albums sound blends the attitude and energy of the band's past with their musical growth and development over the years. Listenable, yet not overwhelming, I think it captures the band's early material with their more recent body of work quite well.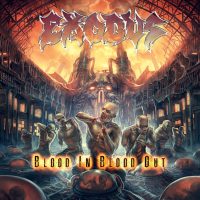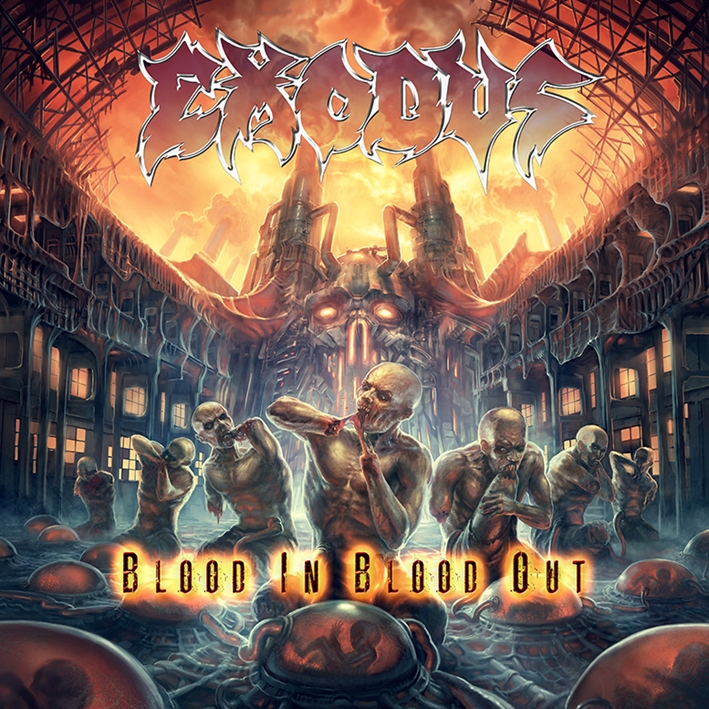 ALBUM INFO
Track List:
1. Black 13
2. Blood In, Blood Out
3. Collateral Damage
4. Salt the Wound
5. Body Harvest
6. BTK
7. Wrapped in the Arms of Rage
8. My Last Nerve
9. Numb
10. Honor Killings
Release Date:
October 14th, 2014
Label:
Nuclear Blast