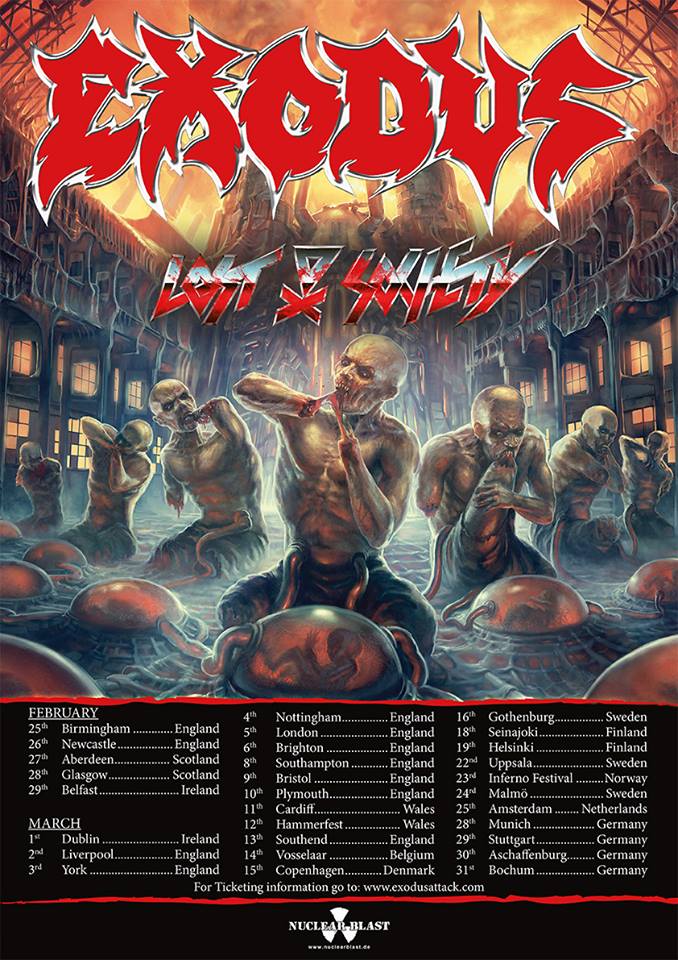 Exodus & Lost Society – The Tunnels, Aberdeen – 27/02/2016
28th February 2016
0
By
Fraser
When Bay Area thrash legends Exodus announced their massive UK trek, I was torn. On the one hand, Glasgow crowds are always fucking mental, and great fun, but on the other, Aberdeen is much more convenient and I wouldn't have work the next day. In the end, Aberdeen won and I found myself at The Tunnels, one of my favourite venues in Scotland. This was always going to be a real thrash gig – Exodus, in a sold out 300ish capacity venue, with no barrier. And it was just as awesome as it sounds!
Kicking off the night's lessons in violence were Aberdeen's finest, the brilliantly names Thrashist Regime [8/10]. Despite the dreaded scourge of technical difficulties, Thrashist played an absolutely storming set. The love child of Megadeth and Kreator, with the humour of Gama Bomb, Thrashist Regime have a brilliant sound and played tight as Hell, even show-casing a few new tracks which I certainly hope will find themselves on a new release very soon!
Following Thrashist Regime, and the support for the whole European tour, we have young Finnish thrashers Lost Society [9/10]. I caught up with frontman Samy Elbanna for a chat before their set, which you will find on this fine website very soon! Their set was absolutely fucking nuts – largely focusing on their fantastic new album, Braindead, they played only a couple of older tracks. Burning through excellent renditions of Terror Hungry, Hollow Eyes, Mad Torture, and Only (My) Death Is Certain the difference from the old songs to the new was clear. Every single man, woman and child was banging their head in perfect synchronisation during that riff in lead single from Braindead, I Am The Antidote. Possibly the best thing about their performance, though, was the chemistry – every single one of the foursome was clearly having an absolute fucking blast from the moment they stepped onto the stage to the moment they stepped off.
However, as fucking brilliant as they were,
Lost Society
were not the main event tonight, and about half an hour after they finished the mighty
Exodus [9.5/10]
take to the stage. Holy. Fucking. Shit. It's been 6 years since
Exodus
last came to the UK, and having tragically missed them back then this was my first experience seeing them live, and they did not disappoint. Playing an hour and a half set, with six songs from
Bonded By Blood
, they crafted their set-list perfectly. After decimating their way through about half the set, featuring both
Blood In Blood Out
singles,
And Then There Were None
and Dukes-era classic
Children of a Worthless God
, Zetro (who I also had a chat with, which you will be able to read very shortly!) gave a fitting tribute to Lemmy. There was no moment of silence, no lighters-in-the-air speech, simply a few fond words, a sea of raised horns and a command to pit harder than ever, before they dove straight into
Metal Command
. They played
War Is My Shepard
better than it sounds on the album, and closed up with a wall of death and
Strike of the Beast
. Mr Gary Holt was unfortunately absent, as he is currently destroying America with
Slayer
on their tour with
Testament
and
Carcass
, and while
Heathen
axe-man Kragen Lum did an insanely good job filling in, can an
Exodus
show really be 10/10 without the man himself? Other than Holt's absence,
Exodus
played damn near perfect. There was beer. There was sweat. There was violence. I think I can say in confidence we raged hard enough to make Paul Baloff proud.
If for some obscure reason you have not yet bought tickets for this tour, you can get them here!
How useful was this post?
Click on a thumb to rate it!
Average rating 0 / 5. Vote count: 0
No votes so far! Be the first to rate this post.
Related
About the author
This bearded wildman from North of the wall survives the harsh ever-present winter of Scotland on a healthy diet of thrash, death metal and beer.