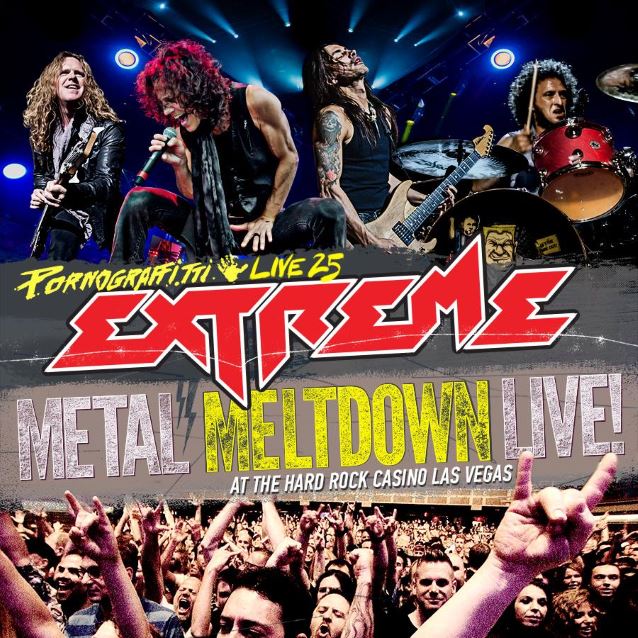 EXTREME – PORNOGRAFFITTI LIVE 25 – METAL MELTDOWN – BLU-RAY/DVD/CD- REVIEW.
26th September 2016
25 years ago Boston rockers; Extreme, released their 2nd studio album, Pornograffitti. An album that would catapult the band to phenomenal mainstream success with it's sleazy choppy riffing, driving funk groove, tight vocal harmonies and infectious hooks. To celebrate this rock giant of an album hitting a quarter of a century, Extreme are releasing 'Pornograffitti Live 25', a BLU-RAY, DVD and CD which sees the band performing the album in it's entirety for the first time ever.
When I asked to review this release, an All About The Rock colleague (who shall remain nameless) responded with "You're welcome to it. I've not listened to it in 25 years and I'm still sick of it". Joking aside though, this I feel is a common opinion of 'Pornograffitti'. When the soft rock ballad 'More Than Words' broke big, it was played incessantly on every radio station, music TV channel and wedding playlist on the planet until we couldn't take another note of it in our G, C and D chord saturated ears. Extreme were everywhere! Not just for rock/metal fans but even for the most casual of music listener. My mum who isn't a fan of rock or metal music, could often be heard humming 'More than words' while cooking the dinner. 'Pornograffitti' went on to sell millions of copies world wide. Making 'Extreme' a 100% bona fide rock sensation… but after 25 years, is 'Pornograffitti' still relevant and have Extreme been able to do their achievements justice by putting on a celebratory show that sufficiently reflects their past glory as well as showcasing their considerable talents? 
The setting for this hard rocking celebration is 'The Joint, at the world famous Hard Rock Casino', a venue that would have accommodated 'Extreme' perfectly in their heyday but would they be just as at home in 2016?  The simple answer is yes! It's clear from the outset that the band haven't lost a step over the last 25 years. The energy is all there as the opening track 'Decadence Dance' goes off with seasoned flair and gusto. Guitarist, Nuno Bettencourt wastes no time in reminding fans of the skills that earned him a reputation as one of the best guitar players in the world. His technique and delivery are faultless as he effortlessly transitions between solid, groovy riffs to slick, expertly arranged and executed solos. The vocal from the ever flamboyant and confident front man, Gary Cherone is superb. He belts out every track with the same showmanship and polished professionalism that he delivered two and a half decades ago. I can't say I ever paid much attention to the rhythm section of Extreme. It's difficult to see anything passed the larger than life, shining charisma of Gary Cherone and the unquestionable skill and presence of Nuno Bettencourt but in this concert you're really able to see and hear the solid backbone to the music that's provided by bassist Pat Badger and drummer Kevin Figueiredo. Pat Badger is a fantastic bass player who keeps each track pumping along in true rock fashion at the same time as complimenting Nuno's playing perfectly. Kevin Figueiredo's drumming, in my opinion, adds more flair to the songs than was present on the studio album, making the live experience all the more potent and exciting. 
I half expected an overly produced studio mix to be dubbed over the live footage but I was chuffed to find that 'Pornograffitti Live 25' sounds like a good old fashioned rock show. It's got a great raw edge that puts the CD listener and DVD viewer right there in the live environment. There's no question that this is an honest to badness rock concert, that Extreme are in full control of . The danger of playing an album in it's entirety live is that any dips in energy or pace from the studio recordings is transferred over to the live show, as not every track that works in the studio works live and vice versa, however, Extreme attack each track with such professional confidence and conviction that the set flows brilliantly. As you would expect, the crowd respond most eagerly to the big singles 'Get The Funk Out' and 'More Than Words', with the audience carrying the vocal for a large portion of the latter. The biggest let down of the whole concert for me, has nothing to do with the band, its the apparent lack of energy from the crowd. Wider crowd shots show many audience members just standing still, almost seeming disinterested, as if they're waiting for the big hits that everyone knows. It seems odd to me that with the exception of the aforementioned 'More Than Words' sing along, whenever you hear rapturous applause or cheering, the camera is firmly on the band, as if the cheering is added afterwards. Obviously I could be way off the mark but that's how it felt to me. 
I received the CD before the DVD, so my reviewing cap was planted on at that point. While listening in the car, I was instantly transported back to my mid teens, when I first heard and loved 'Pornograffitti'. My arm hairs stood on end and a huge reminiscent smile spread across my face. This was very much the 'Extreme' of my formative years, every cock sure, grimy note of it. Not having seen the DVD at this point, my mind was awash with thoughts of what this show would look like. The reality was just as I had pictured, it was a stripped back, 4 piece rock band, doing what they do best, playing incredible, exceptional music. 
As part of the DVD release the band have included a documentary that highlights the bands' early years in Boston, their meteoric rise to fame and eventual split. The documentary features interviews and some hammy acting from the band, as well as interviews with some huge names from the music industry, who candidly share their memories and experiences of 'Extreme'. The documentary clocks in at around at an hour and forty minutes, however it's interspersed with full tracks from the live set which cuts the actual documentary content down a fair bit. If you were watching the documentary on it's own, it's makes for an enjoyable, informative and fun bonus to the DVD, but,  If you watch the live concert first, you may find yourself , like me, skipping through the live tracks as they felt very much like filler. 
I loved this journey into nostalgia but what I found most while watching and listening to 'Pornograffitti Live 25, is that 'Extreme' are every bit as slick and vital as they've ever been. The lyrical themes may be a tad passe but the music has stood the test of time beautifully. Where many rock bands from years past fall into the obscurity of CDs entitled something along the lines of 'Dad's Driving Hits vol 7, Extreme have proved unequivocally that they're not ready to hang up their instruments just yet because they are showing bands 25 years their junior how its done.  To put it simply, It rocked then and it rocks now. 
Score 9 out of 10
Pornograffitti Live 25 Information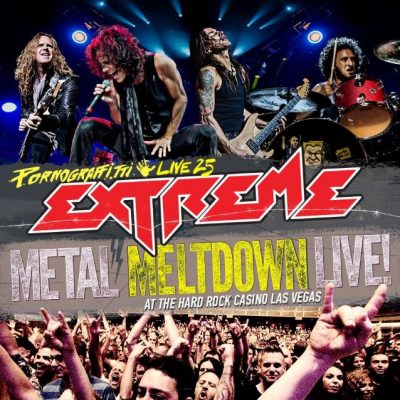 Track List:
1. Decadence Dance
2. Li'l Jack Horny
3. When I'm President
4. Get the Funk Out
5. More Than Words
6. Money (In God We Trust)
7. It ('s a Monster)
8. Pornograffitti
9. When I First Kissed You
10. Suzi (Wants Her All Day What?)
11. Flight of the Wounded Bumble Bee
12. He-Man Woman Hater
13. Song For Love
14. Hole Hearted
15. Play With Me*
16. Cupid's Dead*
* Songs do not appear on the audio CD.
Release Date:
14th October 2016