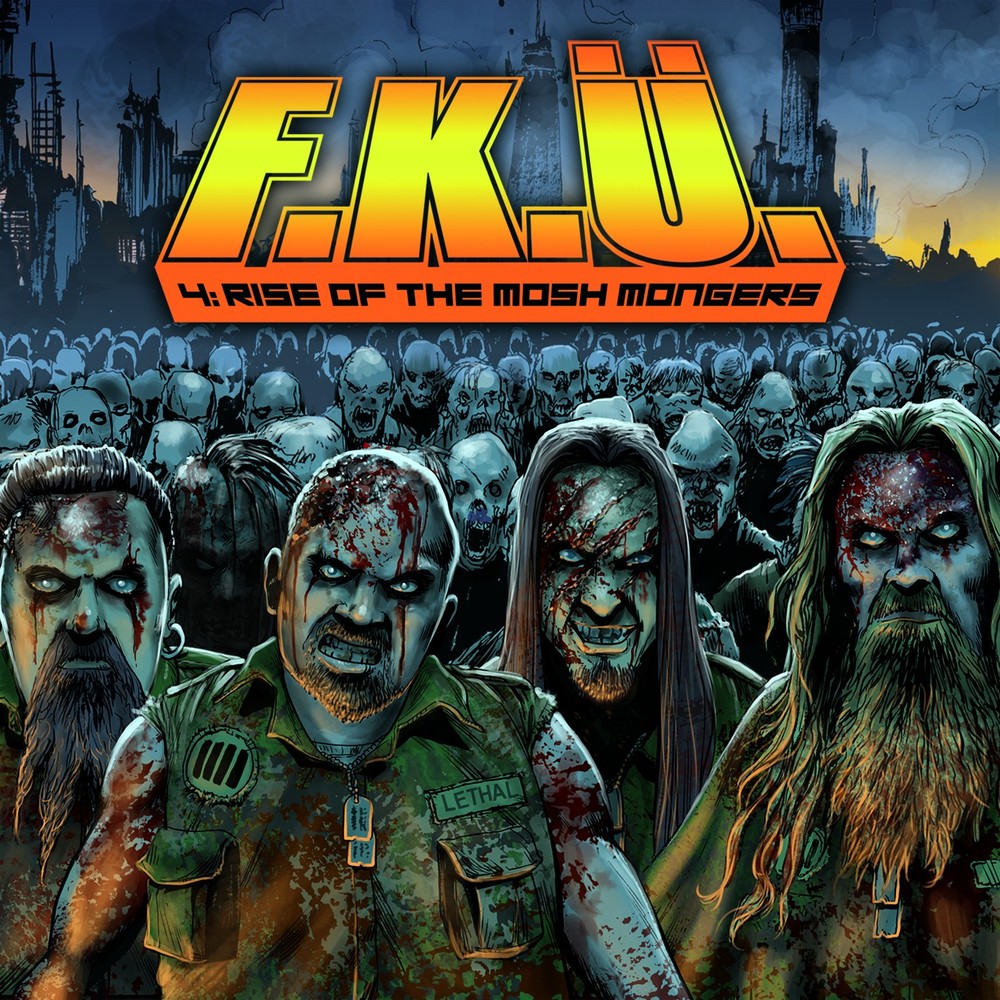 F.K.Ü. 4: RISE OF THE MOSH MONGERS Album review
15th April 2013
F.K.Ü. (or Freddy Krueger's Ünderwear if you want their full name) were formed in 1987 in Sweden, however they didn't release their first album until 1999 due to the members having obligations with other bands. This is the 4th release by F.K.Ü. 4: RISE OF THE MOSH MONGERS, well as the album and song titles suggest this is tongue in cheek horror thrash and is for fans of GAMA BOMB, DR LIVING DEAD, BIRTH A.D., MUNICIPAL WASTE, M.O.D, CRUMBSUCKERS, S.O.D, EXODUS…you get the picture.
This album is filled with great guitar riffs and solos, the drums blast and beat the crap out of everything while the bass has a deep pulse that backs up the commando style bass kick drumming by slapping you across the face! While vocalist Larry Lethal screams bloody gore, he has a sound of the late Paul Biiloff with a hint of Chuck Billy thrown into the mix. 'MOSHOCALYPSE NOW' is an introduction and 'THE ÜBERSLASHER PT. 1, 2, 3 & 4' are short interludes (around 20 seconds each), so that leaves the listener with 12 tracks of thrashing speed metal and this is shown with 'RISE OF THE MOSH MONGERS' and then they don't let up…!!!
So what if they have maybe slightly modified a few riffs from other bands (cough cough S.O.D., TESTAMENT) this is still a little gem of an album and I will definitely check out the previous releases from F.K.Ü. This album is full of over the top speed and aggression with some great catchy riffs and I love the horror theme running through the songs (from films and literature). While F.K.Ü. haven't reinvented thrash or tried anything differently, what they do give the listener is a pure "METAL THRASHING MAD" (name that band and album) album, so if thrash metal is your thing then you could do a lot worse than checking out '4: RISE OF THE MOSH MONGERS'.
SCORE – 7.5 out of 10
TRACKS TO CHECK OUT – "Rise of the Mosh Mongers", "Cannibal Detox", "At The Mountain of Madness", "Marz Attacks"
[box_dark]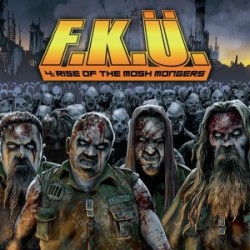 ALBUM INFO
Band: F.K.Ü.
Album: 4: RISE OF THE MOSH MONGERS
Record Label: Naplam Records
Release Date: 26th April 2013
Reviewed By: Mark
Tracks Listing:
1. Moshocalypse Now
2. Rise of the Mosh Mongers
3. Black Hole Hell
4. Cannibal Detox
5. The Überslasher Pt. 1
6. Scream Bloody Mosher
7. Esox Lucius
8. The Überslasher Pt. 2
9. At the Mountains of Madness
10. A Nightmare Made Thrash
11. 112 Ocean Avenue
12. The Überslasher Pt. 3
13. Marz Attacks
14. Terror Train
15. The Überslasher Pt. 4
16. They Feed in the Dark
17. Anthem of the Moshoholics
For Fans Of: GAMA BOMB, DR LIVING DEAD, BIRTH A.D., MUNICIPAL WASTE, M.O.D, CRUMBSUCKERS, S.O.D, EXODUS
[/box_dark]