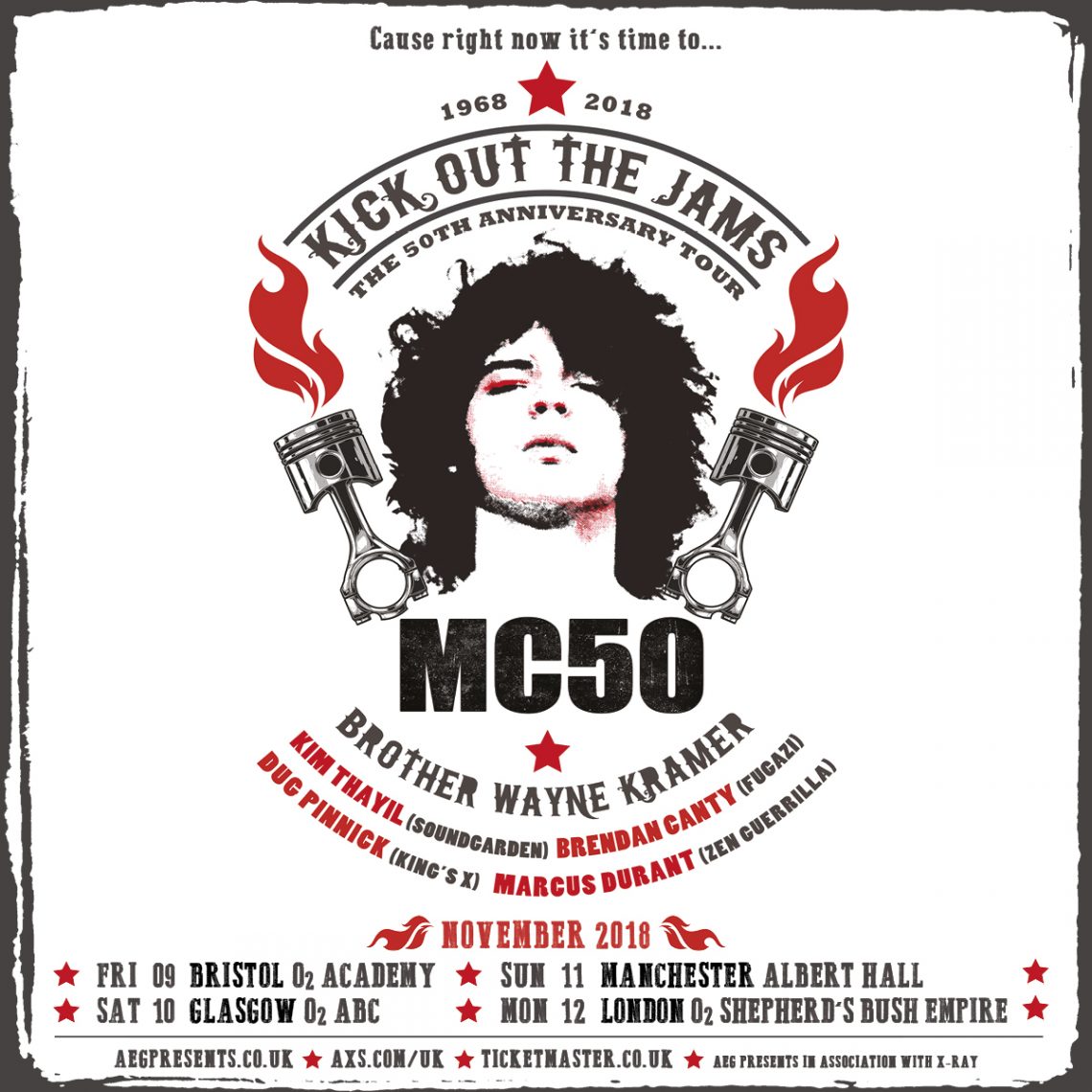 Faith No More's Billy Gould added to MC50's all-star tour lineup
13th August 2018
Wayne Kramer, leader of Detroit's iconic proto-punk/hard rock band MC5, has today announced that Billy Gould of Faith No More will be joining him on stage for the upcoming MC50 tour this November.
 
Joining the legendary guitarist to perform the band's incendiary album Kick Out The Jams, Gould will perform with the already announced line-up of Brendan Canty (Fugazi), Marcus Durrant (Zen Guerrilla) and Kim Thayil (Soundgarden). In addition, ex-Hanoi Rocks singer and legendary live performer Michael Monroe will be bringing his glam-punk charisma as support on all dates.
 
"This band will rip your head off. It's real, raw, sweaty, total energy rock and roll, like a bunch of 40-to-70-year-old 'punks on a meth power trip'", says Kramer. "I'm not interested in a note-for-note reproduction of a record you've known your entire life. The world has lived with these songs burned in amber for half a century, so we're going for an energy blast to end all. Let's bring the monster back to life with supremely talented musicians who will interpret it in their own unique ways."
 
Kick Out the Jams is recognised as the galvanizing live document which introduced a major voice of late '60s counterculture and proved incomparably influential on metal, punk, stoner rock and almost every other form of loud, limitless, long-haired music to come. The recording took place just months after the band's appearance at Chicago's riotous 1968 Democratic National Convention — a pivotal moment in modern American politics.
 
"The message of the MC5 has always been the sense of possibilities: a new music, a new politics, a new lifestyle," Kramer says of revisiting Kick Out the Jams.
 
"Today, there is a corrupt regime in power, an endless war thousands of miles away, uncontrollable violence wracking my country — it's becoming less and less clear if we're talking about 1968 or 2018. I'm compelled to share this music I created with my brothers 50 years ago. My goal is that the audience leaves these shows mesmerized by the positive power of rock music," says Kramer. "I've come to accept that we were a dangerous band. The music we made at that time represented something that said — we are part of a tribe, we are part of a bigger movement — and apparently, it still represents that."
 
The MC5's sonic thunder continues to reverberate a half-century after they first stormed the rock world, and Kick Out the Jams: The 50th Anniversary Tour is a rare chance to experience the album performed live again. "People come up to me all the time and say, 'Brother Wayne, Kick Out the Jams changed my life,'" Kramer once said. "I usually tell them: 'I'm sorry, I can't change it back.'"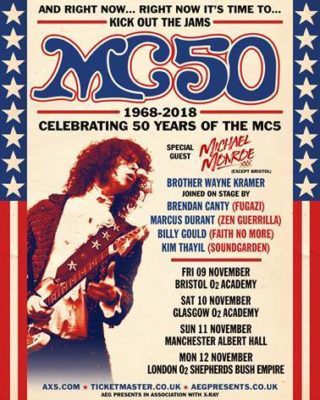 2018 European Tour Dates
 
09 Nov – UK, Bristol Academy
10 Nov – UK, Glasgow ABC
11 Nov – UK, Manchester Albert Hall
12 Nov – UK, London Shepherds Bush Empire
 
14 Nov – France, Paris Elysee Montmartre
15 Nov – France, Montpellier Rockstore
21 Nov – Italy, Milan, Alcatrazz
22 Nov – Switzerland, Zurich Komplex
23 Nov – Germany, Munich, Neue Theatrefabrik
24 Nov – Hungary, Budapest, A38
25 Nov – Austria, Vienna Flex
27 Nov – Germany, Cologne, Gloria
28 Nov – Germany, Berlin, Columbia Halle
29 Nov – Germany, Hamburg, Fabrik
30 Nov – Holland, Alkmaar Victory
01 Dec – Belgium, Antwerp, Trix
 
About Wayne Kramer
MC5 founding member and guitarist Wayne Kramer worked for racial and economic equality during the Vietnam War and was a target of the FBI's counter-intelligence program. After serving a federal prison term, he released ten solo albums and was named by Rolling Stone as one of the top 100 guitarists of all time. He lives in Los Angeles with his wife Margaret, who is his manager of 20 years, and their four-year-old son.
 
MC50 On the Web
Official Site: https://www.MC50th.com
Twitter: https://twitter.com/MC50KOTJ
Facebook: https://www.facebook.com/MC50th/
Instagram: https://www.instagram.com/mc50th/