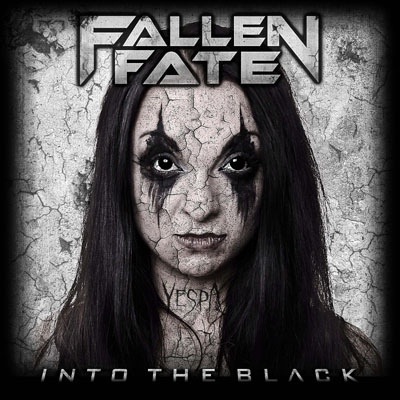 Fallen Fate – Into The Black
27th December 2013
When it comes to unsigned bands, one can usually notice the inexperience, lack of professionalism and cheap production coming a mile away. Fallen Fate however are not some kids that just got together to spit out some cool riffs. This quartet comprised of Lee Skinner (guitars/vocals), Piers Donno-Fuller (guitars), Peter Hodgson (bass) and John Wright (drums), is actually quite proficient and impressive in their americanized style of Thrash Metal.
With their home in North England, Fallen Fate self produced and released their first EP Revengance, as well as the first album The Virus Has Spread. These received a lot of praise from fans and media alike, ultimately pushing them to play continuous live shows, where they made such a name for themselves that the fans elected them to be the first ever unsigned band to play the Donington Stage two years in a row at the Download Festival.
At this point, one would expect Fallen Fate to have landed a record deal by now, which is why it is baffling to any fan how it is almost 2014 and no record label has the rights to Into The Black. Fallen Fate started writing the album in early 2013 with the same dedication that they have shown throughout the last 9 years. It is modern thrash with the groove and death growls that characterize American metal. There are some obvious influences here, being old Testament, Lamb Of God and Machine Head the more noticeable.
Into The Black begins with good tracks that unfortunately are uninteresting and generic. When they try to infuse their sound with blinding speed, the remaining quality drops. The band seemingly expresses their ideas better with mid-tempo tracks. "Until The Final Hour", the third track, is the first to show some passion in the guitars, with its early thrash reminiscent of Testament. The title track and "I Will Welcome The Dead" continue that trend of exquisite guitar play. "Vespa", by far the best track in the entire album, closes Into The Black with a Thrash Metal anthem that introduces the duo of Lee Skinner and Piers Donno-Fuller as one with potential to be celebrated for years to come.
Into The Black is a great modern thrash album that shows just how skilled Fallen Fate are. They may at times lose themselves to the boredom that comes with the genre, but they more than make up for it with hard work and raw talent. It's a travesty if they continue to remain unsigned after this release.
Score: 7.5 out of 10
[box_dark]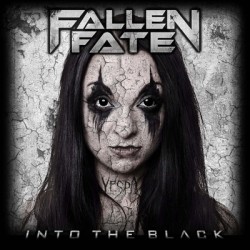 ALBUM INFO
Track List:
1. The Rise (Intro)
2. Blackened Within
3. Until The Final Hour
4. Into The Black
5. Possession
6. I Welcome The Dead
7. Rituals
8. Last Rites
9. The Demise (Intro)
10. Vespa
Release Date: 30th January 2014
Record Label: Self Released
Band Website: www.facebook.com/fallenfateband
[/box_dark]