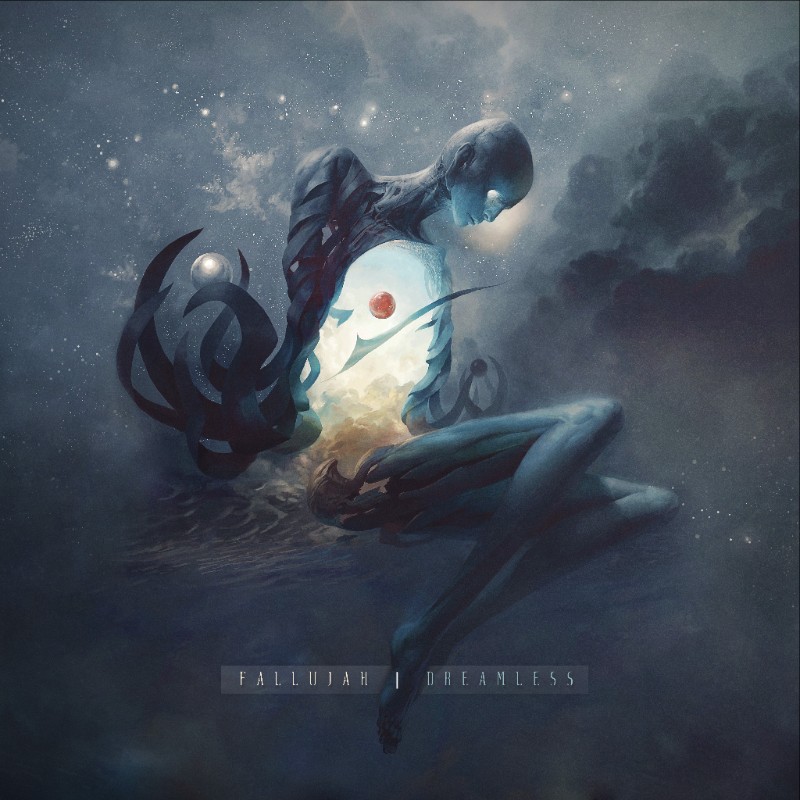 Fallujah – Dreamless – Album Review
1st May 2016
0
By
John Deaux
Let's talk about California's key progressive death metal band Fallujah. They have a stunning new album named Dreamless – and I'm really excited to be reviewing this one.
The first track 'Face of Death' provides a truly atmospheric opening to the album. The electro-orchestral backdrop is an ethereal foundation for some dreamy riffage and Hoffman's gravely vocal. Every musical aspect is given an equal fronting, the vocals are mixed in such a way as they are laced together with the mechanical double bass and a droning guitar sound. This is a stunning opening track.
The start of the next track is stitched to the end of its predecessor, creating a longer story for the listener to grasp. 'Adrenaline' gives us some of Fallujah's much loved aggression, whilst breaking things up with some impressive, signature guitar solos. A change in pace towards the end of the track takes things to a new level; whilst staying undeniably proggy from a drum perspective, there are whispers of something light and totally listenable, even for those that aren't too much of a fan of 'prog' metal.
'The Void Alone' is probably one of the most gorgeous pieces of music I've heard in a long time. The otherworldly intro gives way to some demonic, layered vocals and a barrage of brutal guitar work before coming backwards to that major, uplifting tone. Enter semi-expected female vocals also. This is a stunning track through and through, gorgeously put together, uniting heaven and hell.
Tracks like 'Abandon' and 'Prodigal Son' certainly add value to the album, purely by bringing a change of pace, but it's the title track 'Dreamless' that's particularly outstanding. It's predominantly instrumental and acts almost as a showcase. There's a massive irony in that you could probably fall asleep to this – it's wistful, provocative and dreamlike. In some places, it tastes a bit like a Devin Townsend track, something from EpiCloud…
'Feidelio' stays in the same vein as 'Dreamless', and is a continuation of this 'dreamlike' thread that weaves through the brutality of 'Amber Gaze' and 'Lacuna'.
I want to talk about 'Les Silences' for a moment though. It's towards the end of the album, and despite this being a trick pulled by the band before, could divide the masses. This track is, essentially another Chillstep number – like 'Alone With You' from the album before this one. It sounds electronic, epic, fuzzy, 'drum and bassy' and perfectly chilled out. Weirdly enough, I've been into this sub genre of music for a number of years now, following cult and internet musicians like Veela religiously. For a death prog metal band to dip into something like this is a brave move, but appeals to me massively. I'm not sure if does for everyone else though. I like to hope so.
I'm really impressed with this album – it brings a real freshness to the world of prog metal by giving us something dark yet, glowing… It's got the perfect balance of brutality and beauty, and it has this stunning dreamlike thread running through it that's indescribable really. You'll know what I mean when you pick it up.
Tracklist
01. Face Of Death
02. Adrenaline
03. The Void Alone
04. Abandon
05. Scar Queen
06. Dreamless
07. The Prodigal Son
08. Amber Gaze
09. Fidelio
10. Wind For Wings
11. Les Silences
12. Lacuna
Label
Nuclear Blast
Rating:
9/10
How useful was this post?
Click on a thumb to rate it!
Average rating 0 / 5. Vote count: 0
No votes so far! Be the first to rate this post.
Related