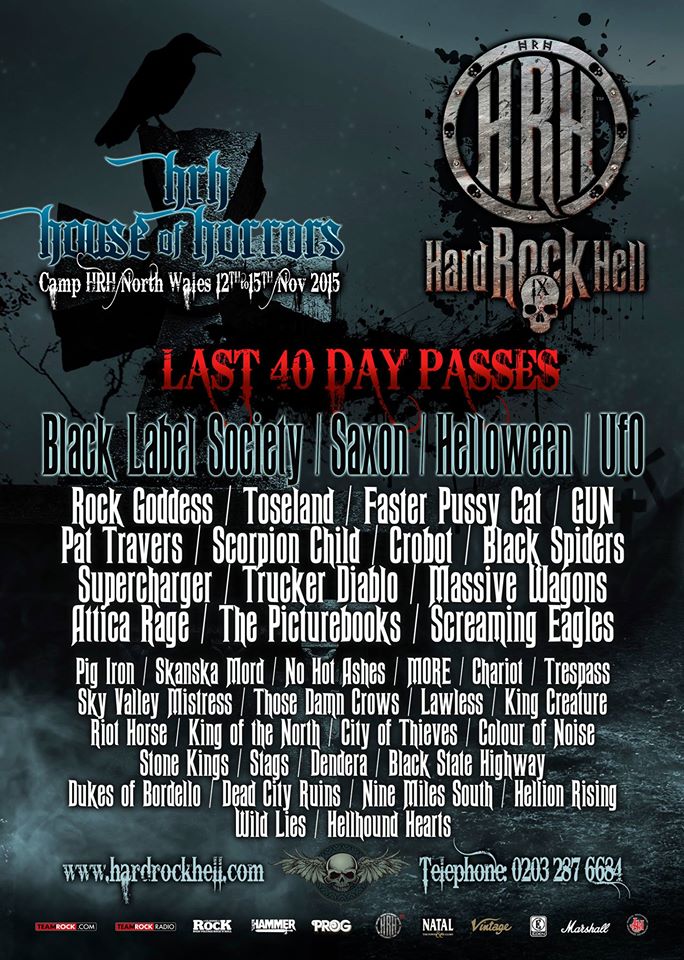 Faster Pussycat, GUN & Pat Travers join BLS, Saxon, Helloween & UFO for HRH9
20th August 2015
0
By
John Deaux
With only 12 weeks to go until the next cycle of Hard Rock Hell, we're now in a position to throw in another pile of traditional HRH riffage.
LA Glam metallers , Faster Pussycat make their debut along with Scottish heroes GUN and Canadian Blues Rock legend, Pat Travers,
Room 2 is going to be a Jukebox of HRH Riffage, which we've recruited over the last 12 months, so rather than talk about it, grab a drink, find a nice chair and have a look at the HRH jukebox in no particular order
As requested, we've also brought back the NWOBHM Brunch which will feature, Chariot, MORE and Trespass
HRH 9 has been sold out since last December, however if you know someone on site, add into their room or if not grab a camper van & some day passes or local accomodation, either way, get involved for the biggest rock n roll mash up on the planet.
HRH 9 Line Up
Black Label Society
Saxon
Helloween
UFO
Rock Goddess
Toseland
Faster Pussycat
GUN
Pat Travers
Scorpion Child
Crobot
Black Spiders
Supercharger
Trucker Diablo
Massive Wagons
Attica Rage
The Picturebooks
Screaming Eagles
Pig Iron
Skanska Mord
No Hot Ashes
MORE
Chariot
Trespass
Sky Valley Mistress
Those Damn Crows
Lawless
King Creature
Riot Horse
King of the North
City of Thieves
Colour of Noise
Stone Kings
Stags
Dendera
Black State Highway
Dukes of Bordello
Dead City Ruins
Nine Miles South
Hellion Rising
Wild Lies
Hellhound Hearts
How useful was this post?
Click on a thumb to rate it!
Average rating 0 / 5. Vote count: 0
No votes so far! Be the first to rate this post.
Related
About the author
Some say Yank My Doodle, It's A Dandy! is a biographical movie based on John. Some have even said that his favorite artist is Chesney Hawke! All we really know is he sleeps inside out and his hair tastes like candy floss.