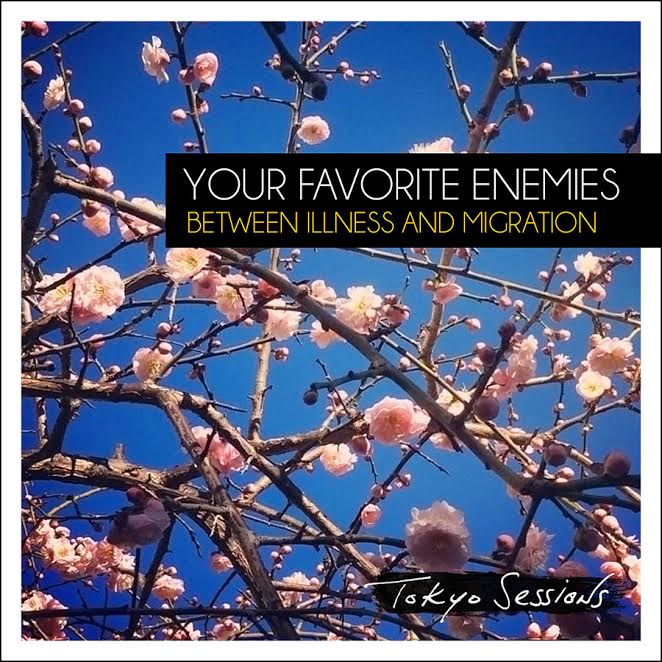 Your Favorite Enemies – Between Illness and Migration – Deluxe: Tokyo sessions – CD Review
27th May 2016
Described as a best kept secret, Your Favorite Enemies release Between Illness and Migration – Deluxe: Tokyo sessions 17th June.

You would immediately be forgiven  into thinking that this was just a reissue of an album that came out back in 2015.  This is actually a re-imagining.
The reason behind calling it the Tokyo Sessions is a really easy explanation. It followed an intimate show Your Favorite Enemies did in Tokyo, where they performed "Between Illness and Migration" in its entirety for the very first time, incorporating a 2-hour cinematic projection.  This allowed them to integrate new musical landscapes, as well as the use of different instruments, from analog keyboard to orchestrated elements. Based on the emotional moment they experienced in Tokyo, the band revisited the album from top to bottom & it's given the album a whole different slant on what came before.
Your Favorite Enemies are 6 completely bonkers individuals & are probably the most exciting product to come out of Canada since maple bacon.
To listen to this album on headphones is an auditory experience that I haven't experienced since Pink Floyds album,  Meddle. Kaleidoscope images from the collective 80 minute electic sound scape immediately formed in my mind's eye.
The epiphany moment for me was Underneath A Blooming Skylight which re-imagines the track Underneath a Stretching Skyline

& turns the original into a brutal, full frontal attack on the cerebral cortex.
A contender for album of the year? Maybe
Mixed by the estimable John Agnello (Sonic youth, Dinosaur Jr., The Kills), and recorded and produced in the band's own studio (a former catholic church).
If you liked the original, you're going to bloody love this.
For fans of Secret Machines, King Missile, Fugazi
Released via Graphite Records 17th June & available from all the usual (& unusual) sources
Track List
1) Satsuki Yami (My Heartbeat)
2) Empire of Sorrows
3) A View From Within
4) Where Did We Lose Each Other
5) Underneath a Blooming Skylight
6) From the City to the Ocean
7) I Just Want You to Know
8) 1-2-3 (One Step Away)
9) Anyone
10) Obsession Is a Gun
11) Muets aux Temps des Amours
12) Yūnagi
13) A View From Within – Radio Single
14) I Just Want You to Know – Radio Single
15) Where Did We Lose Each Other – Radio Single
16) 1-2-3 (One Step Away) – Radio Single
Score 8.5/10