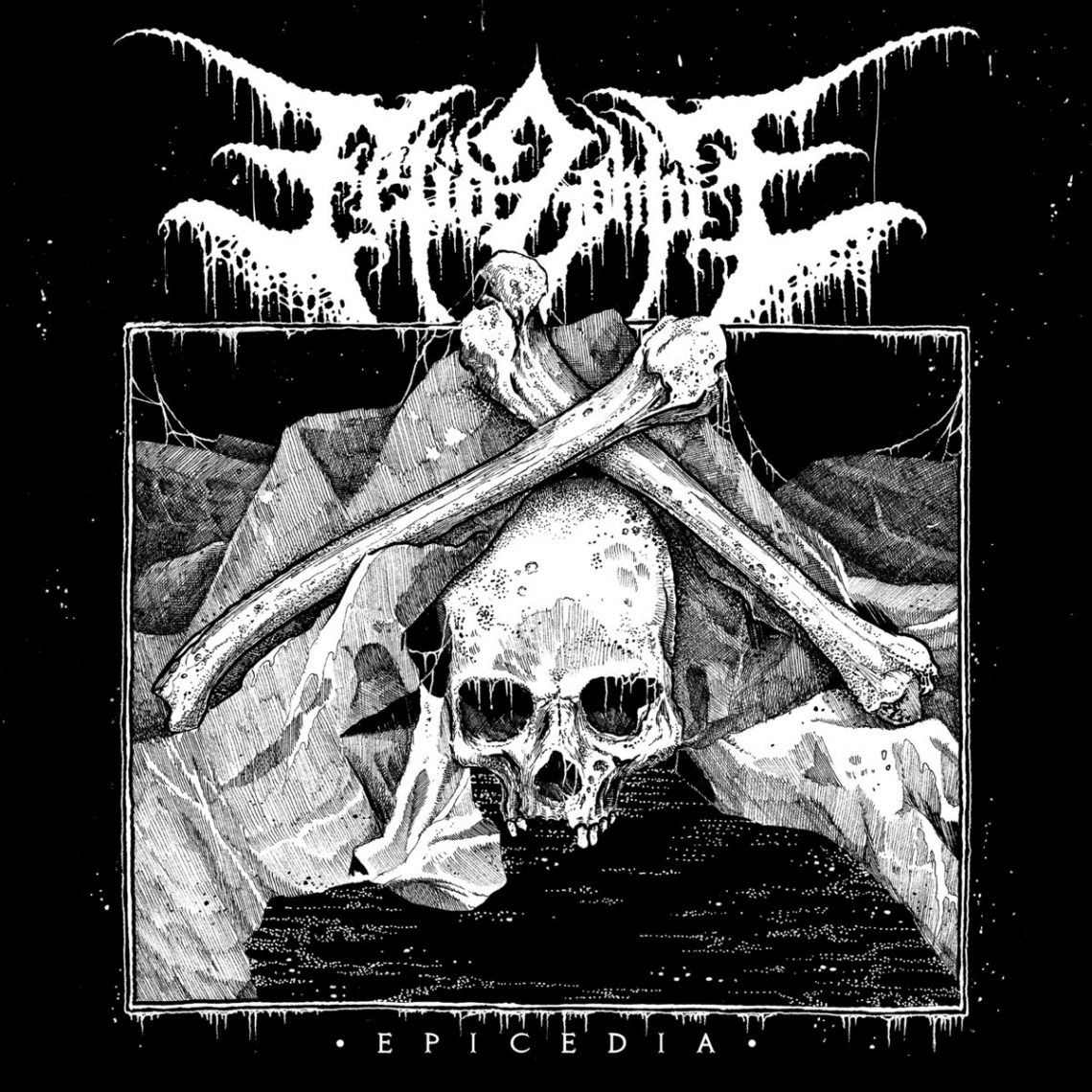 Fetid Zombie – Epicedia CD Review
1st October 2016
1
By
Fraser
Mark Riddick is well known in the metal underground as one of the best visual artists going. His work is dark and morbid, though epic in scale, his style uniquely macabre and distinctly "underground." And his music is no different. Currently listed as a member of seven active bands on Encyclopaedia Metallum, and having contributed artwork to countless death metal bands for t-shirts, album covers and posters, we could write books about his contribution to the metal underground. However, we are focusing today on Epicedia – the newest album from his most active band, Fetid Zombie.
Since forming Fetid Zombie in 2007, Riddick has released six full-lengths (including Epicedia) and one EP. However, in true underground fashion, it appears he favours splits with other bands as a medium to release his music, having unleashed 11 split releases in just four years. The most recent of which, Prophecies of Ruin, also features Aberdeen blackened thrashers Hellripper and is absolutely banging.
Album opener, Lowered Beneath, kicks off the record with sinister guitar work accompanied by a haunting choir, before launching into the distorted aggression that is characteristic of the majority of the album. Riddick's vocals will not appeal to everyone, as he carries a very anguished, blackened yell, but I feel this somewhat unique style compliments the distinctly underground nature of Epicedia excellently. The majority of Lowered Beneath is made up of stunning shred that feels largely inspired by the NWOBHM and astounding atmospheric guitar work that really gives the track a dark feel.The shortest track on the album, coming in at "only" eight minutes, Devour The Virtuous features less of the soaring shredding, opting for a more evil sound entirely. The use of choir-like chanting behind the monstrously low growls acts as a perfect contrast, and adds a really interesting element to the music.
Devour The Innocent sees Fetid Zombie take a more blackened approach. The choir returns with soft atmospherics to ease you into the impending brutality. The riff-work here carries a much stronger black metal influence than anything we've experienced on Epicedia thus far, as does the shrieking vocals layered under Riddick's customary growl. Around the halfway point there is a truly eerie and unsettling passage. This is a perfect moment to catch your breath before the brutality kicks in. Just over three minutes of beautiful, NWOBHM inspired guitar work leads us into Epicedia's closing track.
If The Dead Could Speak is the album's longest, at 10:23. My personal favourite track on Epicedia, If The Dead Could Speak carries the strongest link to melodeath. Every second of the ten-and-a-half-minute epic carries a distinctly Swedish sound to it. However, do not take that for a lack of brutality. If The Dead Could Speak does not let the rest of the album down in this regard, still carrying the visceral, feral savagery Epicedia demonstrates as a whole. This is both the album's catchiest and strongest moment, without a doubt.
To call Epicedia ambitious is to do it a gross insult. With each of the four tracks scraping the ten-minute mark, Epicedia matches Riddick's artwork in scale to a tee. This is not an easily digestible album that you can pick up and put down. Dedicate 40 minutes, sit with decent headphones, and submerse yourself in a uniquely macabre journey showcasing the very best elements of death metal. Epicedia is a truly astounding and organic piece of music. And, like everything Mark Riddick lends his hand to, a wonderfully dark and thought-provoking piece of art.
Score: 10 out of 10
Epicedia Information
Track List:
1. Lowered Beneath
2. Devour the Virtuous
3. Devour the Innocent
4. If The Dead Could Speak
Record Label:
Transcending Obscurity Records
Release Date:
25th of November 2016
For fans of…

Check out Fetid Zombie on Facebook, and preorder Epicedia here!
How useful was this post?
Click on a thumb to rate it!
Average rating 0 / 5. Vote count: 0
No votes so far! Be the first to rate this post.
Related
About the author
This bearded wildman from North of the wall survives the harsh ever-present winter of Scotland on a healthy diet of thrash, death metal and beer.