Fleshgod Apocalypse release drum playthrough video for 'Thru Our Scars'
26th May 2020
Today, the oldest release of Italian orchestral Death metallers comes to new life: FLESHGOD APOCALYPSErelease a drum play through for "Thru Our Scars", taken from the band's first EP "Mafia", back in 2010.
The band states,
"To celebrate the 10th anniversary of "Mafia", we picked one of our most iconic and challenging songs for the next playthrough video: 'Thru Our Scars'. Eugene Ryabchenko is doing the honors this time. Enjoy!"

Veleno Across Europe Tour 2020
w/ EX DEO
01.10.              D          Übach-Palenberg – Rockfabrik
02.10.              NL        Nijmegen – Doornroosje
03.10.              F          Paris – Petit Bain
04.10.              UK        London – The Underworld Camden
06.10.              F          Nantes – Le Ferrailleur
07.10.              E          Bilbao – Stage Live
08.10.              P          Porto – Hard Club
09.10.              P          Lisbon – RCA Club
10.10.              E          Madrid – Sala Caracol
11.10.              E          Barcelona – Sala Bóveda
12.10.              F          Toulouse – Le Metronum
15.10.              I           Retorbido (PV) – Dagda Live Club
16.10.              CH       Sion – Le Port Franc
17.10.              CH       Schaffhausen – Kammgarn
18.10.              D          Leipzig – Hellraiser
20.10.              D          Munich – Backstage
21.10.              SK        Košice – Collosseum Club
22.10.              H          Budapest – A38
23.10.              BG       Sofia – Mixtape 5
24.10.              RO       Bucharest – Quantic Club
25.10.              RO       Cluj-Napoca – Flying Circus
27.10.              CZ        Prague – Futurum Music Bar
28.10.              PL        Poznan – u Bazyla
29.10.              PL        Warsaw – Klub Proxima
30.10.              LT        Vilnius – Vakaris
31.10.              LV        Riga – Melnā Piektdiena
01.11.              FIN       Helsinki – Ääniwalli
04.11.              N          Oslo – Røverstaden
08.11.              B          Roeselare – Trax
11.11.              D          Weinheim – Café Central
12.11.              D          Berlin – Musik & Frieden
13.11.              D          Essen – Turock
14.11.              F          Pagney-derrière-Barine – Chez Paulette
15.11.              NL        Leiden – Gebr. de Nobel
 
More on Veleno:
"Sugar" OFFICIAL MUSIC VIDEO: 
"Carnivorous Lamb" OFFICIAL LYRIC VIDEO: 
"Healing Through War" OFFICIAL LIVE VIDEO: 
"Worship And Forget" OFFICIAL VISUALIZER: https://youtu.be/Rx67BcnDk9c
"The Fool" OFFICIAL LIVE VIDEO: https://youtu.be/yYJ4UmxGrIk
 
Italian for 'venom', Veleno marks FLESHGOD APOCALYPSE's first record in 3 years, since the release of their critically acclaimed record King (2016). The 'metal part' of Veleno was recorded in Rome, Italy at Bloom Recording Studio and Kick Studio with long-standing collaborator Marco Mastrobuono, while the 'orchestral part' – the ensembles – were tracked at Musica Teclas Studio in Perugia. Fleshgod Apocalypse then took the effort over to Grammy-nominated Jacob Hansen (VOLBEAT, THE BLACK DAHLIA MURDER, EPICA) at Hansen Studios in Denmark for mixing and mastering. The entire production of Veleno took, according to Paoli, about three months. Artwork for the album was created by Travis Smith (AVENGED SEVENFOLD, OPETH,KATATONIA).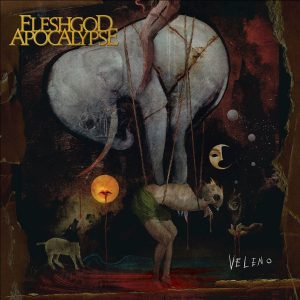 For More Information: 
www.Fleshgodapocalypse.com
https://www.facebook.com/fleshgodapocalypse/
https://twitter.com/FApocalypse
https://www.instagram.com/fleshgodofficial
https://www.youtube.com/FleshgodApocalypse
https://www.nuclearblast.com