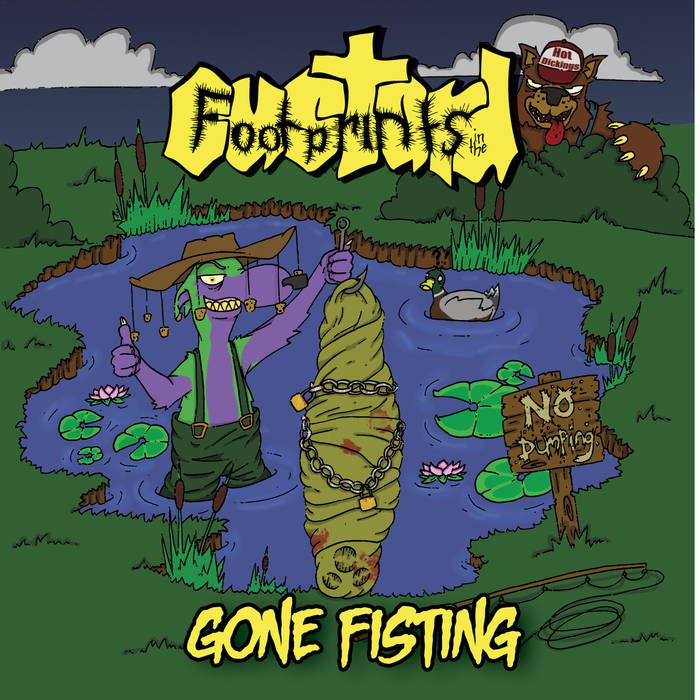 Footprints in the Custard interview
2nd January 2017
Russ from Footprints in the Custard, very kindly took time away from emptying his incredibly full Xmas sack to have a quick chat about his "highlights". What did Santa have in his sack for you this Christmas?
Cum, I jest (laughs). I got a lovely pair slippers and a load of beer. Santa did not put out at all. Bet he gets a lot of action to be fair
Did you have stuffing with your Xmas meal?
Yes. Who doesn't love a good Stuffing?
Did Santa fill any of the band members stockings?
I'd say they were suitably filled to the brim. Kinda bulbous, and full of treats.
Did you kiss anyone under the mistletoe?
No. And you have awakened a deep self-loathing I didn't know I had.  Actually, I think I just kissed my cat.
Do you have any really rubbish Christmas cracker jokes?
Why is Christmas the cheesiest holiday?
I don't know why is Christmas the cheesiest holiday of the year?
Because of the holy baby Cheesus.
That truly is awful. 
If you could buy each of your band members a present what would you get them?
Good question, I think it would be really cool if we had matching mankinis actually. Maybe different colors. That would be hot.
I mean, obviously it wouldn't be hot.
Maybe I'd buy Ross some little ball caps so that when he pops out it isn't too explicit.
(laughing) yea would save everyone on the front row from getting an eyeful of sweaty ballsack.
exactly.
Have you got any New Years resolutions?
I haven't really thought about it yet but, on the spot, I guess it would be awesome to travel more and meet more people and make them feel super awkward.
I like that bit when you say something weird and then embrace awkward silence.
But I suppose I should do some sit ups or something as well.
While eating pizza?
Fucking love pizza.
 What was your best memory from this year?
Best memory was definitely Bloodstock. Specifically walking on stage and seeing someone let a penis costume full of balloons take off into the New Blood tent (like a cocket) and then jizz balloons everywhere. Amazing.
What can we expect from the band in 2017?
We're releasing a new EP soon, based on songs subjects requested by fans. It's a Fan EP. We're calling it Fanny Pee. Also we've got a video game in the works, a b-sides album and a covers album planned. Also album number 4 will be in the works at some point. Plus lots of gigs, including Breaking Bands Fest and some other stuff I can't announce yet.
Is there anything you would like to say to your fans?
I love you all. Sexually.
How useful was this post?
Click on a thumb to rate it!
Average rating / 5. Vote count: