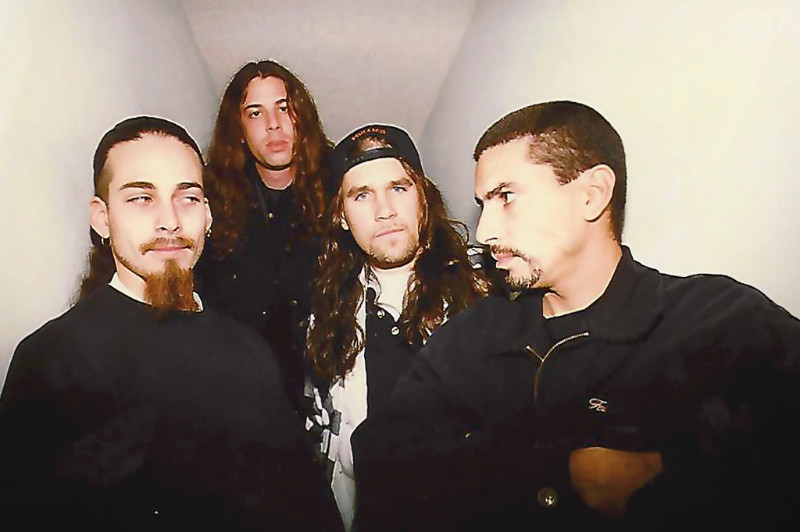 Former Machine Head/Vio-lence guitarist Phil Demmel reissues Torque's 1996 self-titled album with bonus tracks
10th January 2019
On 18th January 2019, Mascot Records will be reissuing Torque's 1996 stand-alone self-titled album which features former Machine Head/Vio-lence guitarist Phil Demmel. The album includes 4 bonus tracks and as well as CD, will be released on vinyl and digitally for the first time.


It was 1994 when one of the San Francisco Bay Area thrash scenes leading lights Vio-lence called it a day following the departure of vocalist Sean Killian who retired and Rob Flynn who went on to form Machine Head.
From that band, the remaining members formed the riff heavy, groove infused thrashers Torque. Fronting the band, guitarist Phil Demmel also took on lead vocals for the first time and along with guitarist Ray Vegas, bassist Deen Dell and with drummer Mark Hernandez joining they created a formidably crushing four-way vocal assault with a tank like heaviness that was to burn brightly, but briefly.
Looking back on that time he recalls, "With writing and creating music, we all were willing try each other's ideas, all contributions were welcomed. We wanted to stay true to our core and get out and share it with as many people as possible."
"We were able pull a decent draw right out of the gate but supporting Exodus at the Maritime Hall was a highlight. Sean came up and sang 'Breed' with us and we destroyed. We were brought over to play the Dynamo festival in the Netherlands and we left with lifetime memories. A landmark event for us all," he continues.
"I have nothing but fond memories of my time spent with these guys playing these songs. Great dudes to be in a band with. It was a tough time to be in a metal band in the mid-90s and I'm proud of what we were able to do in that time."
Now, 23 years later the album gets the full reissue treatment and will be available on CD, as well as vinyl and digitally for the first time and includes liner notes written by Phil Demmel. The reissue features 4 bonus songs, taken from the bands last recordings the '1997 Demo'; 'Circling', 'Erased', 'Sever' and 'Isolation/Anger Mine'.