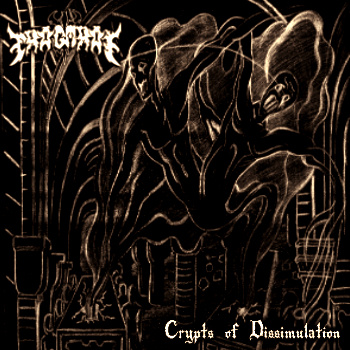 Fragarak – Crypts of Dissimulation
19th December 2013
As I've mentioned in a couple of my recent reviews, there is some seriously impressive metal coming out of India at the moment.  The metal scene is now reasonably developed and, as a result, the quality of musical output is increasing as bands have to up the ante to keep up with their peers.  Bands are now no longer just copying what western metal bands are doing, and are instead creating their own unique take on things.
It also means that there is more of an 'infrastructure' in place – there are more live venues for metal bands to perform (although many will argue there is still a need for a lot more), and there are a number of professional metal record labels who are distributing the albums by these up and coming bands.

Fragarak are the perfect example.  Crypts of Dissimulation, their debut album, was released independently back in May 2013 and received a number of very positive reviews.  They have since been snapped up by Transcending Obscurity India, and the album has now been re-released.
Inspired by Irish mythology, Fragarach get their name from a sword that was forged by the Gods, and as such had abnormal strength and ability.  The band play technical death metal, and Crypts of Dissimulation is both brutal old school and progressive in equal measure – and a as a result should appeal to fans of both traditional and more technical death metal.
The album is 45 minutes in length with 6 tracks, of which 4 are over the 6 minute mark.  The music is complex and sprawling and is varied enough that the album is never dull – in among the death metal sound, there are also elements of black metal, doom metal, grindcore… and there are even some beautiful acoustic moments.  And yet Fragarak retain their own unique sound and sense of identidy thoughout.
If you're a fan of death metal this is an album definitely worth checking out.  It's very well done, and the willingness of the band to experiment and shake things up a bit means that, although it's not completely ground breaking, it does offer something a little different.
The album is available as a digital download or a digipak CD (with booklet full of lyrics, band photos and other artwork) from the band's bandcamp page – visit the link below to hear a preview and to order a copy.
Score: 8 out of 10
[box_dark]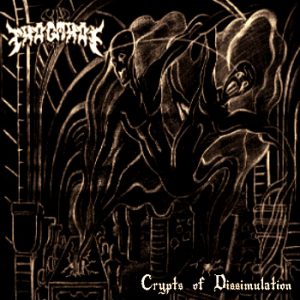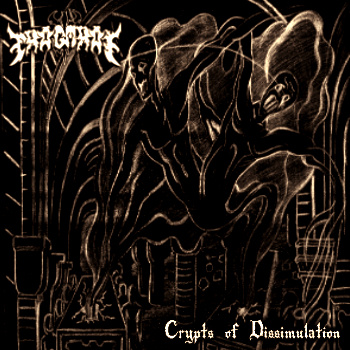 ALBUM INFO
Tracklist
1. Savor the Defiance
2. Insurgence
3. Effacing the Esotery
4. Dissimulation: An Overture
5. Cryptic Convulsion
6. Fragarak – Psalm of Deliverance
Release Date
04 September 2013
Record Label
Transcending Obscurity India
Website
http://transcendingobscurityindia.bandcamp.com/album/crypts-of-dissimulation
[/box_dark]