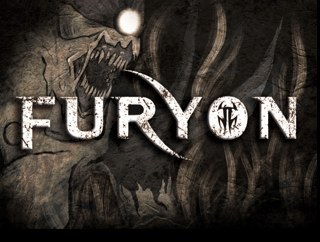 FURYON – Bannermans Edinburgh 30/03/15
1st April 2015
0
By
John Deaux
Edinburgh based & female fronted Nest of Vipers open the night with an amazing real heavy metal performance & a great warm up act. If you get a chance catch these guys live as they are a great addition to the growing Scottish metal scene.
Peacefully Screaming were up next. This 4 piece hailing from Stirling. Producing some interesting funk & bass leading material. Reminiscent of an early Faith No More these guys are well worth looking out for also.
Now onto the main act:-
Furyon take to the stage just after 9pm.
Opening with a blistering version of their first single Disappear Again taken from their debut album Gravitas.
I've been fortunate to witness every Edinburgh Furyon show & I can say this with hand on heart that they have never sounded so good.
I'll be totally honest & I said this to vocalist Matt Mitchell, that I was really apprehensive of his vocal performance due to the problems he had last year with the bleed on his vocal chords which caused the cancellation of the Mordred tour.
Fuck me can he belt. Not only that it's the best I have ever heard him perform live & not only does he hit all the notes that are on the Lost Salvation album, especially on These Four Walls, but he absolutely frikkin' nails them & makes it look so effortless.
The 2 weeks of silence, (which if you know Matt or have had the pleasure of meeting him, you know he likes to talk), coupled with the intense vocal workouts he has had to do after healing really has paid off.
The addition of new guitarist Tiago Rosado along with the addition of formidable lead player that is Chris 'Sir Dink' Webb has boosted their sound a lot . Both guitar players compliment each so well that you would think they'd been playing together for years instead of just a couple of very short months.
Alex 'Nickel' Bowen on bass & Lee 'Fluffy' Farmery on drums absolutely lock the band in with a groove that is tighter than a ducks arse.
Furyon produced a set that had the favorites from not only Gravitas but their new album Lost Salvation.
The music spoke volumes especially the haunting track that is Our Peace Someday which must be a hard track for Mr. Mitchell to sing as it's a very personal song dealing with the loss of someone who is incredibly special & was very close to the man himself.
Spattering the 12 track set with 4 brand new tracks from album 2. It was great to hear how the new tracks really do stand up to the old songs in a live environment.
To hear new track Scapegoat coupled with Souvenirs from the debut was sublime had me grinning from ear to ear.
The closer Voodoo Me was as incendiary as the start of the show.
The whole package of the 3 bands was brilliant and well put together by Christian Kimmet who is the booker of talent for Bannermans.
Rob Halket (bass player for The Exploited) did an amazing job of the sound in the venue as always.
Nest Of Vipers – 8/10
Peacefully Screaming 7/10
Furyon – 9/10