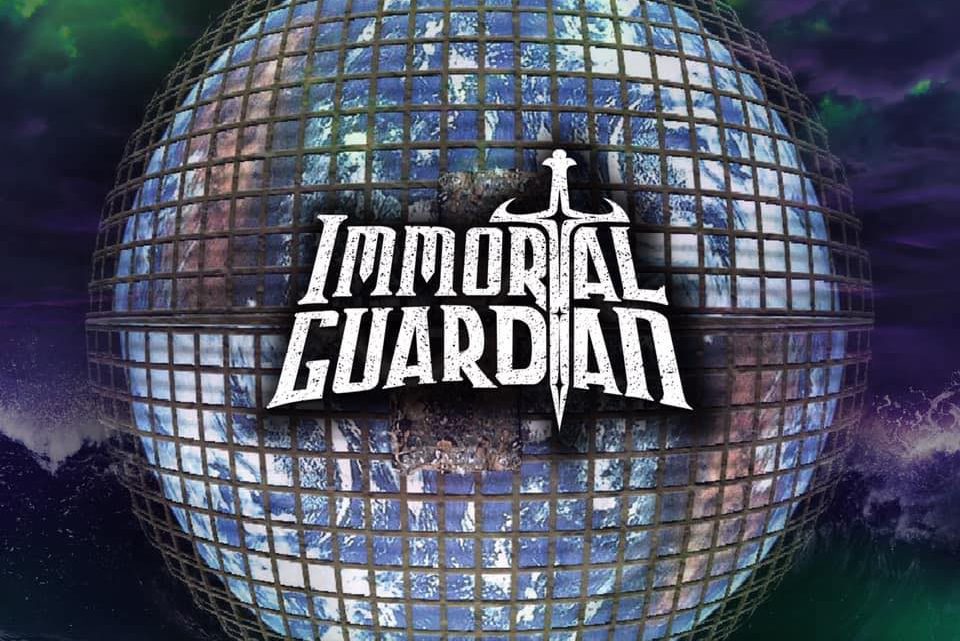 GABRIEL GUARDIAN of IMMORTAL GUARDIAN SPEAKS DOG
4th February 2021
0
By
John Deaux
Face Melters Immortal Guardian evoke the NWOBHM with some incredible shred guitars and a virtuosic vocalist. They're due to drop a new album in February 2021 but we caught up with guitar shredder Gabriel for a pet chat.

I have two amazing dogs named Killer and Sandy.
Killer already had his name from the neighbourhood kids when he was found 8 years ago and we decided to keep the name because of how tough it sounded for such a cute loving small dog. ha
Our BIG puppy Sandy was rescued about 6 months ago while visiting our hometown in the middle of nowhere at a south Texas beach named South Padre Island, TX. We call her Sandy because she was literally a pup covered in sand from the beach and her brindle coat also makes her look permanently sandy too.
Both of your dogs are really cute. 
How quirky are they?
Killer really likes butt scratches lol. It's not odd for dogs but it's funny because even when you're not moving your hand, he will move his body under your hand or foot to do the job himself!
Sandy is only 6 months old but she is already 60lbs. My dog trainer buddy claims she probably has some Great Dane in her. We never imagined she would grow so big. When we found her in the sand dunes, she fit in a shoe box. Now she is physically enormous but still has the heart and spirit of a small puppy. So she loves to jump on our laps and run around like she is small and petite but she has no idea how heavy and insane big she is! ha
What is the best trick either of them can do?
They are both great at sitting and giving handshakes for treats.
But during quarantine I bought this cool tricycle with a basket in the back. And it's so fun to put lil Killer in the back so he doesn't get tired and can still enjoy the ride, and big-ol-pup Sandy literally pulls the weight of me, killer and the bike almost the entire bike trail. She is so excited she will just go and go and pull and pull like no problem. We all love doing the bike rides. Sandy is the captain and she takes us on her wild adventures lol
How have your dogs helped during this pandemic?
Not gonna lie, having a very very young puppy while trying to record an album during a pandemic was a challenge! Ha. But I have to admit, growing up we didn't have pets, so dogs are not something that i ever planned to have.
They just came into my life, and now I'm so happy and grateful. I can't imagine life without them now. They are my children and I love them forever! They bring me so much joy, especially during such a tragic year like 2020. They helped me in my darkest times.
Have you always been an animal lover? 
I have always loved animals but I grew up in a household with 2 brothers, 2 sisters, plus other family, so there just wasn't much room for pets lol. But I loved playing with my friends' pets growing up.
Great to be an adult now and do whatever I want. And right now, having 2 dogs right now makes me so content…. Who knows maybe we'll have more in the future!
Are you one of those people that puts your dogs into costumes? Don't be shy to tell us about their battle vest.
Ha that's funny. Sometimes we like to put this "fancy sweater" vest on Killer. He looks totally hipster…Super hilarious but keeps him warm in the winter outside. And we love to also put these cool led collars on them when we go camping or bike riding. The dogs look like they're in total raver mode ha.
Do Killer and Sandy like it when you practice at home? 
Both pets seem to not mind loud music. They have been around loud guitar amps, drum sets, Carlos singing etc. and it never bothers them… BUT certain instruments will make them go CRAZY! Killer will start howling and barking, and Sandy just runs around causing chaos til it ends lol. Those instruments include: trumpet, harmonica, melodica, saxophone, accordion… I guess mainly reed instruments.
Do they seem to prefer any particular genre of music more than another?
I don't think they have a musical genre of preference. Because Sandy can sleep on the floor right next to my feet while my subs are blasting metal guitars and drums nonstop or watching movies with bass drops and explosions. Classical music does help her sleep though. I've noticed when I leave it on in her bedding area she doesn't cry and miss us when we go to bed.
Who looks after them whilst you're away on tour/holiday?
I'm so thankful for amazing Rachel G on bass! Our show/touring schedule rarely happens at the same time so usually one of us is home to take care of the pets and alternate between schedules. Killer is such a good boy so he is so easy to get sitter if we need one.
And luckily Sandy is getting all her crazy puppy energy out while we are off from shows due to Covid. She was a blessing that came at the perfect time in our lives while we were stuck at home.
You have a good tour manager there by the sounds of it as well as a solid bass player. 
Speaking of practicing, any new music in the pipeline? IF so when is it due and what can your audience expect?
Immortal Guardian wrote a brand new album about the pandemic during the pandemic titled 'Psychosomatic'. It comes out Feb 12th and it's based on a lot of the experiences and emotions that we all felt in 2020. You can order it here: https://www.immortalguardian.net/shop
It's our best work yet and we can't wait for y'all to check it out.
Have you anything you'd like to say to your fans/followers?
We can't wait to see all our fans and their pets on the road soon. Hopefully things are safe and we will be able to tour again sooner than later. Until then, keep an eye out on our socials and YT for new music, videos, and creative content. Stay safe out there and give your pets some love from the Guardians!
For all things Immortal Guardian, click on any of the links below
Bandcamp, Apple Music, Spotify, CD and limited-edition purple vinyl pre-orders for "Psychosomatic" at http://smarturl.com/immortalguardian
How useful was this post?
Click on a thumb to rate it!
Average rating 5 / 5. Vote count: 1
No votes so far! Be the first to rate this post.
Related
About the author
Some say Yank My Doodle, It's A Dandy! is a biographical movie based on John. Some have even said that his favorite artist is Chesney Hawke! All we really know is he sleeps inside out and his hair tastes like candy floss.