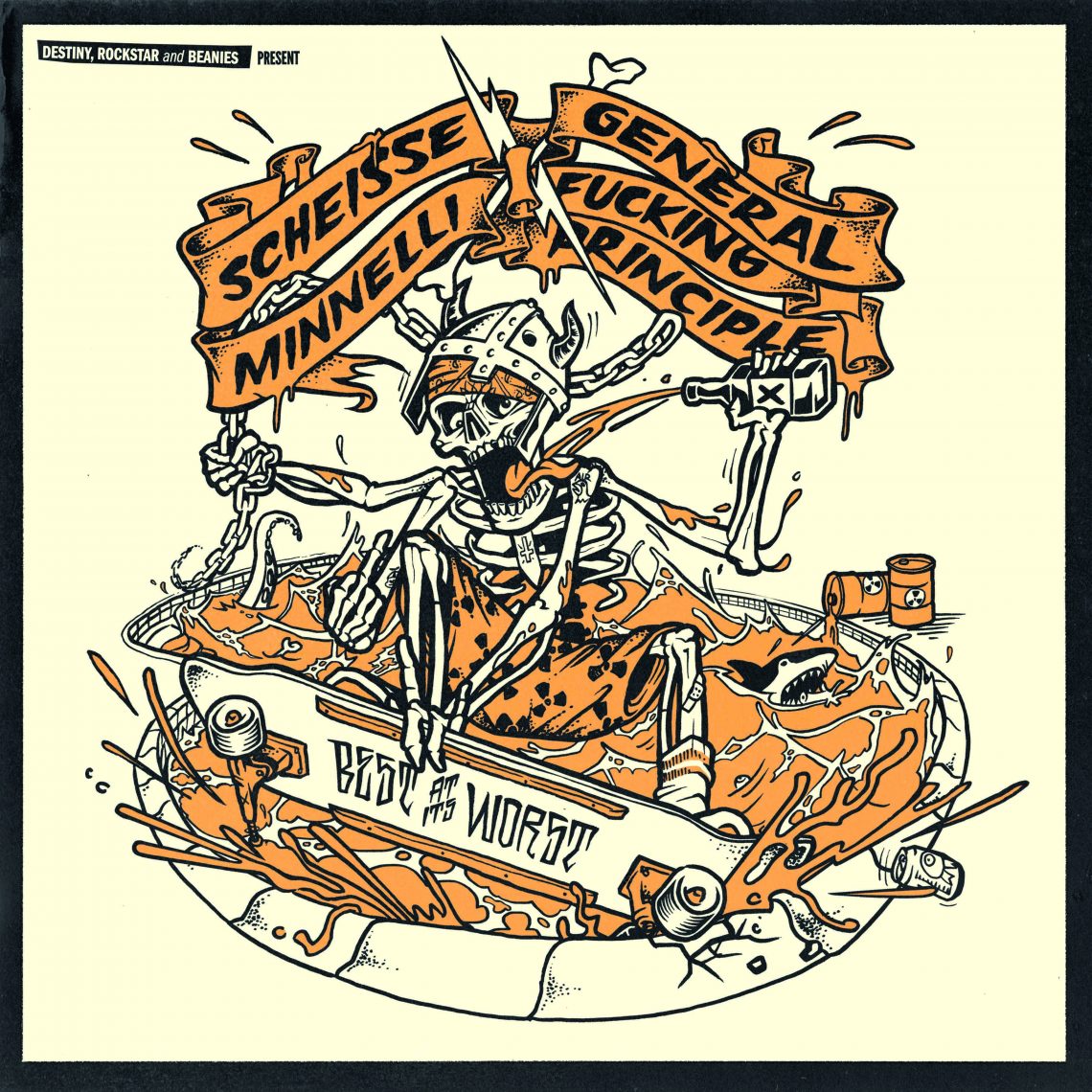 General Fucking Principle / Scheisse Minnelli – Best At Its Worst (split 12″ LP)
27th September 2014
A few months ago I reviewed the awesome Sorry State Of Affairs album by Germany based skatecore band Scheisse Minnelli.  These guys are hardcore as fuck and their music is fast and catchy and the sort of stuff you can't help but jump around to.
So when the awesome Nicole from Beanie Records got in touch and asked if I'd like to review the new General Fucking Principle / Scheisse Minnelli split 12″ LP, I almost bit her hand off!
For those who don't know who General Fucking Principle are, they're an old-school punk rock band which was started in 2007 by Tony Alva (of Z-Boys skateboarding fame).
'F.T.W.S' (fuck this whole system) is political, loud and aggressive as hell and it's ideal for slamming into each other in the mosh pit.  'Bad Influence' carries on in the same vein, and you can tell that these guys are angry with the way things are – which is no bad thing!
'Shock And Awe' and has some awesome guitar riffs and is slightly more metal sounding, and 'Community Service' has some real attitude with snarling vocals and a sing-along chorus.
Final track 'Heads Or Tails' is brutally fast at 1:05 minutes, and the perfect ending to the General Fucking Principle side of the LP.  On the basis of these 5 tracks I will definitely be keeping an eye on what these guys do next – awesome stuff !
Scheisse Minnelli's opening track 'EMB' is full speed ahead punk rock, with that distinctive sound that I love.  It's sounds like a bonus track from their last album, and that's definitely a good thing!
'The Game Of Life' is ultra-catchy, with infectious riffs and a chorus that I found myself singing along to.  'Let The Pig Out' is relentless and gave me serious neck ache as my head banging tried and failed to keep up with the sonic speed!
'It Ain't A Party' is a cool track with some fantastic lyrics: "It ain't a party 'til something gets broken… it ain't a party 'til you start toking… it ain't a party 'til she starts to dance… it ain't a party 'til you shit your pants".  Great stuff !
Final track 'Retarded Disco' is a very cool disco version of the band's classic track, 'Socially Retarded'.  It's a groovalistic ending to the band's side of the LP and it left me with a huge smile on my face.  Funky!
This is an awesome split LP and if you're a fan of punk rock / skate core then this is an essential release !!
Score: 9 out of 10
ALBUM INFO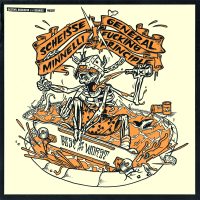 Tracklist
General Fucking Principle – 
1. F.T.W.S.
2. Bad Influence
3. Shock & Awe
4. Community Service
5. Heads Or Tails
Scheisse Minnelli –
1. EMB
2. The Game Of Life
3. Let The Pig Out
4. It Ain't A Party
5. Retarded Disco (feat. Tesco Vee)
Record Label
Beanies Records / Destiny Records
Release Date
31st October 2014
Links
https://www.facebook.com/nicole.beaniesrecords?fref=ts
www.facebook.com/pages/GFP-General-Fucking-Principle/159548920773652
www.facebook.com/scheisseminnelli
www.scheisseminnelli.com
www.reverbnation.com/scheisseminnelli