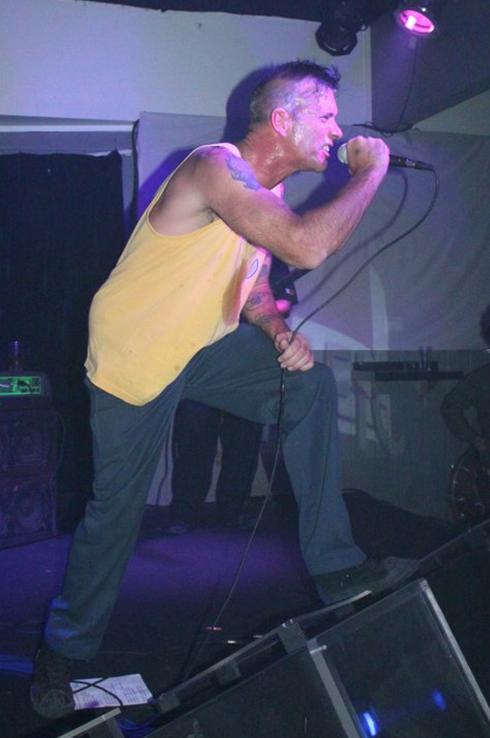 Interview with Ger-I Lewis
18th May 2013
Ger-I Lewis first came to my attention when I got my hands on the Welcome 2 Venice compilation that Louiche Mayorga (ex-Suicidal Tendencies, Horny Toad, and Luicidal) put out in 2007.  As a huge fan of the Venice Beach punk metal crossover scene from the late 80's / early 90's, I was really keen to get my hands on this as it featured tracks from Creeper, Horny Toad, and Neighborhood Watch, and included contributions from Dale Henderson of Beowulf, Dan Clements of Excel, and Louiche Mayorga from ST.
From the first time I heard it, one of my favourite tracks on the album has been the fantastic 'Pray for Surf' by Front Side Grind, a band which features Ger-I Lewis on vocals.  I was so impressed by this track that I contacted Ger-I to get my hands on the Front Side Grind 3 track EP, and ordered myself a copy of his book '1978: Crashed Memories' which tells the entertaining and fascinating true story of his induction into the world of L.A's exploding Punk Rock scene.
After reading his book, I wanted to know even more about this talented writer / musician, so I contacted him requesting an interview.  Ger-I was kind enough to reply and agreed to answer my questions for All About The Rock…
Interview with Ger-I Lewis
By Rich Dodgin
Can you tell our readers a bit about yourself please? Where did the name Ger-I Lewis come from?
I'm Ger-I Lewis (born Todd Gessel).  I play music in The Venice All Stars and Front Side Grind, and am a published author.  I founded the Venice Surf and Skate Association, The Venice Surf-a-thon, and was instrumental in getting the Venice skatepark built.  I'm an Army veteran, Judo player, surf and skate instructor, and am a qualified LA County Lifeguard (15 years) and Water Safety Instructor.  I am also a father and a Christian.
The name Ger-I Lewis was the nickname I got when I was younger.  I tell the story more fully in 1978 Crashed Memories, but me and my friends were involved in a fight with some Venice gang members, one of whom called me a "Jerry Lewis looking mutha fucka."  The name stuck and from that night on I was known as Ger-I Lewis.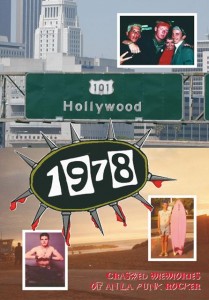 I thoroughly enjoyed reading 1978 Crashed Memories – it really drew me in and gave me a great feeling for the early punk scene in LA. How would you summarise the book for those who might be interested in getting themselves a copy?
Crashed Memories 1978 is a quintessential chronicle of adolescent self discovery. Anybody in any city anywhere in the world can relate to the narrative. The difference is I just happened to grow up in the midst of a musical revolution as well as a several sub-cultural revolutions, in the most interesting city in the world, Los Angeles, California surrounded by infamous and famous personalities. It is the Anti-Dogtown Dogtown, the anti-Lexicon Lexicon story. No hero worship.
How did you find the writing process?
I am humbled and flattered as well as grateful the Lord has blessed me with the ability to write. I believe anyone can tell a story, however to write an entertaining, piece is another animal in itself and let's face it no easy task. Writing is a craft just as fine art, music, mechanics, or any other endeavour, which requires schooling, apprenticeship and practice, practice and more practice.
I self published the first editions of 1978 and I'm sure these will be highly collectible as, I did not have the benefit of a copy editor or proof reader and despite the advantages of modern technology such as spell check, there are typos. The funny thing is either readers really enjoy the typos as they lend to the DIY attitude of the era or they are highly critical and blame the author!
I believe that the next instalment of your story is due out sometime soon – is that correct?
Yes I am currently working on the next instalment, but it is rather slow going as of late. I have also recently sold the film rights to 1978 Crashed Memories.
What's the best way for folks here in the UK to get themselves a copy of 1978 Crashed Memories?
If you would like an autographed and personalized copy of 1978 please visit http://gerilewis.wordpress.com/music-books/ for details.  Payment can be made to paypal.com/venicesrfsk8[at]yahoo.com
As well as writing, you're also involved in the current Venice music scene, with Front Side Grind and the Venice All Stars. Can you tell us a bit about each of these bands and your involvement with them?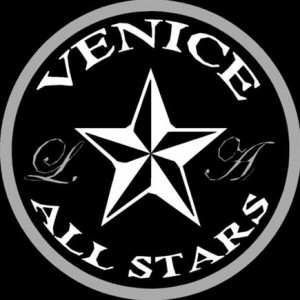 I formed Front Side Grind in "78". Players come and go. F.S.G is Venice surf skate and anarchy.  We've played plenty of gigs, from Tokyo Japan to Ensenada Mexico but my favourite shows are the back yard gigs were some skate boarding is going on.  F.S.G has been featured in Surfer Magazine, Juice Magazine, Thrasher, and others.
The Venice All Stars includes original members of Suicidal Tendencies and Front Side Grind who have teamed up to play the classics, destroy misconceptions and set the record straight as to the Suicidal culture.  The line up is not fixed as such, and our shows have included contributions from a number of guys from the Venice hood – members of Creeper, Beowulf, Excel, Horny Toad, Wasted Youth, Entropy, Strapt, and Neighborhood Watch have all played as part of the Venice All Stars.
http://www.reverbnation.com/frontsidegrind1
http://www.reverbnation.com/veniceallstars
Are there any plans for any future EP/ album releases for Front Side Grind or Venice All Stars?
I will release the complete FSG discography very soon!  But in the meantime you can order a copy of the 3 track 'Pray for Surf' EP from http://gerilewis.wordpress.com/music-books/
I know that you've also been actively involved in a lot of community work. Can you tell us about your involvement in the Venice Surf-A-Thon and the Venice Skatepark?
Yes I have always been community and service minded having been a lifeguard and a Veteran, and having produced and directed the Venice Surf-A-Thon surf contest for the past 20 years.
I am the founder and Executive Director of the annual Venice Surf-A-Thon.  I founded this in 1993 after returning home from military service. I wished to do something for the children, young adults and the community in general that is fun and has a positive influence on everyone. For sure back in the day the contest was edgy as so was I!  Instead of handing out trophies at the beach like most contests, I incorporated the awards party to give everyone a chance to shine. Inviting local talent was also a strategy to enhance and create a Venice culture showcase.
The event has a generational community expectation and Surf-A-thon has taken on a family atmosphere.   Moreover the contest has provided an opportunity for surfers to get a start in competition surfing.  Many world class surfers and celebrities have supported and donated to The Venice Surf-A-Thon including Chris Ward, DJ Muggs, Kid Frost, and Beowulf. The Venice Surf-A-Thon is now in its 20th continuous year!
20 years ago I also began an effort to build a skatepark in Venice California.  This led to the Venice Surf and Skateboard Association (VSA) being formed officially in 2000 with its original focus of bringing a world class skatepark to Venice, California.  The park was completed in 2009 and is testament in concrete to plenty of hard work and a bygone era that will never be duplicated.
I understand that you've recently been doing some voluntary work abroad?
Yes, I found myself in Mindanao, in the Philippines, under very unusual circumstances I can only describe as God's will and have been helping with a small charity school, the MLD School in Mindanao.
The MLD school is located on a fish and prawn farm in the village of Mocas, Misamis Oriental Prefecture, Mindanao. The operators of the farm, the Mike Lord Damayo family set up the school when they bought the farm as the villagers had no school.  It is a 2 mile walk from the main road to the schoolhouse.  The teachers are paid by donations, and all school and learning supplies are donated.
I had the pleasure to teach English and math to the students.  I also helped with humanitarian aid, teaching and spreading a little good will through the art / sport of skateboarding.  It has also given me the opportunity to show that Americans care about others, and that our government's policies do not reflect on most citizens as a whole.  In addition I wished to prove that one person can make a difference in many people's lives.
It is really a blessing to be able to help others in a part of the world where a little love goes a long way! I wish to thank Sir Mike Damayo and his wife Dolly for their hospitality and taking care of me out there!  I also want to say to my friend Mimi I love you very much and I miss you.
From your posts on Facebook, I get the impression that you're quite a spiritual sort of person. How would you describe your approach and attitude to life and others?
I really enjoy helping folks and feel blessed to be able to do just that, selflessness is a key to happiness, really.  Yeah I got saved and follow the teaching of Jesus Christ, thanks to Pastor Craig Henson and the congregation at Venice church.
What's next for you ?
I am currently working on the next instalment of 1978 Crashed Memories, and I am working with Troma Entertainment artist and actor Mark Toxiclife on a comic book and film – a poignant and exciting commentary on the society from a vantage that has rarely been explored in the action hero genre.
Finally, anything else you'd like to say before we wrap up this interview?
Thanx Rich for the opportunity to be interviewed for All About The Rock, and cheers to all the UK fans out there!   If you wish to get an autographed and personalized copy of 1978 or the FSG EP hit me up at http://gerilewis.wordpress.com/music-books/   All proceeds I donate to MLD Christian Charity school in Mindanao, Philippines.