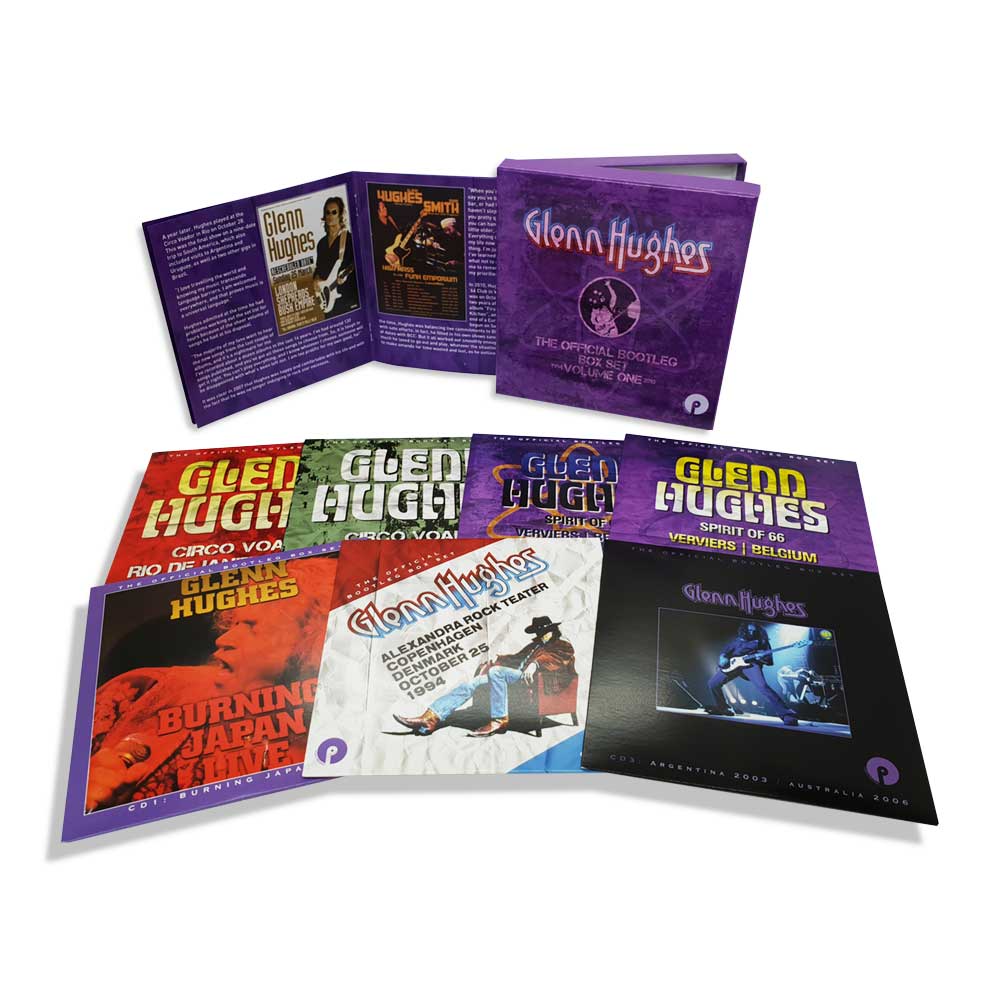 GLENN HUGHES: THE OFFICIAL BOOTLEG BOX SET: VOLUME ONE, 7CD REMASTERED BOXSET EDITION
26th June 2018
Glenn Hughes is a bit of a living legend. Playing with such bands as Trapeze, Deep Purple and of course Black Country Reunion.
This box set is MASSIVE and covers live material from 1994 right through to 2010. Like me you're probably wondering do we really need a 7 disc box set of live material from Glenn. That's actually a really good question, and the answer is quite simply YES.
Admittedly this is not a set you can sit and listen to in one hit as it can get a little monotonous as there's only so many times you can hear tracks like Burn, Stormbringer and Soul Mover. Don't get me wrong, the tracks are classics in their own right but they are repeated throughout the 7 discs hence why it's not a box to listen to in one sitting.
Although these recordings are considered to be bootlegs, they sound anything but. Disc 3 from a show in Argentina back in 2003 and a set from Sydney in 2006, sounds incredible and is quite possibly my favorite disc in the set. . A real treat especially the version of the Purple classic Mistreated. 
Hughes voice is immense throughout and you can really tell how his vocal performance and phrasing has changed over the 16 year period this set covers. The musicianship on every recording is tremendous especially with some of the older Trapeze material as well as the covers of Whiter Shade Of Pale and Nights In White Satin.
There's a lot of music and a lot of songs that you'll recognise that you may not necessarily know it was Glenn Hughes who had recorded or wrote.
Overall this box set is well worth a purchase.
Score 7/10
Track List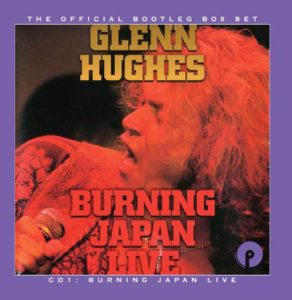 DISC ONE: "BURNING JAPAN LIVE" LIVE AT CLUB CITTA, KAWASAKI, JAPAN – MAY 24, 1994
1. BURN
2. THE LIAR
3. MUSCLE AND BLOOD
4. LAY MY BODY DOWN
5. FROM NOW ON…
6. INTO THE VOID
7. STILL IN LOVE WITH YOU
8. COAST TO COAST
9. THIS TIME AROUND
10. OWED TO 'G'
11. GETTIN' TIGHTER
12. YOU KEEP ON MOVING
13. LADY DOUBLE DEALER
14. I GOT YOUR NUMBER
15. STORMBRINGER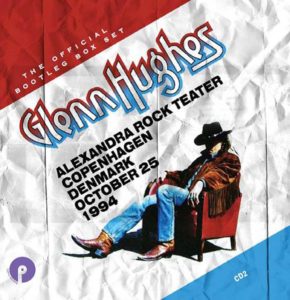 DISC TWO: ALEXANDRA ROCK THEATER, COPENHAGEN, DENMARK – OCTOBER 25, 1994
1. BURN
2. THE LIAR
3. MUSCLE AND BLOOD
4. LAY MY BODY DOWN
5. INTO THE VOID
6. STILL IN LOVE WITH YOU / YOUR LOVE IS LIKE A FIRE
7. COAST TO COAST
8. THIS TIME AROUND
9. OWED TO 'G'
10. GETTIN' TIGHTER
11. YOU KEEP ON MOVING
12. LADY DOUBLE DEALER
13. I GOT YOUR NUMBER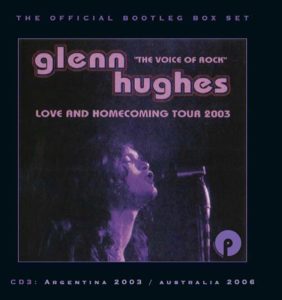 DISC THREE: GRAN REX THEATRE, BUENOS AIRES, ARGENTINA – DECEMBER 13, 2003
1. STORMBRINGER
2. MISTREATED
3. YOU KEEP ON MOVING
4. BURN
THE BASEMENT, SYDNEY,
AUSTRALIA – JUNE 17, 2006
1. COAST TO COAST
2. I FOUND A WOMAN
3. THIS TIME AROUND
4. NIGHTS IN WHITE SATIN
5. SOUL MOVER
6. A WHITER SHADE OF PALE
7. MISTREATED
8. YOU KEEP ON MOVING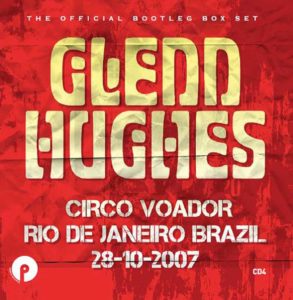 DISC FOUR: CIRCO VOADOR, RIO DE JANEIRO, BRAZIL – OCTOBER 28, 2007 (PT.1)
1. STORMBRINGER
2. MIGHT JUST TAKE YOUR LIFE
3. LAND OF THE LIVIN' (WONDERLAND)
4. MISTREATED
5. YOU GOT SOUL
6. DON'T LET ME BLEED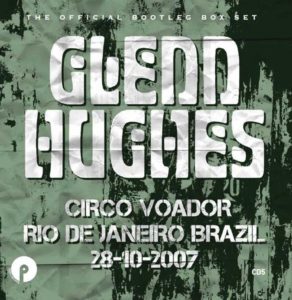 DISC FIVE: CIRCO VOADOR, RIO DE JANEIRO, BRAZIL – OCTOBER 28, 2007 (PT.2)
1. GETTIN' TIGHTER
2. STEPPIN' ON
3. YOU KEEP ON MOVING
4. SOUL MOVER
5. BURN
DISC SIX: SPIRIT OF 66, VERVIERS, BELGIUM – OCTOBER 16, 2010 (PT.1)
1. MUSCLE AND BLOOD
2. TOUCH MY LIFE
3. ORION
4. SAIL AWAY
5. MEDUSA
6. YOU KILL ME
7. CAN'T STOP THE FLOOD
8. CRAVE
9. DON'T LET ME BLEED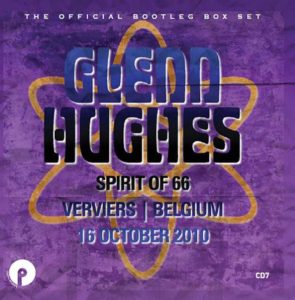 DISC SEVEN: SPIRIT OF 66, VERVIERS, BELGIUM OCTOBER 16, 2010 (PT.2)
1. KEEPIN' TIME
2. STEPPIN' ON
3. SOUL MOVER
4. ADDICTION
5. BURN
Release Date
29th June 2018
Label
Purple Records
For all things Glenn Hughes, click HERE and to purchase this box, click HERE