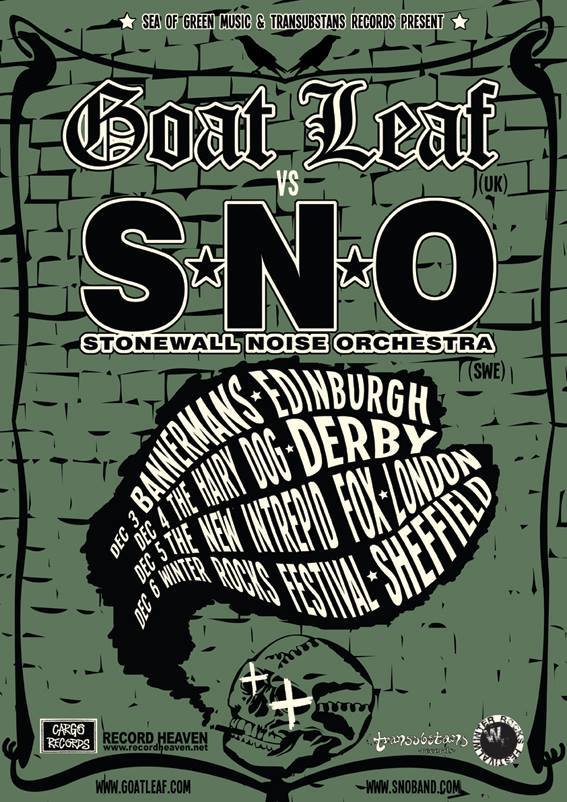 Goat Leaf On Tour
4th November 2014
0
By
John Deaux
Goat Leaf On Tour With Stonewall Noise Orchestra
Following a pair of sell-out shows at The Corporation in Sheffield, a winning run in the Metal 2 The Masses competition, culminating in a storming set on the New Blood Stage at Bloodstock and recent dates with New York legends Warrior Soul and Californian Stoner overlords, Fu Manchu, South Yorkshire's Goat Leaf are prepared for one last aural assault to cap off a very successful year.
Capitalizing on the momentum gained from their second album, A Lack Of Oxygen and packed shows at iconic venues such as the Camden Underworld and Purple Turtle in London and The Asylum and Scruffy Murphy's in Birmingham, the band have become a live force par excellence.
Teaming with Swedish noise merchants, Stonewall Noise Orchestra,the lads are hitting the road for a few dates in December, climaxing in headline slot on the second stage at the inaugural Winter Rocks festival at the band's spiritual home, the Sheffield Corporation.
The tour stacks up like this:
December
3rd- Bannerman's Bar – Edinburgh
4th- The Hairy Dog – Derby
5th- The New Intrepid Fox – London
6th- Winter Rocks Festival – Corporation – Sheffield