Goatcraft – All for Naught
12th March 2013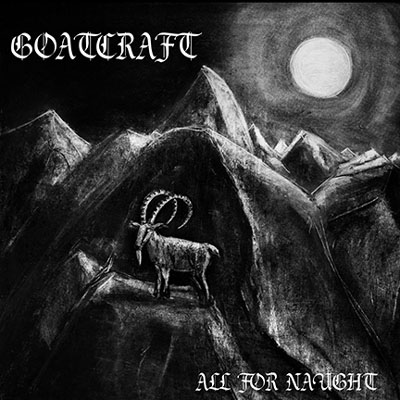 Band: Goatcraft
Album:All for Naught
Record Label: Forbidden Records
Release Date: 20th March 2013
Reviewed By: Mark
TRACKS TO PURCHASE – "Goats Will Riot", "Isolation Ripens", "Everything Will Die", "The Rape of Europa"

Right I picked this album at random and upon first inspection you believe that this is old school black metal, what with the black and white hand drawn cover and the band logo and album title in old English text, looks like a cover from early Burzum. Goatcraft is actually a solo project from the aptly named Lonegoat who hails from Texas in the good old USA! So without knowing anymore about Goatcraft I pressed play on my mp3 player and off we go…
After listening to the album I can tell you this, it is 46 minutes of music you are either going to love or absolutely hate!!! (which will reflect my score, so see later). You see although the front cover looks old school black metal, what you actually get is dark ambient necro-classical music, as mentioned earlier this is the solo project of Lonegoat and 'All for Naught' is majestically played on the piano only. No vocals, percussion, bass, guitars and only the odd brief whisper of electronic keyboards. This is dark atmospheric occult music at its best, think of the Omen II soundtrack or the original Lords of the Ring soundtrack (the animated version of the film) meshed with eeriness and sombre overtones.
There is no aggression here on this album instead Lonegoat has created an album that creates and keeps the mood dark and the pace ebbs and flows to showcase his talents on the piano and composition of each piece, which entwine with each other.
When you put this album on sit back and relax (preferable in a darken room) and let the dark ambient compositions dominate you and create the funeral darkness, melancholy, despair and isolation that 'All for Naught' brings. I imagined that when the late great HP Lovecraft was writing his Cthulhu Mythos between 1917 – 1935 then this would be what he thought of when he wrote "The Music of Erich Zahn" but on piano instead of violin.
This album will either enthral you and keep you gripped until the end or you will hate it straight away and think what the hell. If you want a break from 200mph blast beats then this is a great album and I highly recommend it.
SCORE – 5 (this is my score as you will either absolutely love it (like me) and give it 10/10 or will despise Goatcraft and this album and give it 0/10. Therefore the average of the two scores is 5/10)
Readers album score: {extravote 1}