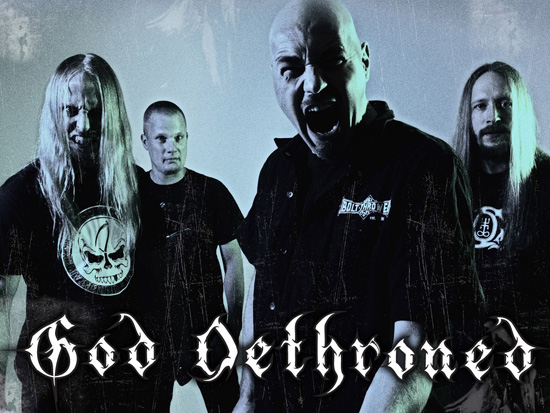 GOD DETHRONED will reunite on board 70000TONS OF METAL
30th July 2014
Video ID not provided: Please check your shortcode.
GOD DETHRONED will reunite on board 70000TONS OF METAL!
After their farewell performance on board 70000TONS OF METAL in January 2012 the floating mega festival are proud to announce the band's return! Exactly 3 years later, they are scheduled to return to the stage more aggressive then ever! It will all begin with 70000TONS OF METAL, The World's Biggest Heavy Metal Cruise, sailing to Jamaica in January 2015.
GOD DETHRONED front man, Henri Sattler, explains:
"In early 2011, I was facing two options: one was to announce a break, and the other option was to quit the band. I definitely needed time away from it all, and having a break wasn't reassuring enough to know if I would be able to recharge the batteries for another go.

Oddly enough it was at the funeral of the man who discovered us in the first place that I came to realize the story wasn't finished yet.  So here we go again. Don't think you will be able to see us playing every club for weekends on end. We will only play a small selection of shows and this won't happen before 2015. Besides that, the core of the band will consist of only Michiel and myself. We'll have some cool guest musicians lined up, though, to make sure we'll give you the best performance possible.  Last but not least, our first shows will be where we played our last ones three years ago. Our rebirth will happen on board 70000TONS OF METAL 2015. See you on board!"
70000TONS OF METAL, The Original, The World's Biggest Heavy Metal Cruise has already confirmed: Alestorm, Annihilator, Apocalyptica, Arch Enemy, Behemoth, Blind Guardian, Cannibal Corpse, Chimaira, D.A.D., Ensiferum, Equilibrium, God Dethroned, Grave Digger, Heathen, In Extremo, Kataklysm, Korpiklaani, Lake Of Tears, Michael Schenker's Temple Of Rock, Napalm Death, Origin, Primal Fear, Tank, Therion, Threshold, Triosphere and Xentrix, with 33 more to come!
70000TONS OF METAL, The World's Biggest Heavy Metal Cruise, will sail Thursday, January 22, 2015 aboard the Royal Caribbean "Liberty Of The Seas" from Port Everglades in Fort Lauderdale near Miami, FL and will not return to the real world until Monday, January 26, 2015
Ticket prices start at US$666 plus US$333 taxes and fees per person and include all on-board entertainment, non-alcoholic and non-carbonated beverages, all meals in the dining rooms, most on-board restaurants and even 24 room service!
Check out www.70000tons.com for more information.