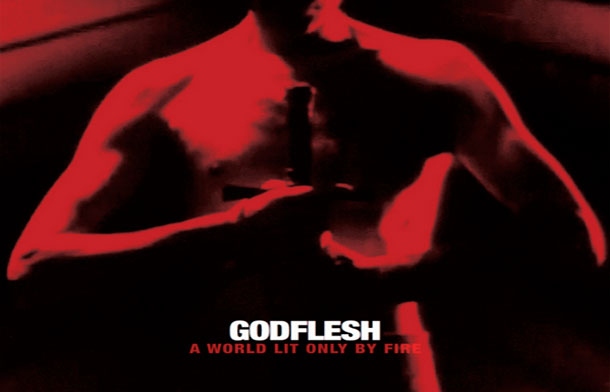 GodFlesh – A World Lit Only By Fire
5th October 2014
GodFlesh release first album in 13 years
When I first heard that GodFlesh were releasing their first album in 13 years (although an e.p was released earlier this year this year with little to no fanfare at all, entitled Decline & Fall) I can honestly say I got super excited… I, like James Blunt, did indeed have a semi by the sea..
I nervously pressed play on the stereo & what I was bombarded with was a complete assault on the senses.. I was immediately transported back to 1989 when I first heard the track Like Rats.
Godlfesh were formed in 1988  by Justin Broadrick (guitar, vocals, and programming) and G.C. Green (bass) and helped shape the grindcore scene & put Earache records firmly on the map. They sadly disbanded in 2002., but reformed in 2010 and the band started working on this, their 7th album in 2012.
In an interview with the French radio station Le 106, Broadrick stated:
"It will be [musically] similar to the first two or three [GodFlesh albums]. I just think, like we're playing these shows, we feel very pure about we're doing and honoring the initial intentions with what we originally set out to do. Which, I think, like most bands and musicians and all the rest of it, by the time you get on to your fourth album, it's somewhat of a dilution going on to what you initially tried to achieve. It will definitely sound aggressive and it probably won't sound like any of the other records we've made, but it will have the minimalism of the first few records."
The press release that accompanied this album states that the songs, "span the divide between high definition clarity and raw, visceral heaviness, inducing a meditative state via seething minimalism that hinges on ritualistic riff repetition and the tenuous membrane between anxiety-inducing dissonance and cathartic minor key melody."
I can honestly confirm the above statement.
It will be released on 7 October 2014 through band leader Justin Broadrick's own record label, Avalanche Recordings and is their first full length release since the album Hymns back in 2001.
This album kicked me squarely in the gonads and it may take me awhile to recover. The sheer power & presence this record is offering is just relentless..  My Hi-Fi had no idea what had hit it this morning (nor did my neighbors to be honest).
Everything I look for in a record I found here.. I'm not just saying this because I'm a fan.. I'm saying all this because it is true.. I had no idea that this band could still cut it after a 13 year silence & I  really didn't think they would still be relevant… I am honestly blown away.
As I write this I am on my second spin of the album and it's as good (if not better) than the 1st time I heard it..  Every single song on this is just a complete tour de force
I have posted the stand out track for me for the simply because it has such a groove that it hurts (in a good way)
If you're a fan of Grindcore, industrial & of course the daddy, Nine Inch Nails.. Just buy it.. I urge you to part with your hard earned cash & buy this product..
Score: 8 out of 10 Which makes this
Track list:
01. New Dark Ages
02. Deadend
03. Shut
04. Life Giver Life Taker
05. Obeyed
06. Curse Us All
07. Carrion
08. Imperator
09. Towers of Emptiness
10. Forgive Our Fathers
Release date:
7th October 2014

Label:
Avalanche Records
Link:
http://www.godflesh.com/
Buy it & play loud… Your neighbors will love you for it