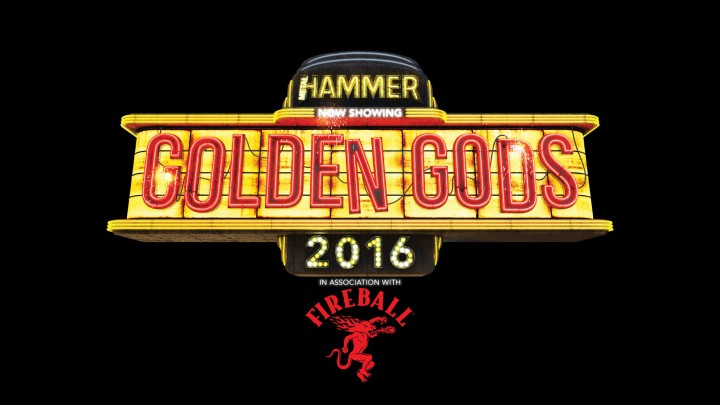 Metal Hammer's Golden Gods 2016
15th June 2016
Every other awards ceremony in the world seems to be decked out with tables, chairs and inflated egos, but not the prestigious Metal Hammer's Golden Gods! Simply put, this feels like a gig. Beer is flowing, the air is tinged with smoke (albeit from the slightly less than metal e-cigarettes, but still) and there is a feeling of true excitement in the atmosphere tonight. This is not your typical, "award ceremony" clientele – the crowd are tightly packed, a sea of raised fists and horns, and during the live acts there are pits. Despite the special nature of tonight, in many ways it is business as usual.
To kick of the festivities, the crowd were shown a tribute film for our dearly departed Lemmy. A mash of live shots spanning Motörhead's career and interview footage from Phil "Philthy Animal" Taylor, Mikkey Dee and "Fast" Eddie Clark, among others. Unfortunately, much of the dialogue was muffled and distorted, making it difficult to truly appreciate the sentiment and emotion behind the film. Shortly after the film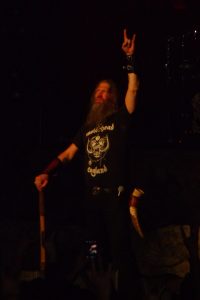 finished, Amon Amarth take to the decorated stage and gift us with three brutalising songs of Norse inspired melodic death metal. Tearing through the classic Guardians of Asgaard, lead single form Jomsviking First Kill, and the epic Twilight of the Thunder God, Amon Amarth deliver the perfect mix of death metal coupled with melody inspired by classic Iron Maiden and Judas Priest.
After a short break, we are greeted by Hardcore Legend, frontman of Hatebreed, and the most positive man in metal, Jamie Jasta, who serves as our host for the night. He invites a guest to present the night's first award, Best New Band, – none other than Alexander Milas, Metal Hammer's head honcho. Of the five bands nominated for this one, it was horror-punk rising stars Creeper who take it home. Next up, we move onto the Best Underground Band. There were some big nominations for this award, including Sweden's Tribulation, and Greek legends Rotting Christ, but it was the Norwegian extreme metallers Enslaved who took home the prestigious trophy, making a dedication to the victims in the recent Orlando shooting in their acceptance speech. Jasta then invited Saxon main-man Biff Byford on stage to announce the victor of the Best UK Band award. Despite fierce competition from extreme metal stalwarts Cradle of Filth, and the arena filling Architects, it was York's metalcore stars Asking Alexandria were awarded their Golden God trophy, much to the grumblings of many in the crowd.
Breakthrough Artist has another guest presenter, this time from Metal Hammer's deputy editor, Merlin! Again, there is fierce competition from rising stars We Came As Romans, and Avatar, but it was Beartooth who claimed this victory as their own. There was no competition, however, for the next award, Best Live Band – despite a killer set of nominations, Lamb of God were always going be victorious here. Best International Band saw another stiff competition, but it was the mysterious Ghost who were triumphant. Comedian Andrew O'Neill claimed the award on their behalf, standing silent at the podium for a moment before loudly proclaiming "I'm not him!" Jasta then introduced the Best Independent Label award, with Prosthetic Records coming out on top. Finally, the legendary Dave Mustaine took the stage to announce Metal Hammer's Riff Lord, an award gifted to a true guitar god… And this year's winner, joining Slash and Mustaine himself was none other than Phil Campbell! Of course, it wouldn't be a Dave Mustaine appearance without him shouting at somebody – mid-sentence he outbursts to someone in the crowd "Excuse me! I'm talking, butthole!" before flipping the person in question the finger.
After a short break, we get a short set from Halestorm who are air tight. Fronted by the awesome Lizzy Hale, she shreds and struts like a modern Suzi Quatro. How she played in those heels, we'll never know! There was an impression of maturity that had been missing from Halestorm performances in the past, but their set this time around was killer. Gojira follow, giving a superb performance airing the first two singles from their upcoming album Magma, Silvera and Stranded, and finishing with the crushing The Heaviest Matter Of The Universe. Whether a fan of Gojira or not, their live performance is a devastating wave of sonic brutality, and it's impossible not to be impressed by them.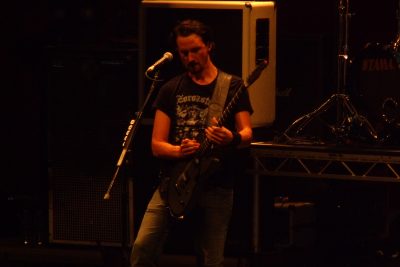 We then get onto the second batch of awards which saw Aussie metallers Parkway Drive pickup Best Video for the awesome Vice Grip. Dragonforce axeman Herman Li and bassist Frédéric Leclercq take to the stage to present the prestigious Dimebag Darrell Shredder, which goes to Lizzy Hale – the first woman to win the award, who dedicated the win to all the women in rock and metal. The Metal Hammer Icon Award, which is gifted to an artist who has transcended his own subgenre or scene to become an icon of heavy music, went to former Mötley Crüe and current Sixx AM man Nikki Sixx. Iron Maiden rightfully picked up the award for Best Album, which is awarded for the best album of the last year, for the epic Book of Souls. Nikki Sixx then returned to the stage with his Sixx AM bandmates to announce the Global Metal Award, an award dedicated to those in metal who have to fight especially hard to be recognised in their homeland. This years Global Metal Award was given to Taiwanese extreme metal heroes Chthonic. Frontman Freddy Lim, who is running for office in Taiwan, gave a rousing, emotional and inspirational speech while accepting the award. Faith No More's Billy Gould presented the Inspiration Award – and this year, the mighty Anthrax took it home! Scott Ian gave a brilliant speech, dedicating the award to Motörhead and Iron Maiden, as without them, there would be no heavy metal.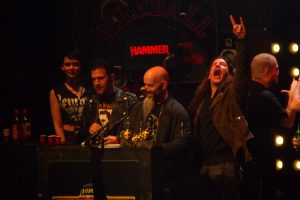 However, there was still one award left to give. The big one. The one we were all here for. The Golden God. This year's Golden God is the legendary Joey Jordison. He gave an emotional speech, clearly overwhelmed by the joy of the crowd and the weight of the moment, getting three years of silence off his chest. Shedding some light on the split with Slipknot, he proclaims his love for everyone in the band and informs us that he has recently been fighting and recovering from a rare condition Transverse Myelitis, hinting this played a part of his departure. Whether there was more to it, and what that is, however, is still up in the air. Choking back tears, and with a supportive hug from Jamie Jasta, Joey announces his love for his wife, his love for heavy metal, and his love for us – the fans. He is now back with two new bands, VIMIC and Sinsaenum and looks set to be back to fighting form in the years to come.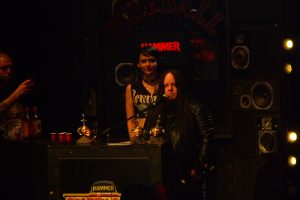 The evening then concludes with a set from British Heavy Metal veterans, the mighty Saxon. After powering through three of their own songs, including the iconic Heavy Metal Thunder, Motörhead's Mikkey Dee and Phil Cambell join Biff Byford and bassist Nibbs Carter. The four piece then plow through Motörhead classics Ace of Spades and Born To Raise Hell before bring the night to a climax with Overkill.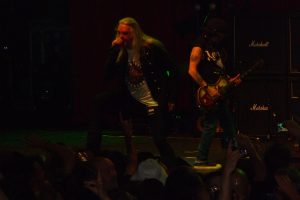 A fantastic night celebrating the best music on earth brought to an end by paying tribute to rock and roll's greatest icon, we were truly a part of something special. Lemmy practised what he preached and lived everyday on his terms. He left behind a fantastic, and still criminally under-rated, body of work and his legend will live on forever.
Born to lose, he lived to win.
All photos by Joe Denby.
Article co-written by Fraser Wilson and Joe Denby.