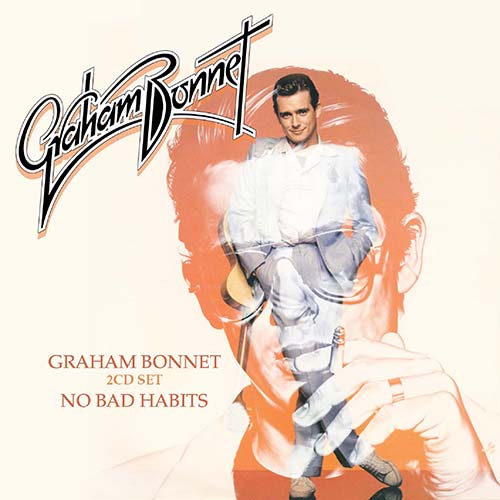 Graham Bonnet – S/T & No Bad Habits – 2CD Expanded Edition Review
23rd May 2016
HNE Records have released another Graham Bonnet 2 disc expanded cd set. This time with Bonnets 1977  self titled  album & his 1978 No Bad Habits album in one handy package.
Grahams eponymous self titled album is his official debut record (as the newly discovered Back Row in the Stalls  was shelved & consequently lost for 40 years) finds Bonnet in a soulful mood. Covering such classics as Bob Dylan's It's All Over Now, Baby Blue along with Al Greens Tired of Bei'ng Alone.

His 1978 follow-up
No Bad Habits
has Graham in a more playful & pop mood. Again featuring a couple of classic covers in the forms of
Bob Dylan
s
I'll Be Your Baby Tonight
as well as the
Bee Gees
Warm Ride
, which was released as a single.
Superb albums from one of rocks greatest vocalists & show a different side & range of Graham Bonnets talents. It's easy to see why Ritchie Blackmore chose him to join Rainbow.
Both albums are completely remastered,  produced by Pip Williams (who is best known for his work with Status Quo) & feature a plethora of bonus tracks.
Available now from HNE Records
TRACK LIST

CD ONE: GRAHAM BONNET (1977)
1. IT'S ALL OVER NOW, BABY BLUE
2. WILL YOU LOVE ME TOMORROW?
3. TIRED OF BEING ALONE
4. WINO SONG
5. IT AIN'T EASY
6. GOODNIGHT AND GOODMORNING
7. DANNY
8. SUNDAY 16
9. ROCK ISLAND LINE
10. SOUL SEEKER
BONUS TRACKS
11. HEROES ON MY PICTURE WALL (SINGLE B-SIDE, 1977)
12. GOODNIGHT AND GOODMORNING (SINGLE EDIT) **
13. I WHO AM I (GRAHAM BONNET & VICKY SILVA, 1977)*
14. THE LOVING TOUCH (GRAHAM BONNET & VICKY SILVA, 1976)
15. DO WHAT YOU GOTTA DO (DEMO)*
16. IT AIN'T EASY (DEMO)*
17. YOU'VE LOST THAT LOVIN' FEELING (DEMO)*
CD TWO: NO BAD HABITS (1978)
1. I'LL BE YOUR BABY TONIGHT
2. WON'T YOU JOIN ME
3. WARM RIDE
4. IS THERE A WAY TO SING THE BLUES
5. CAN'T COMPLAIN
6. GIVIN' UP MY WORRYIN'
7. PYRAMID
8. ONLY YOU CAN LIFT ME
9. STAND STILL STELLA
10. HIGH SCHOOL ANGEL
11. COLD LADY
BONUS TRACKS
12. 10/12 OBSERVATION (SINGLE B-SIDE OF 'WARM RIDE')
13. ONLY YOU CAN LIFT ME (SINGLE EDIT) **
14. SUCH A SHAME (SINGLE B-SIDE OF 'ONLY YOU CAN LIFT ME')
15. WARM RIDE (12" LONG DISCO VERSION)**
16. WARM RIDE (12" LONG VERSION)**
* Previously unreleased
** Previously unavailable on CD
Score 9/10