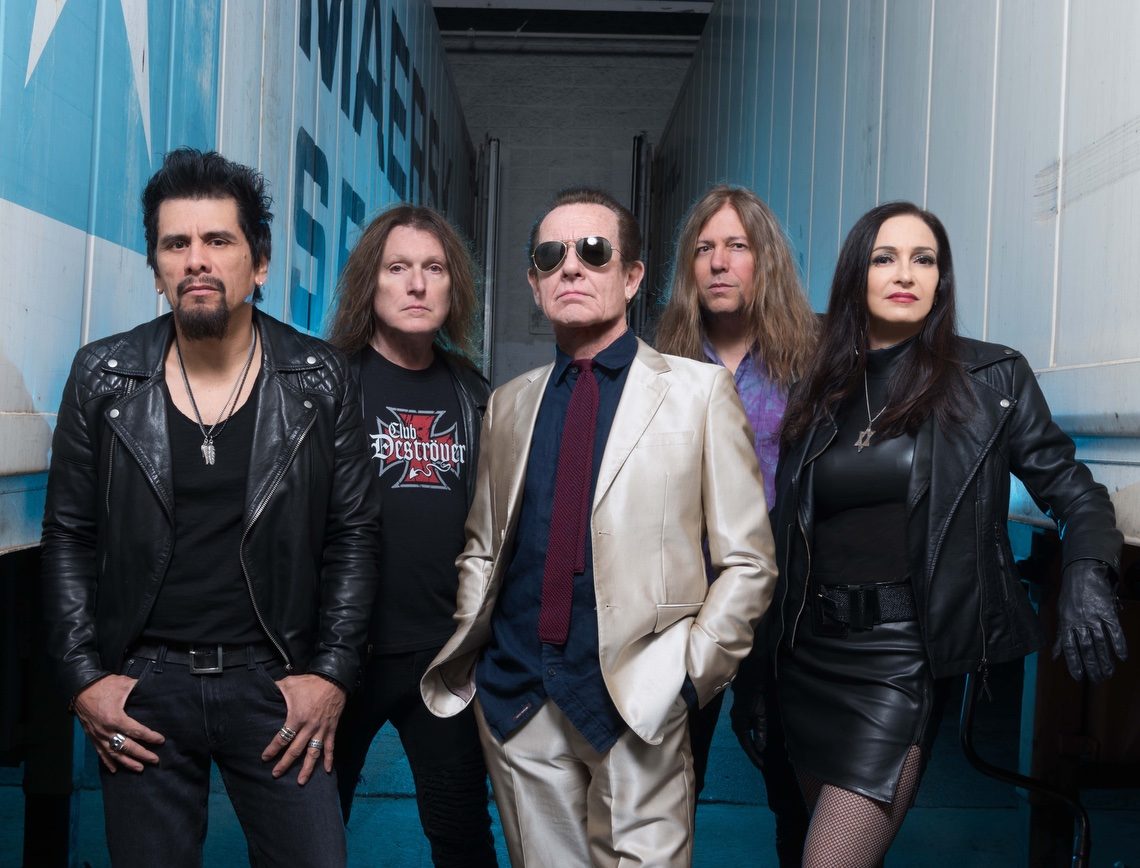 GRAHAM BONNET BAND – 'Livin' In Suspicion' : new single/video
30th July 2018
0
By
John Deaux
'Livin' In Suspicion' is the new single by the Graham Bonnet Band and is taken from the group's just released 'Meanwhile, Back In The Garage' album, which was issued on 13th July via Frontiers.
The song was written by Russ Ballard, who Bonnet has regarded as his talisman ever since he sang on the best known version of Ballard's 'Since You Been Gone' while a member of Rainbow in the late 1970's. Bonnet states: "Russ has been a friend for many years and written songs for me in the past, as well as big hits for bands like Kiss, America and Santana. This time I really feel that almost by chance we have something that can be seen as another 'Since You Been Gone' type of song, in that it is very memorable and people can instantly relate to it."     
'Meanwhile….' is the second album by the Graham Bonnet Band and follows 'The Book' (2016). The record has been well received, with Bonnet commenting that "it has been incredible. People are saying this is the best record I have made, either for many years, or even ever. The feedback just keeps getting better and better. I think this record will have a long life!"    
 The new record has earned critical plaudits for not only for its songs and their lyrical subject matter (not to mention the singer), but also its production and skilled musicianship, with many praising the Alcatrazz-ian mixture of Hard Rock and Progressive stylings on display.    
"Bonnet possesses a distinctive voice and is clearly enjoying himself here"  
PLANET ROCK
"Builds on the promise of 'The Book' with stronger, more cohesive material. 4 out of 5"
RECORD COLLECTOR
"Bonnet has sung on a couple of classics in his career and I will say that in time this will be
mentioned right up there with them. 8 out of 10"  
POWERPLAY
"This spectacular album proves 'The Book' was not a fluke. The Graham Bonnet Band are
certainly here for some time to come"  
FIREWORKS
The Graham Bonnet Band will be on tour in the UK/RoI during August, with dates as follows :
08.08.18  GLASGOW G2
09.08.18  ABERDEEN The Assembly
10.08.18  EDINBURGH Bannermans
11.08.18  LOUTH Town Hall
12.08.18  NEWCASTLE Trillians
14.08.18  MANCHESTER Rebellion
15.08.18  HULL O'Rileys
16.08.18  STOKE Eleven
   17.08.18  BELFAST Limelight
18.08.18  DUBLIN Button Factory
19.08.18  PONTYPRIDD Muni Arts Centre
21.08.18  BILSTON Robin 2
22.08.18  LONDON Underworld
23.08.18  BLACKPOOL Waterloo Music Bar
24.08.18  BUCKLEY Tivoli
25.08.18  NEWARK Stonedeaf Festival
Graham Bonnet is a hard rock legend with a pedigree to back that statement up, with time served in  Rainbow, MSG, Alcatrazz and Impellitteri proving that he is one of the finest vocalists of his generation. 
Fresh off a stint with Michael Schenker Fest, he has just returned with a new Graham Bonnet Band  album, 'Meanwhile, Back In The Garage'. Crafted with Joey Tafolla on guitars (Joey plays on all songs except 'Livin' In Suspicion', which features new member Kurt James), Beth-Ami Heavenstone (bass) Jimmy Waldo (keyboards) and Mark Benquechea (drums), 'Meanwhile, Back In The Garage' sees Bonnet demonstrating why he is still is one of the premiere vocalists in hard rock.
'Meanwhile, Back In The Garage' contains thirteen new songs with Bonnet laying down his inimitable voice over tunes that are full of great hooks and melodies. The package includes a bonus live DVD captured 'Live From Daryl's House' (yes, THAT Daryl, of Hall & Oates) at a performance in early 2018.
"This is the most important album I have made in 35 years. I think fans of the classic Alcatrazz sound will love this record. The first single is about any young band starting today, which is like it was back when I began. As the lyric says "Take a number, It's a hell of a line"! I have had a fantastic career and been very fortunate to play with some great musicians. I hope there is a lot more touring and recording to come!"  GRAHAM BONNET
GRAHAM BONNET BAND
Graham Bonnet – Vocals
Kurt James – Guitars
Beth-Ami Heavenstone – Bass
Jimmy Waldo – Keyboards
Mark Benquechea – Drums
How useful was this post?
Click on a thumb to rate it!
Average rating 0 / 5. Vote count: 0
No votes so far! Be the first to rate this post.
Related
About the author
Some say Yank My Doodle, It's A Dandy! is a biographical movie based on John. Some have even said that his favorite artist is Chesney Hawke! All we really know is he sleeps inside out and his hair tastes like candy floss.