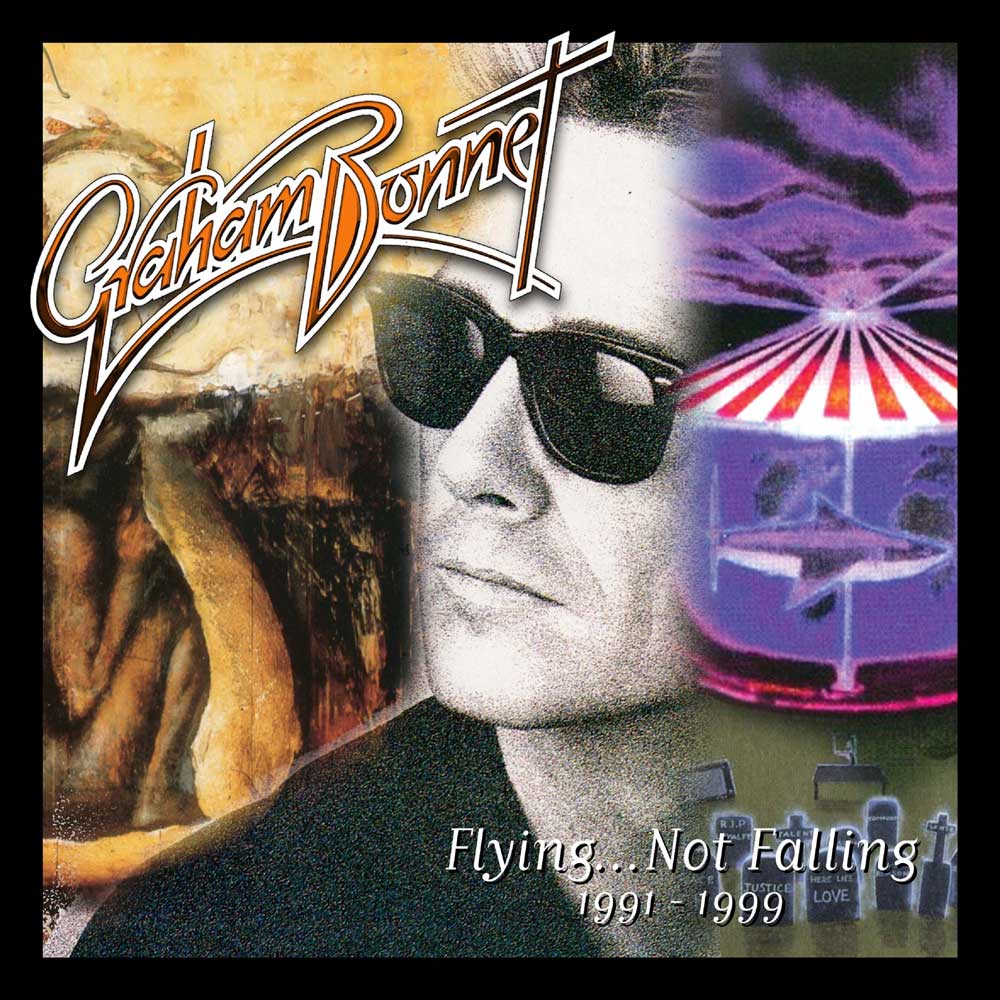 GRAHAM BONNET – FLYING NOT FALLING 1991-1999: 3CD REMASTERED BOX SET EDITION
2nd December 2017
0
By
John Deaux
Graham Bonnet is a vocal legend that needs no introduction or explanation. Flying, Not Falling contains 3 classic Bonnet albums from 1991 (Here Comes The Night), 1997 (Underground) and 1999 (The Day I Went Mad). All 3 of these albums are not only remastered but they're all expanded with a plethor of instrumental demos and more live material than you can wave a big stick at.
CD 1 houses The Day I Went Mad which has some amazing special guests. Former Alcatrazz guitarist, Danny Johnson, Vivian Campbell of Dio, Whitesnake & Def Leppard, Bruce Kulick (KISS & Meat Loaf), plus Slash from Guns N' Roses and Tim Bogert from Vanilla Fudge.
The day I went mad is a proper hard rock/metal album. Bonnets vocals fly higher than an eagle and the record contains some of the best guitar solo work since the Alcatrazz albums. The track Don't Look Down is a prime example of this. 

The previously unreleased 6 bonus live tracks recorded on the subsequent 2000 tour are of bootleg quality, but have been added to show the fun that was had on this tour. Of course there's the obligatory version of the Rainbow track Since You've Been Gone, but there's other little gems here. Bonnets take on classic tunes like The Beatles I'm Down which is coupled with Little Richards Lucille is an absolute killer track. But when you hear an audience go nuts for the tracks Killer, Spiked and Don't Look Down from the studio album that you realize that you've heard something quite enchanting.
Underground is on CD2. This was Grahams 5th solo album and showed him returning back to his rightful place as a rock vocalist and reuniting with Alcatrazz guitarist Danny Johnson.
Underground is full of swagger and some real hard rock songs, especially the new version of Lost In Hollywood that Bonnet originally recorded with Rainbow. Among the highlights (of which there are many) is a sublime version of the Hendrix track The Wind Cries Mary

Once again the previously unreleased live tracks are of bootleg quality but they're worthy of the inclusion purely from a historic standpoint.Once again recorded back in 2000, these tracks are performances of songs from MSG, Alcatrazz, and Rainbow.

The final disc Here Comes The Night is the weekest link in this collection of albums. Sounding like a cross between Huey Lewis and the News and Martha and the Vandellas, Here Comes The Night is a pop album and sadly not a very good one. Don't get me wrong, Grahams voice is every bit as brilliant as it  should be, it's just a little confusing when you have a pop album chucked in with 2 of his best rock albums. It's like having an opera singer like Pavarotti supporting the legendary thrashers Slayer.
The 4 bonus tracks of instrumental demos are pretty good and are pure pop cheese.
Overall this boxset is good, it's just not fantastic. Had it just been the expanded versions of The Day I Went Mad and Underground, this would've been a great set. Having said that tho, you do get the amazing voice of Bonnet on 3 discs.
Score 6.5/10

Track List: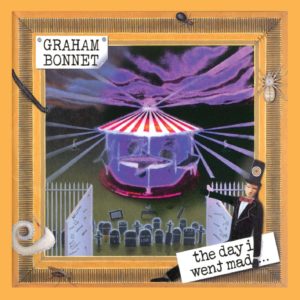 DISC ONE:
THE DAY I WENT MAD (1999)
1. THE DAY I WENT MAD
2. KILLER
3. FLYING NOT FALLING
4. HEY THAT'S ME
5. LOLITA CRUSH
6. THIS DAY
7. MODEL INC.
8. SPIKED!
9. GREENWICH MEANTIME
10. DON'T LOOK DOWN
11. OH! DARLING
BONUS TRACKS
12. I'M DOWN/LUCILLE (LIVE EASINGTON ROCK GARDEN 22ND NOVEMBER 2001)
13. KILLER (LIVE COCONUT TEASER 23RD SEPTEMBER 2000)
14. SPIKED! (LIVE CULVER CITY, 12TH MAY 2000)
15. DON'T LOOK DOWN (LIVE CULVER CITY, 12TH MAY 2000)
16. SINCE YOU BEEN GONE (LIVE CULVER CITY, 12TH MAY 2000)
17. OH! DARLING (LIVE CULVER CITY, 12TH MAY 2000)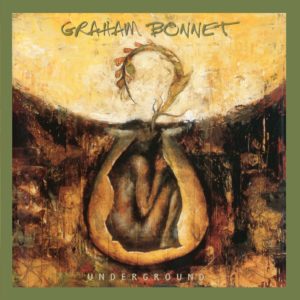 DISC TWO:
UNDERGROUND (1997)
1. UNDERGROUND
2. WHIPLASH
3. BREAKAWAY
4. MOVIN' ON
5. SAIL ON
6. CAJUN PINK
7. THE STRANGE
8. WINTER SKIN
9. LOST IN HOLLYWOOD
10. THE WIND CRIES MARY
BONUS TRACKS
LIVE AT CULVER CITY,
12TH MAY 2000
11. ISLAND IN THE SUN
12. SOS
13. ONLY ONE WOMAN
14. GOD BLESSED VIDEO
15. WILL YOU BE HOME TONIGHT
16. ALL NIGHT LONG
17. DANCER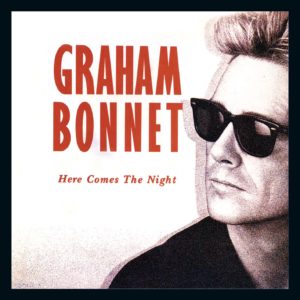 DISC THREE:
HERE COMES THE NIGHT (1991)
1. SOMETHING ABOUT YOU
2. HERE COMES THE NIGHT
3. LONG TIME GONE
4. ONLY ONE WOMAN
5. PLEASE CALL ME
6. A CHANGE IS GONNA COME
7. I'LL GO CRAZY
8. I GO TO SLEEP
9. LOOK DON'T TOUCH
10. EYES OF A CHILD
11. DON'T
12. WHAT SHE SAYS, YOU HEAR IT MEANS
BONUS TRACKS
INSTRUMENTAL DEMOS
13. GONE IN A MINUTE
14. A HOLE IN MY SOUL
15. PLEASE CALL ME
16. GREENWICH MEANTIME
Release Date
1st December 2017
Label
HNE Recordings
For all things Graham Bonnet click HERE and to purchase this box set click HERE
How useful was this post?
Click on a thumb to rate it!
Average rating 0 / 5. Vote count: 0
No votes so far! Be the first to rate this post.
Related