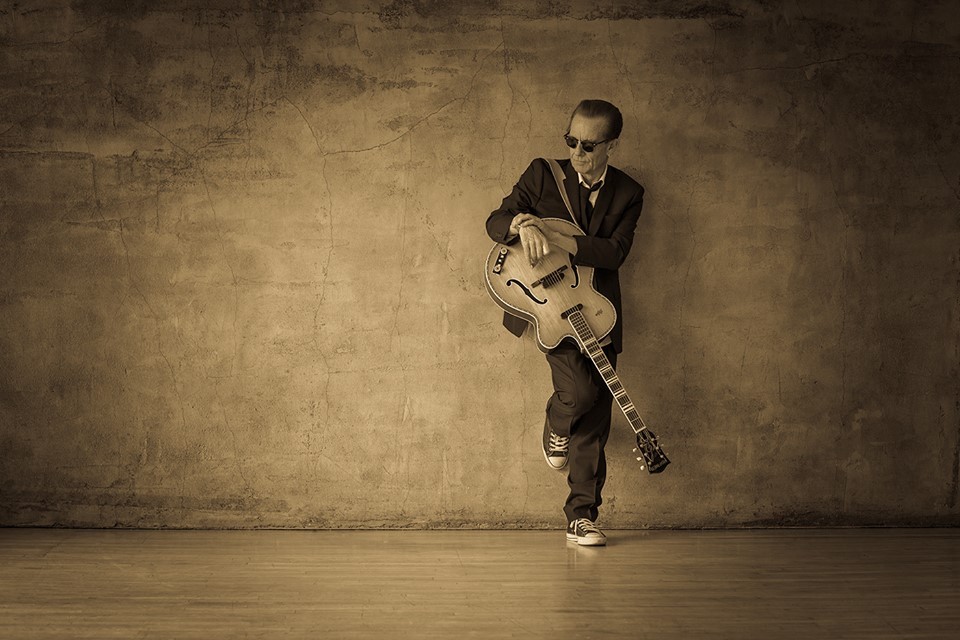 GRAHAM BONNET Solo Albums 1974-1992 6xCD SET – Review
13th January 2021
Graham Bonnet is a legen in the rock and metal vocal department. Lending his voice to such projects as Rainbow, the Michael Schenker Group, Alcatrazz, and Impellitteri.
This gorgeous 6CD clamshell box has an incredible amount of music. Aside from the plethora of bonus material (and it has to been seen to be believed) there's a tremendous (and long overdue) 2020 remaster of his 1974 debut Back Row Of The Stalls.
An abridged version (the original was 3CDs) of Reel To Real: The Archives (1987 – 1992) has also been given a much  needed remaster.
The rest of the albums (No Bad Habits especially) sound just as good as the day they were originally issued on CD. 
Apart from the 2 remastered albums there's not much to report. It's Graham Bonnet. What more do you really want to know?
All the classic tracks from his solo career are here as well as instrumental demoes that you never knew you need until now, and they truly are a must have. The version of You've Lost That Loving Feeling

The box set from HNE Records doesn't disappoint. The CDs are housed in replica album sleeves, the booklet is glossy with extensive notes and archive photos. 

If you're a fan of his or you've just discovered Mr. Bonnet courtesy of his last couple of albums or a relative, you're going to WANT this box. 
Score 9/10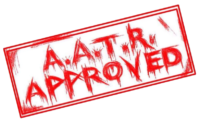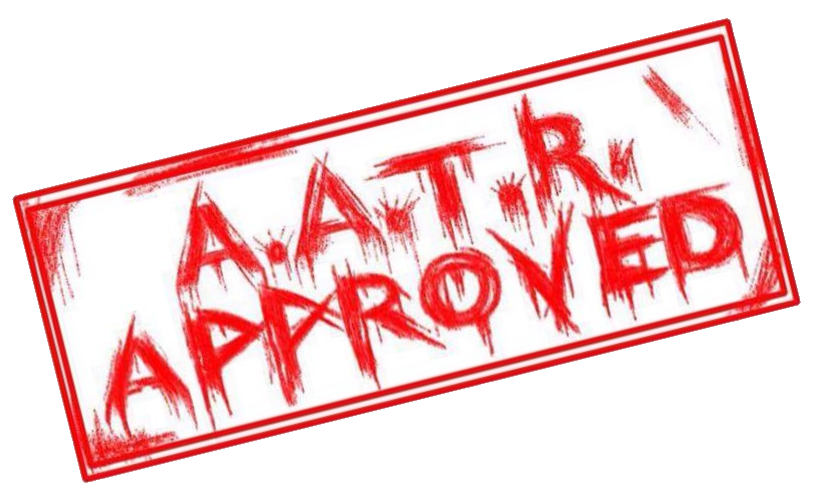 TRACK LISTING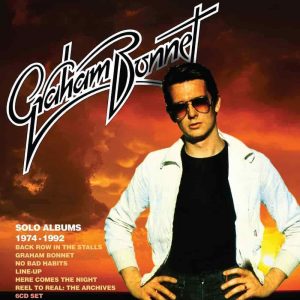 DISC ONE:
BACK ROW IN THE STALLS (1974) – 2020 REMASTER
1. HERE COMES THE RAIN
2. WHAT'S THIS 'ERE THEN
3. PRIVATE EYE
4. GHOST WRITER IN MY EYE
5. SATURDAY'S OVER
6. BACK ROW IN THE STALLS
7. SHE MAY BE NOT MUCH TO LOOK
AT (BUT SHE'S CERTAINLY GOT
A HEART)
8. ADE'S SONG
9. MAMMA MINE
10. RELAXAE
11. SHE MAY BE NOT MUCH TO LOOKAT (BUT SHE'S CERTAINLY GOT A HEART) (VERSION 2)
12. DON'T DRINK THE WATER
13. DREAMS (OUT IN THE FOREST)
14. WE'RE FREE
BONUS TRACKS
15. WHISPER IN THE NIGHT (SINGLE A-SIDE, 1972)
16. RARE SPECIMEN (SINGLE B-SIDE, 1972)
17. TRYING TO SAY GOODBYE(SINGLE A-SIDE, 1973)
18. CASTLES IN THE AIR (SINGLE B-SIDE, 1973)
19. DOG SONG – Adrienne Posta
20. EXPRESS YOURSELF – Adrienne Posta
21. MESSAGE TO TREVOR
DISC TWO: GRAHAM BONNET
1. IT'S ALL OVER NOW, BABY BLUE
2. WILL YOU LOVE ME TOMORROW?
3. TIRED OF BEING ALONE
4. WINO SONG
5. IT AIN'T EASY
6. GOODNIGHT AND GOODMORNING
7. DANNY
8. SUNDAY 16
9. ROCK ISLAND LINE
10. SOUL SEEKER
BONUS TRACKS
11. DO WHAT YOU GOTTA DO (DEMO)
12. GOODNIGHT AND GOODMORNING (SINGLE EDIT)
13. I WHO AM I (1977) – Graham Bonnet & Vicky Silva
14. THE LOVING TOUCH (1976) – Graham Bonnet & Vicky Silva
15. HEROES ON MY PICTURE WALL (SINGLE B-SIDE, 1977)
16. IT AIN'T EASY (DEMO)
17. YOU'VE LOST THAT LOVIN' FEELING (DEMO)
DISC THREE: NO BAD HABITS (1978)
1. I'LL BE YOUR BABY TONIGHT
2. WON'T YOU JOIN ME
3. WARM RIDE
4. IS THERE A WAY TO SING THE BLUES
5. CAN'T COMPLAIN
6. GIVIN' UP MY WORRYIN'
7. PYRAMID
8. ONLY YOU CAN LIFT ME
9. STAND STILL STELLA
10. HIGH SCHOOL ANGEL
11. COLD LADY
BONUS TRACKS
12. 10/12 OBSERVATION (SINGLE B-SIDE OF 'WARM RIDE')
13. ONLY YOU CAN LIFT ME (SINGLE EDIT)
14. SUCH A SHAME (SINGLE B-SIDE OF 'ONLY YOU CAN LIFT ME')
15. WARM RIDE (12" LONG DISCO VERSION)
16. WARM RIDE (12" LONG VERSION)
DISC FOUR: LINE-UP (1981)
1. NIGHT GAMES
2. S.O.S
3. I'M A LOVER
4. BE MY BABY
5. THAT'S THE WAY THAT IT IS
6. LIAR
7. ANTHONY BOY
8. DIRTY HAND
9. OUT ON THE WATER
10. DON'T STAND IN THE OPEN
11. SET ME FREE
BONUS TRACKS
12. DON'T TELL ME TO GO (B-SIDE)
13. BAD DAYS ARE GONE (B-SIDE)
14. NIGHT GAMES (SINGLE EDIT)
15. OUT ON THE WATER (SINGLE EDIT)
DISC FIVE: HERE COMES THE NIGHT (1991)
1. SOMETHING ABOUT YOU
2. HERE COMES THE NIGHT
3. LONG TIME GONE
4. ONLY ONE WOMAN
5. PLEASE CALL ME
6. A CHANGE IS GONNA COME
7. I'LL GO CRAZY
8. I GO TO SLEEP
9. LOOK DON'T TOUCH
10. EYES OF A CHILD
11. DON'T
12. WHAT SHE SAYS, YOU HEAR IT MEANS
BONUS TRACKS
INSTRUMENTAL DEMOS
13. GONE IN A MINUTE
14. A HOLE IN MY SOUL
15. PLEASE CALL ME
16. GREENWICH MEANTIME
DISC SIX: REEL TO REAL: THE ARCHIVES (1987-1992) 2020 REMASTER
1. TONITE I FLY (1987)
2. REEL TO REAL (1987)
3. THE DANCER (1987)
4. WHIPLASH (1989)
5. LONG TIME GONE (1989)
6. SUMMER IN THE CITY (1989)
7. RIVER DEEP – MOUNTAIN HIGH (1989)
8. MIDNIGHT CROSSING (1989)
9. RIDER (1989)
10. DOUBLE CROSS MY HEART (1992)
11. HEARTS UNDER FIRE (1992)
12. YOU ARE YOUR MONEY
13. DEAD MAN WALKING
14. GLASS MOUNTAIN
15. RED RUM
16. MY KINGDOM COME
17. MIRROR LIES
18. UNLEASH THE BEAST
19. HIPPIE HEART, GYPSY SOUL
 Label – HNE Recordings
Release – 27th November 2020
For all things Graham Bonnet, click HERE and to purchase the box, click HERE