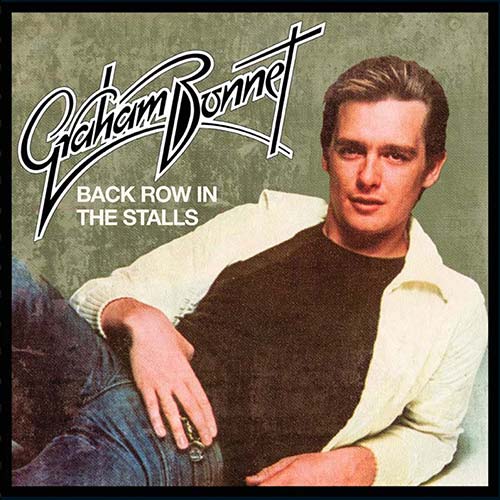 Graham Bonnet – Back Row In The Stalls – Expanded Version – CD Review
23rd May 2016
Thought lost for the best part of 40 years, the missing Graham Bonnet album Back Row in the Stalls. Originally recorded back in 1974, Back Row in the Stalls was supposed to be Bonnets 1st solo album. this album was shelved upon completion & forgotten about. Over the annuls of time, the master tapes had been lost & there was thought to not even be a reference copy.
Even Graham himself couldn't find the master tapes. Producer Kaplan Kaye found a cassette version of the album & with the joys of modern technology, Bonnet & Kaye have managed to clean up the cassette to the point that they could actually release a high quality version with added tracks.
Although due to the lack of master tapes this album couldn't be remixed, but it does sound so much more vibrant & the clarity is exceptional than the digital only release Private I.
Not only does this version contain 6 extremely rare recording, there's also brand new liner notes by Malcolm Dome.
An essential purchase for Rainbow, Alcatrazz & of course Bonnets collections.

Available now via HNE Records
TRACK LIST:
PREVIOUSLY RELEASED DIGITALLY ONLY AS "PRIVATE-I"
1. HERE COMES THE RAIN
2. WHAT'S THIS 'ERE THEN
3. PRIVATE EYE
4. GHOST WRITER IN MY EYE
5. SATURDAY'S OVER
6. BACK ROW IN THE STALLS
7. SHE MAY NOT BE MUCH TO LOOK AT (BUT SHE'S CERTAINLY GOT A HEART)
8. ADE'S SONG
9. MAMMA MINE
10. RELAXAE
11. DON'T DRINK THE WATER
12. DREAMS (OUT IN THE FOREST)
13. WE'RE FREE
BONUS TRACKS
14. WHISPER IN THE NIGHT (SINGLE A-SIDE, 1972)
15. RARE SPECIMEN (SINGLE B-SIDE, 1972)
16. TRYING TO SAY GOODBYE (SINGLE A-SIDE, 1973)
17. CASTLES IN THE AIR (SINGLE B-SIDE, 1973)
18. DOG SONG (BY ADRIENNE POSTA, SINGLE A-SIDE, 1973)
19. EXPRESS YOURSELF (BY ADRIENNE POSTA, SINGLE B-SIDE, 1973)
Score 7.5/10