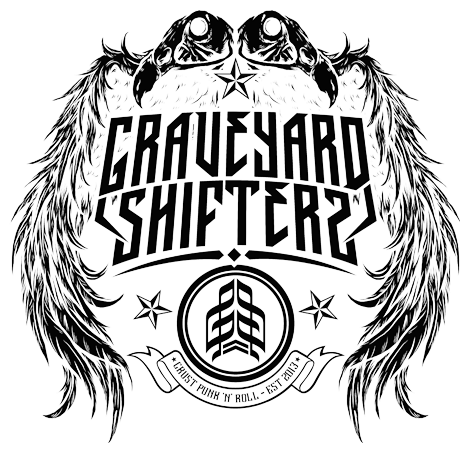 GRAVEYARD SHIFTERS release new video
31st October 2014
Finnish crust punk 'n' rollers GRAVEYARD SHIFTERS have released a brand new music video from the upcoming EP "Brainwashed by Moonshine".
The music video contains evidence of UFO phenomenon and it is done for the song "A Good Day to Die Hard & Loud" and it hits directly to the heart of AC/DC, The Hellacopters and Kvelertak fans.
"Brainwashed by Moonshine" EP is in stores 31st of October in Europe & United Kingdom via Eternal Sound Records. The video can be seen below.
GRAVEYARD SHIFTERS are:
J. Matilainen – Lead vocals
J. Sumkin – Bass and backup vocals
A. Salmenoja – Drums, percussions and backup vocals
V. Vainionpää – Guitars and backup vocals
H. Kansonen – Guitars
The GRAVEYARD SHIFTERS started in the fall of 2013 with singer J. Matilainen and drummer A. Salmenoja being abducted by alien invaders from the sky. Our heroes we're forced to return back to Earth and make a change to the nowadays 'polished music' that infects our planet from all corner of the globe. Their mission: to create new music to blow YOUR mind.
This is only to be the begining of the GRAVEYARD SHIFTERS tale and their relentless lust for music and partying. Since their formation the band recorded their debut EP "Brainwashed by Moonshine" which self-financed by recycling the empty beer bottles from the rehearsal rooms floor.