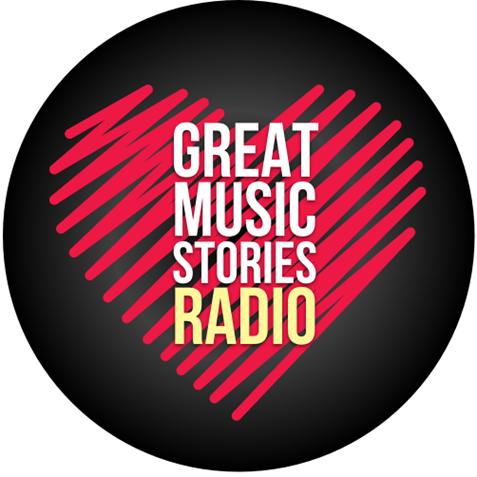 Great Music Stories Flies the Flag for the Grassroots Rock Scene at National Radio Awards
10th November 2020
Independent, rock radio broadcaster GuyB — who delivers the vibrant weekly rock show Great Music Stories — has been shortlisted for the Best Presenter – Music category at this year's Audio Production Awards: prestigious national awards which champion excellence in radio and audio production across the UK.
The 5 broadcasters nominated and shortlisted for Best Presenter – Music this year include: Grammy-Award-winning country musician Brad Paisley (TBI Media); Guy Bellamy (Great Music Stories Radio); Lauren Laverne (BBC Radio 6 Music); Mark Kermode (Scala Radio); and Snoochie Shy (TBI Media).
GuyB  finds himself shoulder to shoulder with top-tier company! "I was shocked, but hugely flattered, to be put in the company of these broadcasting legends," he says, "It's a grassroots radio, literally done from a caravan in a field — itself a product of lockdown."
"It means so much to get some recognition for the way the show is broadcast," he adds, "My focus has always been to go beyond just playing tracks. You can get that on streaming sites. What we try to bring together are the stories, along with some entertainment, and when it comes to interviews, we range from the serious to the silly. Our regular listeners are very much part of the show and Fridays have become a real coming-together of people to share music and friendship, and to support each other."
Many artists and bands speak highly of the support that GuyB has given them, boosting and developing their careers. They speak with amusement and affection of his interviews, style and content, and of the station's strong sense of community (as do its listeners). And time and again artists acknowledge the valuable exposure GuyB brings to parts of the music scene that just aren't on the RADAR for other broadcasters.
Brighton band Amongst Liars, for example, say, "Guy B's Great Music Stories has been invaluable for Amongst Liars as a new band starting up in 2020.  Guy has been incredibly supportive, championing, playing and interviewing both us and new/established bands and artists. Moreover, he creates a real 'scene' in the rock community: His shows are all about the music, but driven by a real personality with depth, passion and understanding of music; also, with an intelligence and great sense of humour that makes it more than just about the music. "
Award-winning alt-rock singer Verity White believes "Guy's show is a lifeline for the emerging rock scene in the UK… He champions us, and the scene, and all with good humour, insight and a deep understanding of how hard we all struggle and work."
For Cumbrian Southern rockers Thirteen Stars, "Guy's love and passion for music are apparent at every turn. Whether it's a stadium-filling band, or a grassroots younger one, his enthusiasm and zeal are infectious and all this is delivered with a beautifully light and irreverent touch that never fails to inform, amuse and entertain."
"Guy has been shining a light on and championing the grassroots rock scene for a while now," says multi-award-winning Elles Bailey, "especially women in rock, who often get forgotten from the mainstream stations."
Likewise, Black Lakes see GuyB as "a beacon of light for unsigned, underground and aspiring rock artists in the UK. In a sea of mainstream media, often distracted by the safety of the well-known and popularised, Guy shines a light on the under-the-radar and up-and-coming festival headliners of tomorrow."
For GuyB, the APA nomination and shortlisting mean more than a feather in his cap in his caravan studio. They help fly the flag of grassroots music, cast yet more limelight on the scene, and help Great Music Stories to achieve its aims: "To keep the rising rock bands in front of people. Hopefully this nomination is another step forward for the scene at large."
So say we all!
Website: www.greatmusicstories.com
Facebook
https://www.facebook.com/greatmusicstories