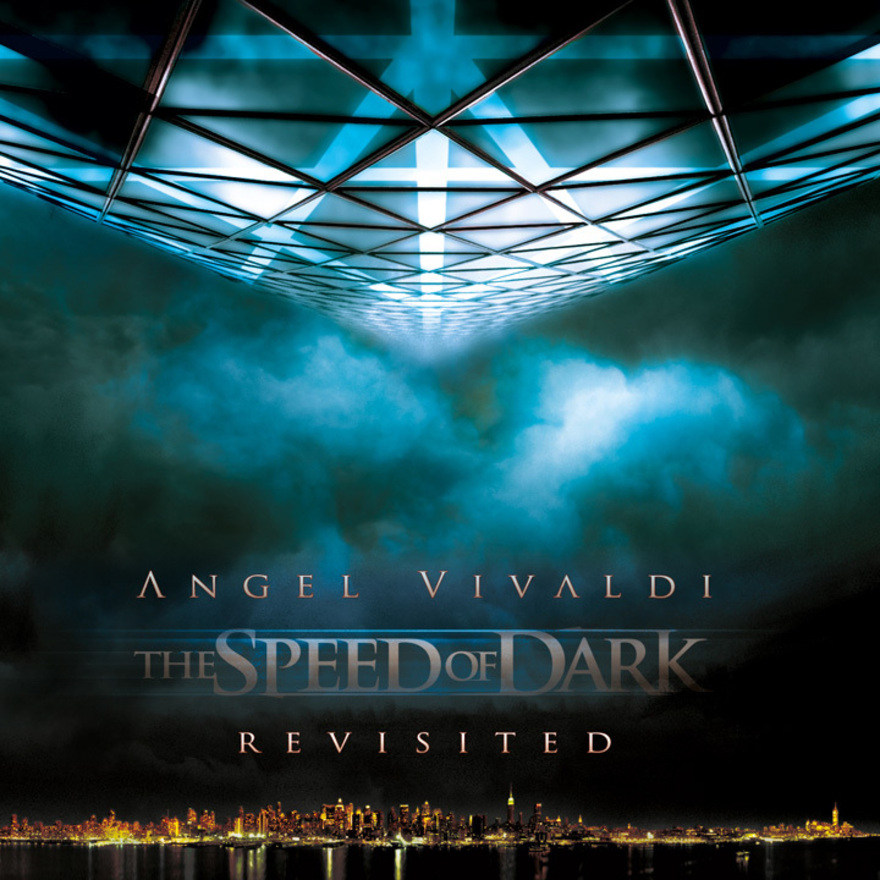 GUITARIST ANGEL VIVALDI DEBUTS PART II of "THE SILENT HUMMING OF HIGHWAYS" MINI DOCUMENTARY SERIES VIA METAL INJECTION
5th August 2016
New Jersey-based guitar shredder, ANGEL VIVALDI, has launched the second episiode of his mini documentary series "The Silent Humming of Highways: A Tour Rockumentary". The three part series showcases the ups, downs and everything in between of being a DIY musician on the road and is being broadcast by Metal Injection. 
VIVALDI's newly recorded version of his 2009 EP, "The Speed of Dark: Revisited", is due out on August 26 – just in time for his "Operation Domination" co-headlining run with fellow ax-grinder Gus G., which kicks off on August 31 in New York City and will run throughout September.
.
VIP packages are currently available that feature a meet and greet, signed tour poster, VIP tour laminate and a 30 minute masterclass with both VIVALDI and Gus G at www.angelandgus.soundrink.com.

"The Speed of Dark: Revisited" is now available for preorder through VIVALDI's webshop at https://districtlines.com/Angel-Vivaldi. The p
re-order will include bundles consisting of a signed CD, poster, digital download and/or exclusively designed t-shirt. 
"The Speed of Dark: Revisited" Tracklisting
1. An Angel's Poem On a Grave
2. Acid Reign
3. Sea of Heartbreak
4. The World Burning Around Me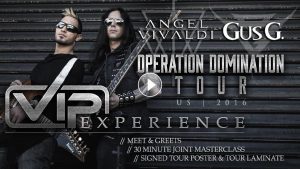 VIVALDI comments, "For me this tour perfectly summarizes the evolution of modern guitar playing. To be able to share a stage with a force such as Gus is both inspiring and refreshing. I cannot wait to see the looks on people's faces when they see what we have planned!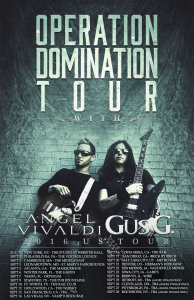 "Operation Domination" TOUR DATES
8/31 New York, NY – The Studio At Webster Hall
9/1 Philadelphia, PA – The Voltage Lounge
9/2 Cambridge, MA – The Middle East  
9/3 Leonardtown, MD – Park Rock @ St. Mary's Fairgrounds
9/5 Atlanta, GA – The Masquerade
9/6 Winter Park, FL – The Haven
9/7 Tampa, FL – Orpheum
9/9 Stafford, TX – The Pub Fountains
9/10 Ft. Worth, TX – The Rail Club
9/12 Hollywood, CA – The Whisky
9/15 Las Vegas, NV – Vamp'D Rock Bar
9/16 Costa Mesa, CA – Tiki Bar
9/17 San Diego, CA – Brick By Brick
9/20 Salt Lake City, UT – Metro Bar
9/21 Denver, CO – Herman's Hideaway
9/22 Des Moines, IA – Vaudeville Mewes
9/23 Iowa City, IA – Gabe's
9/24 Berwin, IL – Wire 
9/25 Clinton Township, MI – Detroit Pub * 
9/26 Toledo, OH – Frankies*
9/27 Kent, OH – The Outpost* 
9/28 Webster, NY – Harmony House *
* Angel Vivaldi only

http://www.angelvivaldiofficial.com/
https://www.facebook.com/angelvivaldi/
https://twitter.com/angelvivaldi