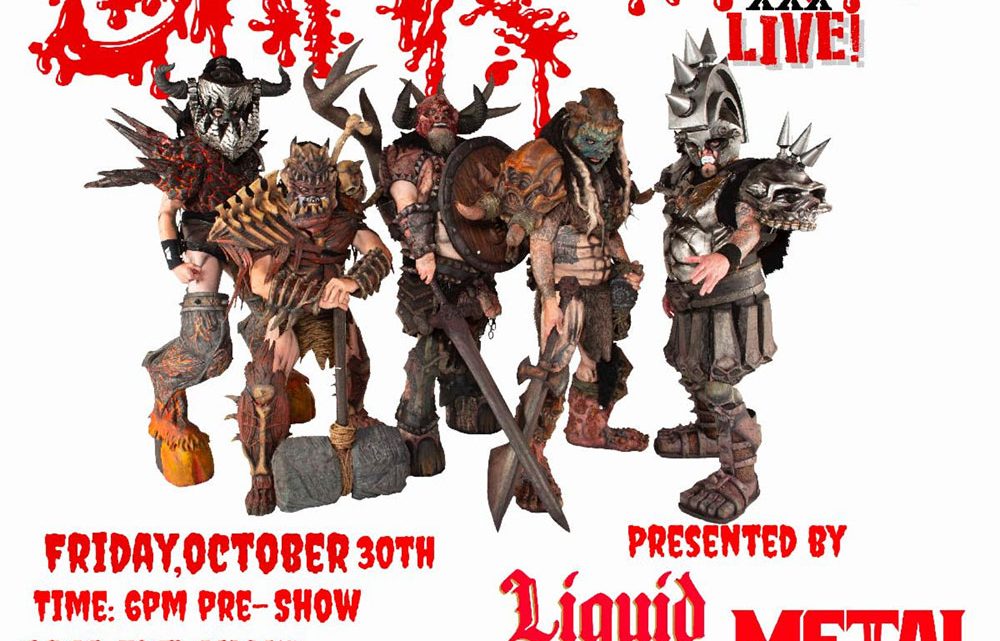 GWAR – "Scumdogs Of The Universe – 30th Anniversary" Live Stream 30th October 2020 Review
13th November 2020
2020…quite the remarkable year wouldn't you agree? We're now in November, and the world is still in the midst of the Coronavirus clusterfuck, with lockdowns happening left, right, north, south, east, west and centre. But, while we're all once again panic buying bog-roll and lube… I mean pasta, and complaining that we can't go to the pub, we have to try and remain positive…remember the good times, and that's where nostalgia helps.  
Cast your mind back ten years, and MY CHEMICAL ROMANCE have just released "Danger Days"…it was shit wasn't it?! OK that's a bad example. How about twenty years? LINKIN PARK dropped "Hybrid Theory" two decades ago…an actual masterpiece and the first album this reviewer bought in Woolworths with some actual coin (Now I'm feeling old)…but what about THIRTY years ago? A little band called GWAR were hitting their penis-pumping, gloriously gory, gratuitous intergalactic prime with the album "Scumdogs Of The Universe"… 
Famous for their phallic endeavours, they were never going to be a MAINSTREAM success, but as far as cult followings go, GWAR are up there with GG ALLIN and every other depraved bunch of musicians you can possibly imagine. This Halloween, the current line up celebrated the 30th anniversary of the aforementioned album with a special live-stream concert…All About The Rock were there to witness it all unfold over the interweb, here's what went down (And up…and inside…and, oh god what have we gotten ourselves into this time?). 
To any fans purchasing the live stream it was available through GWAR's website for around the region of $15 but that price does include a hefty pre-show, which we're going to have to mention. We'll start with the listening party…four of the current members, in full costume, playback segments of the remastered vinyl and talk about the history of the album as minimally as possible. Honestly, with about, ten to twenty seconds of each track played and them talking bollocks, either they don't know what they're doing, or they don't know what they're doing. It comes across as both quite frankly, but the banter between them at least raises a couple of chuckles, however if you were hoping for an in-depth deep-dive into the depravity of the album, it's sound and heritage, you'll be as gutted as John Wayne Gacey when his first victim escaped because he forgot to remove the car door handles. 

The bulk of the pre-show actually included a live performance from around the time of the original albums release, with GWAR and their many extra's crammed onto a stage in front of a rabid, sweaty and frankly amoral audience. The kind of people whose search histories you'd happily report y'know? It looked CRAZY! Original vocalist Oderous, portrayed by the late Dave Brockie, snarls and sneers his way through what is essentially a rock and metal version of BOTTOM given the toilet humour and slapstick violence, and it's ruddy brilliant! I'm pretty sure they chopped a guys tits off, but I digress…this brilliance, was in fact, the nights downfall. 
When it came to the 2020 performance, yes, they had a little back-stage introductory segment where Sleazy P. Martini reintroduces everyone to the band and acts like some BTEC Jools Holland, and there's a few little comedy skits which are fine, but the performance itself is just, by no fault of it's own, severely lacking. Don't get me wrong, there's absolutely nothing wrong with the tracks let that be said. Cuts like "The Salaminizer" are as sexually ludicrous as ever…" Sick Of You" is just as good now as it was 30 years ago the absolutely banging bastard that it is, while "Vlad The Impaler" and "Maggots" are equally as rocking, and this really is the disappointing thing.  
It's the bands most successful album, and 30 years is a pretty damn impressive achievement for a band like GWAR, even taking the continually shuffled line-up into consideration, but having to do a live-stream show online, to zero physical audience in an empty room does absolutely NOTHING for this album, or the bands gimmick for that matter. They are as much a slapstick spectacle, a hideously comedic slab of metal theatre as they are a band, and that crowd participation, that human interaction is what makes a GAWR show a GWAR show. A great album and such an entertaining band, but the absolute wrong time to put on such a milestone show. Covid-19. I'm so sick, so sick of you. 
Set List
The Salaminizer
The Years Without Light
Sexecutioner
Black and Huge
Vlad the Impaler
Death Pod
Maggots
Love Surgery
Horror of Yig
King Queen
Sick of You
The Private Pain of Techno Destructo
U Ain't Shit
Encore:
Cool Place to Park
Slaughterama